printer friendly version
AI delivers autonomous efficiencies
February 2019 Editor's Choice, Security Services & Risk Management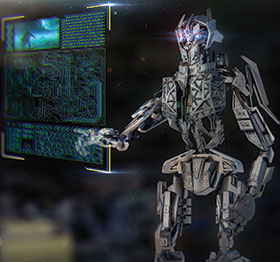 Active Track is a guard monitoring service provider that has captured a large share of the market for tracking and managing people. The company has now partnered with software development specialist Sugarplum Digital to improve the back-end of its operations with software enhanced by artificial intelligence (AI).
Active Track's management device is a robust, handheld device that can be dropped (and should be dropped in emergencies as this action sends a panic alarm to the control centre) and knocked about in the rough guarding environment. It includes RFID, GPS and GSM functionalities, panic and silent call functions, and is supported via an online portal and 24-hour call centre. It also sports a battery life of up to 72 hours.
All activities captured by the device are transmitted to the company's 24-hour control centre where they are monitored and, when emergencies occur, the operators can dispatch emergency response teams. As is common in all security control centres, operators are often tasked with dealing with false alarms or simple administrative tasks which takes their attention away from handling real emergencies.
Using Sugarplum Digital as its development partner, Active Track has updated its software to turn the system into a full management application instead of a guard monitoring system. Guards are still equipped with the Active Track devices, but the software now handles an expanded range of tasks autonomously, without needing human input.
As a simple example, Active Track's Danie de Villiers explains that the system used to alert the control room if a guard had not registered their device at a certain location within a set time. An operator would then have to contact the guard or a supervisor to try to resolve the situation according to the client's operating processes (OPs). Now the system recognises the problem, learns from the environment over time and follows the OPs without requiring human intervention.
The AI enhancements go further and impact almost all areas of the company's operations, taking the boring tasks such as submitting reports to clients. It provides customers with a higher level of visibility into their security operations, tailoring its reports and communications to the person in question.
Sugarplum Digital's Gerhard Furter says the AI system is not simply programmed to do routine jobs. It collects data and analyses it in real time, and is continually learning what is normal, what is out of the ordinary and what constitutes a real emergency – it's like an occurrence book that is continually being monitored, updated and analysed. It then deals autonomously with the non-critical events, leaving trained human operators to focus on responding to important events and alarms. It is able to detect patterns emerging over longer periods of time in each environment Active Track manages in order to provide additional insights to the operators and/or the client.
Also designed and built by Sugarplum, Active Track is also in the process of building its own voice controlled chatbot. People will be able to communicate with the bot by speaking, and once again the AI system will automatically handle routine questions and tasks without needing human input. Sugarplum is rolling out a similar application to a manufacturer that will soon be able to take and fulfil orders autonomously.
For more information contact:
• Active Track, +27 11 551 1687, info@activetrack.co.za, www.activetrack.co.za
• Sugarplum Digital, gerhard@sugarplums.co.za, www.sugarplums.co.za
Credit(s)
Further reading:
FortiGuard labs reports disruptive shift of cyber threats
Issue 1 2021 , Editor's Choice
Threat intelligence from the second half of 2020 demonstrates an unprecedented cyber-threat landscape where cyber adversaries maximised the constantly expanding attack surface to scale threat efforts around the world. Adversaries proved to be highly adaptable, creating waves of disruptive and sophisticated attacks.
Read more...
---
The year resilience paid off
Issue 8 2020 , Editor's Choice, Security Services & Risk Management
Hi-Tech Security Solutions spoke to Michael Davies about business continuity and resilience in a year when everything was put to the test.
Read more...
---
Retail solutions beyond security
Issue 8 2020, Axis Communications SA, Technews Publishing, Hikvision South Africa , Editor's Choice, CCTV, Surveillance & Remote Monitoring
The need for security technology to deliver more than videos of people falling or stealing from retail stores is greater than ever.
Read more...
---
Smart healthcare
Issue 2 2021 , Editor's Choice
In the past year, hospitals, elder care and other healthcare facilities have found themselves overwhelmed with new patients, COVID-19 regulations and other side effects of the pandemic. As efforts focused ...
Read more...
---
Platform-based access management solution
Issue 2 2021, ASSA ABLOY South Africa , Editor's Choice
Available in South Africa and throughout sub-Saharan Africa, new Incedo Business connects all your security software and hardware within one platform. You can easily scale it up or down, based on your needs, to keep your people moving and your business growing.
Read more...
---
FS Systems celebrates 50 years
Issue 2 2021 , Editor's Choice
This year, FS Systems celebrates 50 years in the fire detection and enterprise security market, successfully executing projects in over nine countries in Africa and LATAM.
Read more...
---
Formative AI and distributed cloud among four megatrends revealed at MIPS 2021
Issue 2 2021, Milestone Systems , Editor's Choice
Almost 4000 participants representing end customers, technology partners and media from across the globe attended the first virtual MIPS conference, held over two days in March 2021.
Read more...
---
Kiss passwords G00dby3
Issue 2 2021 , Editor's Choice
Cisco Secure has unveiled infrastructure agnostic, passwordless authentication by Duo which enables enterprise users to skip the password and securely log into cloud applications via security keys or biometrics built into modern laptops and smartphones.
Read more...
---
200 000 daily access transactions
Issue 2 2021, Impro Technologies , Editor's Choice
The University of KwaZulu-Natal's legacy access control system was suffering from increasingly limited support, both in terms of hardware and software, with maintenance becoming a pressing concern as it on-boards approximately 9000 new students each year across five campuses.
Read more...
---
From the editor's desk: Maybe security should STTFS
Issue 2 2021, Technews Publishing , News
The IT industry has an acronym, RTFM, Read the Manual; you'll notice I left the F out. The same can be said for the security industry, but a recent experience has shown me that both industries, even as ...
Read more...
---