printer friendly version
Explosive-detecting dogs at Securex
February 2019
News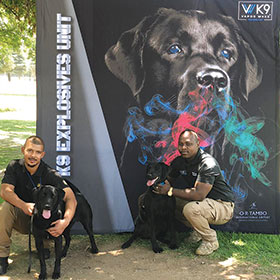 Vapor Wake K9 SA will be showcasing the Vapor Wake method of training working dogs in the detection of explosives and other illicit substances – the first organisation outside the US to offer this advanced type of canine technology – as the official sponsor of the Vapor Wake K9 SA demo area at the upcoming Securex South Africa 2019 expo.
Securex takes place from 14 to 16 May this year at Gallagher Convention Centre in Midrand, Johannesburg.
Robbie Roberts, operational director of Vapor Wake K9 SA, explains that the Vapor Wake approach is unlike any other canine training available locally. "Traditionally, explosive-detection dogs (EDDs) are trained to view static objects or people. With Vapor Wake trained K9s, the major difference is that they are able to detect body-worn explosives on a moving target. This effectively allows them to accurately screen hundreds of people passing through a high-flow entry point – such as in an airport or a stadium – in a way that is non-intrusive."
Patented by Auburn University in Alabama (US) as the only patented technology to detect body-worn explosives in transit, Vapor Wake is the product of many years of research, breeding and testing at the university's Canine Performance Sciences (CPS) programme, the largest K9 detection research programme in the United States.
According to the VWK9 K9 Training Academy, one of the fastest growing canine companies in the industry today and partner of Auburn University's Auburn's CPS programme, "scent particles are carried behind a person in a 'thermal plume' produced by the body's natural heat. A person's natural thermal plume goes upwards when they are standing still, but as soon as they begin moving, the thermal plume extends behind them, much like the wake behind a boat in the water (thus the name, 'Vapor Wake').
"Vapor Wake K9 Detection Teams will work through a crowd by sampling the cross-section of people moving within. As soon as a Vapor Wake dog detects an explosive odour, it will follow the source: a person, a bag left behind, something carried inside and then hidden – a Vapor Wake dog will always follow the threat to its source."
The Vapor Wake K9 SA mobile explosive detection team works locally with the likes of the Airports Company South Africa (ACSA), in order to provide these specialised K9 security capabilities in areas such as airport terminals and stadiums. In addition, the company provides canine screening of cargo. Cargo Screening K9 Alliance K9s are tested every 12 months in South Africa by Tim Baird (assessor) and Ashley Beard (trainer) from Vapor Wake America.
"Vapor Wake K9 SA will use Securex this year as a platform to communicate our status as the only local company on the African continent, and indeed outside the US, to provide this type of service," says Roberts. "Our offering shows that Africa is at the forefront of this type of security technology advancement, and we want to show the market exactly what we can do."
Other highlights of Securex 2019 will include a Cybersecurity Pavilion, sponsored by 4Sight Holdings, the Cyberlab seminar theatre, more than 190 security-focused exhibitors showcasing a full range of security-related products and services, as well as a security-focused free-to-attend seminar theatre with more than 20 highly relevant sessions.
For more information on the expo, please contact Specialised Exhibitions Montgomery on +27 11 835 1565.
Credit(s)
Further reading:
Black Point Tech continues the tradition
Issue 2 2021, Black Point Tech cc t/a BPT , News
Black Point Tech, trading as BPT, is a new company that inherits the history of others that, in the past, have distributed solutions in the fields of intercom systems, parking management as well as general access control solutions.
Read more...
---
Suprema ranks first in survey
Issue 2 2021, Suprema, neaMetrics , News, Access Control & Identity Management
In a recent survey conducted in Korea, Suprema was chosen as the top brand for access control management software and mobile access solutions.
Read more...
---
Suprema integrated with Nedap
Issue 2 2021, Suprema , Access Control & Identity Management, News
Suprema recently announced that it has integrated its latest facial recognition devices into Nedap's access control system, AEOS, to enable organisations to manage their access control by making use of Suprema's latest facial recognition technology.
Read more...
---
Commercialising vehicle security monitoring services
Issue 2 2021 , News
To protect connected vehicles around the world against cyberattacks, Panasonic and McAfee will build vehicle SOCs that enable accurate detection and early response to attacks and help strengthen cybersecurity measures in the automotive industry.
Read more...
---
Fidelity ADT expands security footprint
Issue 2 2021, Fidelity ADT , News
Fidelity ADT has concluded an agreement with National Security & Fire in the Vaal and KZN South Coast areas whereby it will be taking over the monitoring and armed response service contracts in these areas as of 1 April.
Read more...
---
AURA expands into East Africa
Issue 2 2021 , News
South African business, AURA, is expanding its operations into East Africa with new Kenyan office and general manager.
Read more...
---
From the editor's desk: Maybe security should STTFS
Issue 2 2021, Technews Publishing , News
The IT industry has an acronym, RTFM, Read the Manual; you'll notice I left the F out. The same can be said for the security industry, but a recent experience has shown me that both industries, even as ...
Read more...
---
ONVIF reaches milestone of 20 000 conformant products
Issue 2 2021 , News
ONVIF has announced that more than 20 000 security products are now conformant to its various profiles, indicating the strong market demand for interoperability of hardware and software offerings and the relevance of ONVIF as a driver of open standards within physical security.
Read more...
---
Suprema's fingerprint recognition algorithm supplied to Samsung Galaxy S21 series
Issue 2 2021, Suprema , News
Suprema announced that it supplied BioSign 4.0, its under-display fingerprint recognition algorithm to the Samsung Galaxy S21 smartphones with support from Qualcomm Technologies.
Read more...
---
ISO 27001 awarded to Secutel Technologies
Issue 2 2021, Secutel Technologies , News
Secutel Technologies, a developer of physical security technology and provider of cloud-based solutions, announced that it has achieved the International Organization for Standardization (ISO) 27001 certification.
Read more...
---