printer friendly version
Life-saving mining technology
October 2018 Mining (Industry), Security Services & Risk Management, Products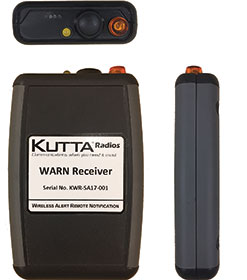 Mine safety is of grave concern in South Africa, with Mining Minister, Gwede Mantashe, calling on mines to dramatically improve the safety conditions for miners following the deaths at Palabora Mining Company in Limpopo earlier this year. The death toll in SA mines this year has reached 54, heading towards the deadliest year in mining since 2012.
Technology is now available in South Africa that includes an early warning device that can notify miners of danger earlier in the working face of the mine, as well as radios which can be used in remote places.
Yoni Margalit, managing director of South African company Advanced Communications says that many miners have died because it takes too long to warn people underground, if they can be reached at all, making quick action almost impossible. The existing unreliable 'mining telephone' and leaky feeder systems in use, only reach developed areas within the mine and are often compromised in underground catastrophes.
"Advanced Communications has sourced advanced radios which use the mine's existing metallic and conductive infrastructure to create reliable communication paths underground that extend for kilometres. This allows the mine to have a backup radio system that works whether mine power is on or off, post-incident and even through obstructions. Furthermore, we locally-developed and manufacture the WARN (wireless alert remote notification) devices in South Africa which ensure that each miner is able to receive warnings immediately underground, no matter where they are and whether existing communications are functioning or not. These are wearable pager-like devices that alert each miner to a problem by vibrating, flashing and beeping using medium frequency, allowing them to evacuate without delay."
The communication radios are already in use by Mines Rescue Services (MRS), a globally renowned private sector, non-profit organisation in South Africa that provides resources and expertise for effective emergency services to ensure improved communication between members of its team during rescue operations. MRS have tested the radios extensively in underground situations and found that they provided continuous communication signal strength of 5/5 over distances of more than three kilometres.
MRS was also heavily involved in testing the WARN device which also showed great success in receiving the warning signal even in undeveloped areas of a mine where no visible metallic infrastructure could be seen.
How the radio system works

The radios provide advanced medium frequency radios to mine operators as a reliable, cost-effective solution to communication and tracking needs. They use cables, wires, tracks and pipes to create survivable, redundant communication paths underground that extend for kilometres. The technology uses medium frequency radio systems that work whether mine power is on or off, post-incident and even through obstructions. Complete installation of the radio system can be achieved in a matter of hours and offers mine operators the lowest cost-per-metre of any communication system on the market. The radios fulfil the Mine Health and Safety Act requirement for a redundant, secondary, wireless communication system.
The WARN is a device that will be assigned to each individual miner and can alert them to surface or to get to a refuge bay immediately once any danger is known. The WARN device receives an emergency medium frequency signal sent from a transmitter which is connected to all the mine's underground detection systems. The signal is sent via magnetic induction which means that the signal is sent through the existing metallic infrastructure underground and is not dependent on any communication cabling. The WARN device can give audible, visual and vibration warnings insuring the miner has every chance of early notification of imminent danger and has the chance to make it to a refuge bay as quick as possible.
Once at the refuge chamber, the locally designed WARN device immediately identifies and tracks each miner using a built-in RF tag reader. The information is sent to surface via the same medium frequency on the metallic infrastructure even if the mine's communications are down. This means that in the control room at surface, operators have a real-time view of which miners have reached the refuge chambers and who is still unaccounted for.
Coordinated evacuation or rescue missions are quicker and more reliable giving first responders the best chance of reaching the miners and ultimately, giving miners the best chance of survival in an emergency.
See more at http://advancedcomms.co.za
Further reading:
The year resilience paid off
Issue 8 2020 , Editor's Choice, Security Services & Risk Management
Hi-Tech Security Solutions spoke to Michael Davies about business continuity and resilience in a year when everything was put to the test.
Read more...
---
A 'step-change' in tracking and monitoring
Issue 8 2020, Dahua Technology South Africa , CCTV, Surveillance & Remote Monitoring, Products
View an overall scene while monitoring a specific person or vehicle, or obtain a panoramic view while being able to zoom in and track particular targets.
Read more...
---
AX PRO wireless alarm solutions
Issue 8 2020, Hikvision South Africa , Perimeter Security, Alarms & Intruder Detection, Products
Hikvision announced its new generation of wireless alarm systems – the AX PRO – delivering comprehensive alarm solutions for both residential and commercial applications.
Read more...
---
Scanning for gold
Issue 8 2020, Saflec , Asset Management, EAS, RFID, Products
The metal detection market is such that customers looking for a specific point solution are becoming a rarity and the primary desire is for a solution.
Read more...
---
Free technology to boost future careers
Issue 2 2021 , Cyber Security, Security Services & Risk Management
A global shortage of cybersecurity professionals has become so severe that companies are increasingly at risk from hacking and industrial espionage.
Read more...
---
Dealing with farm attacks
Issue 2 2021, Technews Publishing , Editor's Choice, Integrated Solutions, Security Services & Risk Management, Agriculture (Industry)
Brutal farm attacks are unfortunately a common event in South Africa. Laurence Palmer suggests a proactive, community-based approach as the optimal way to prevent these heinous crimes from happening in the first place.
Read more...
---
Vehicle-to-office connectivity
Issue 2 2021 , IT infrastructure, Mining (Industry)
A large coal and heavy minerals mining company in South Africa is rolling out a mine-wide wireless digital connectivity networking solution that interconnects the various employees' mobile devices to monitoring systems on vehicles, mining equipment and conveyor belts throughout the mine.
Read more...
---
700 Series conventional fire detectors
Issue 1 2021, Johnson Controls Global Products , Fire & Safety, Products
New 700 Series fire detectors have built-in microprocessors that monitor and respond to smoke density, fixed temperature and rate-of-rise of temperature, while the drift compensation feature extends service life and reduces maintenance needs.
Read more...
---
Predictive analytics for outdoor surveillance
Issue 1 2021, Bosch Building Technologies , CCTV, Surveillance & Remote Monitoring, Products
Bosch introduces the AUTODOME IP starlight 5100i video camera with built-in AI to help operators react before a potential situation occurs.
Read more...
---
New integration for contactless biometric temperature and mask detection
Issue 1 2021 , Access Control & Identity Management, Products
Gallagher Security, a global access control solutions company, and Invixium, a manufacturer of touchless biometric solutions, announced the integration between Gallagher Command Centre and Invixium's IXM WEB software to deliver contactless biometric temperature and mask detection solutions.
Read more...
---