printer friendly version
Visibility is security
August 2018
Cyber Security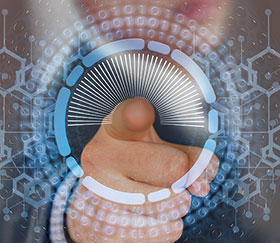 There is no shortage of cyber threats in the world today and while it's possible to spend an age listing the various types of cyber-attacks and their methods, they all have one thing in common. Cyber criminals are after data in order to commit online fraud, identity theft and a host of other cybercrimes. To get their hands on what they need, they target organisations that make use of personal data in their everyday operations.
Given that every organisation in the world deals with personal or sensitive data in some form or another, whether global corporation, small business, municipality or financial service, there is no business that is not a potential target for a data breach in the form of a cyber-attack. Despite their differences, two things remain the same for organisations large and small: effective cybersecurity and vulnerability management all hinges on visibility.
See the forest for the trees
It's easy to get caught up in the hype about cybercrime and lose focus of what's important: protecting an organisation's digital assets, infrastructure and people from cyber harm. It's not possible to protect against something that cannot be seen, which is why vulnerability management and threat detection are such hot topics right now. After all, that's the element that hackers are relying on: stealth tactics to exploit the weaknesses and vulnerabilities inherent in technology.
As fast as businesses are pushing for new technologies to be able to do new things and innovate, new vulnerabilities are appearing just as quickly. This makes it important to achieve visibility over all connections entering and leaving the corporate network, in order to ascertain that these connections pose no threat.
To this end, there are already gateway security solutions that exist that will integrate easily into the existing network architecture, redirecting all inbound and outbound internet traffic in order to classify and monitor connections. The benefit of utilising intelligent gateway solutions to create visibility is that this unlocks the power of reporting.
Without a meaningful view of the Internet gateway an organisation is at risk by default, so the benefits of an intelligent gateway solution is that creating visibility is made possible through the power of reporting. This depends obviously on artificial intelligence, and the AI engine that runs this is the key to unlocking that meaningful network view.
Simple solutions to complicated problems
To be effective, security needs to be proactive and preventative. Intelligent threat detection solutions need to deliver the ability to block, in addition to visibility and control. This allows the security-conscious network administrator to clamp down on all malware, and proactively identify possible suspicious connections so that these can be dealt with appropriately. By ensuring visibility over all connections in the network at a gateway level, this also performs a preventative security function.
Why is visibility over every single connection so important? Let's consider ransomware. On average, a hacker, targeting a specific organisation, takes about 180 days from point of penetration before they can successfully encrypt the entire organisation's data.
However, if the network administration team has visibility into all of the connections on the network, it becomes possible to more effectively identify suspicious connections, report on them, and have them blocked and thus neutralised in under an hour.
The benefits of visibility and control
Such an approach to cybersecurity is a very effective way of killing off potentially risky connections in a proactive manner. Unless it's been deemed safe, disable suspicious connections. Once disabled, it becomes possible to safely assess that connection and if it is deemed safe, it can be added to a whitelist of security exceptions.
This approach is two-fold: block all connections to known malware and phishing sites, and report on those with the option to allow or kill. It is this reporting function that is especially important, because these phone-home ransomware connections don't present themselves as known malware if your organisation has been specifically targeted. As we add more devices to the Internet of Things and we start to build more connections with the world and devices around us, it's better to err on the side of being too restrictive and blocking as much as possible, than not.
It must be stressed, however, that technological security measures are insufficient on their own. Given that the weakest link in any security system will always be the human element, security awareness training and risk management education is important and is a necessary component of a successful cybersecurity strategy based on visibility.
For more information, contact LucidView, 086 110 3117, www.lucidview.net
Further reading:
More is less in cybersecurity
Issue 2 2021 , Cyber Security
Post-pandemic paradox: more solutions do not bring better protection. Despite 80% of organisations running up to 10 different protection and cybersecurity solutions simultaneously, more than 50% of them experienced downtime from data loss last year.
Read more...
---
Ransomware and Microsoft Exchange Server attacks are surging
Issue 2 2021 , Cyber Security
Check Point Research sees global surges in ransomware attacks, alongside increases in cyberattacks targeting Microsoft Exchange Server vulnerabilities at a time where CISA has raised the alarm about ransomware attacks against Microsoft Exchange servers.
Read more...
---
Malware disguised as meeting apps spiked by 1067%
Issue 2 2021 , Cyber Security
Atlas VPN analysis reveals that cyber threats disguised as videoconferencing applications jumped by 1067% in a year. The data analysed was provided by Kaspersky.
Read more...
---
The realities of AI in cybersecurity: catastrophic forgetting
Issue 2 2021 , Cyber Security
There is a lot of hype about the use of artificial intelligence (AI) in cybersecurity. The truth is that the role and potential of AI in security is still evolving and often requires experimentation and evaluation.
Read more...
---
Cyber makes it secure
Issue 2 2021 , Cyber Security
Stas Protassov, Acronis co-founder and technology president comments on the recent hacking of over 150 000 Verkada surveillance cameras.
Read more...
---
Security patches are not a plan
Issue 2 2021, Galix Group , Cyber Security
Patches are undoubtedly an essential component of a cybersecurity strategy, but with the current digital landscape, with many employees continuing to work from home, patches alone are not sufficient.
Read more...
---
Sophos unveils XGS firewall appliances
Issue 2 2021 , Cyber Security
Sophos unveils XGS firewall appliances with optimised Transport Layer Security (TLS) inspection in light of new research that identifies a surge in cybercriminals using TLS to carry out attacks.
Read more...
---
Kaspersky reveals five ways ransomware gangs play today
Issue 2 2021 , Cyber Security
] Over the past few years, the methods cybercriminals use to distribute ransomware has changed dramatically. While a few years ago, they would spread encrypted files on a large scale, today their ransomware attacks have become more focused.
Read more...
---
Safe, friction-free user interactions
Issue 2 2021 , Cyber Security
F5 announced the addition of new SaaS products to its application security portfolio: Device ID and Shape Recognize make use of unique data and analytics capabilities, streamlining customer experiences by removing login friction for users while guarding against fraud.
Read more...
---
Educating remote workers on cybersecurity
Issue 2 2021, J2 Software , Cyber Security
Cybercriminals have shifted their focus to vulnerable employees who now work from home and use personal Internet connections, requiring more education of remote workers on cybersecurity and better computer safety practices or risk having their data compromised.
Read more...
---