printer friendly version
When retrieving CCTV footage becomes a lucky draw
August 2018
CCTV, Surveillance & Remote Monitoring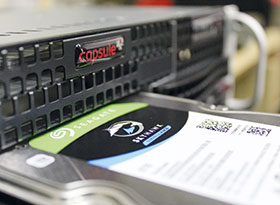 Dedicating a career to the surveillance industry should be a first and foremost choice to contribute to the safety of all. Therefore, when it comes to security, no stones should remain unturned to ensure the optimal performance of the systems installed. However, somewhere down the line, something often goes wrong.
I can comment only what I see as representative of a digital storage vendor for the surveillance market, perhaps similar observations can be made on other components of a typical surveillance infrastructure. More than 200 of our NVR systems have been deployed since we launched our business and, being locally-based, we have a very close eye on the first level support provided during the life-span of those systems. All these systems are handling between 60 to 600 cameras each, in industries such as mining, retail, large corporates, entertainment, etc.
On the 200 systems we recorded that only 10 of them are connected to a UPS (uninterruptible power supply). In a country that took the credit for inventing the term 'Load Shedding', this is quite alarming.
Beside the immediate unavailability of any form of display in the control room, losing the power on any storage unit can result in a loss of data or data corruption, and in a worst-case scenario, an impossibility to restart the unit without a complete reconfiguration. This is true for any storage vendor, regardless of the sophistication of the technology.
The truth is that the migration from DVR to NVR has been completely under-estimated. A single modern NVR can today host a capacity that exceeds the capacity of storage of the biggest data-centre only a decade ago. Many, if not most surveillance sites should be termed 'mission critical' sites. Almost all NVR vendors offer options for this type of site, such as dual storage controllers for redundancy, RAID-6 (allows up to two drives to fail in a RAID array), battery protection and so on.
But, returning to our statistics, on 200 systems, zero of them have a controller for redundancy, zero of them are using anything better than RAID-5 (only one drive can fail at the time in a RAID array). The principal motivation could be the cost, obviously, but a single UPS costing in the region of R10 000 would be a massive improvement – a miniscule component of the total cost of the project.
Furthermore, most of the SIs offer SLA to the final customers with some sort of guarantee of availability during the lifespan of the contract. As a hardware vendor, I find it extremely brave to guarantee the availability of an infrastructure without chasing the potential single point of failure.
As far as storage for CCTV is concerned, RAID technologies and hard drives are not a kind of magic wand, they are not cement-proof (yes, some systems are deployed with no protection while buildings are still in construction), or waterproof (you will be surprised what we see on the support side), and definitely not power-outage proof.
In 2018, more than ever, NVRs are highly sophisticated pieces of technology that require special attention, such as constant low temperatures, constant humidity rate, clean environment, power protection and restraint of access.
The last 'restraint of access' is an interesting one. We have recorded on various sites that multiple hard drives have been pulled 'out and in' resulting in invalidating the RAID array, destroying existing footage and preventing new ones from being recorded. For anyone that wants to commit a crime on a site, it is a much better method of neutralising the entire CCTV system than stealing cameras.
I will conclude that like everything in life (and security is a matter of life), the most important piece is the foundation, your digital storage infrastructure. Your NVR is the foundation of a CCTV infrastructure, neglecting this part or cutting corners to save costs makes irrelevant the most advanced cameras in the world and more importantly ultimately represents a safety risk.
For more information, contact Franck Martinaux, Capsule Technologies, franck@capsule-sa.co.za, www.capsule-sa.co.za
Further reading:
Premium forensic video analytics
Milestone Systems CCTV, Surveillance & Remote Monitoring
With the new XProtect Rapid REVIEW, Milestone and BriefCam bring premium forensic video analytics to XProtect customers around the world.
Read more...
---
New intelligent video wall station
CCTV, Surveillance & Remote Monitoring
IDIS Intelligent Video Wall Station allows affordable and effective centralised monitoring by extending dynamic video wall benefits to smaller and mid-size users.
Read more...
---
Offshore cloud video surveillance system
Eagle Eye Networks CCTV, Surveillance & Remote Monitoring News Transport (Industry)
Eagle Eye Networks and TechBinder collaborate on offshore cloud video surveillance system for maritime sector, bringing real-time remote viewing and notifications to enhance vessel performance data and reporting
Read more...
---
Suprema integrates biometric access control with Genetec
Suprema News CCTV, Surveillance & Remote Monitoring Access Control & Identity Management
Suprema has announced the successful integration of its biometric access control products with Genetec Security Center, a unified security platform that connects security systems, sensors and data in a single intuitive interface.
Read more...
---
Premium forensic analytics
Milestone Systems News CCTV, Surveillance & Remote Monitoring Government and Parastatal (Industry)
With the introduction of XProtect Rapid REVIEW, powered by BriefCam, Milestone's customers will be able to accelerate investigations and find what they are looking for with speed and accuracy.
Read more...
---
City surveillance in South Africa
IDEMIA Government and Parastatal (Industry) CCTV, Surveillance & Remote Monitoring Integrated Solutions
Smart cities and their smarter, more responsible eye in the sky; a look at the video surveillance landscape in South Africa.
Read more...
---
Surveillance in distribution centre
Dahua Technology South Africa CCTV, Surveillance & Remote Monitoring
A large warehouse and distribution centre is benefiting from a 64-camera video surveillance system from Dahua Technology.
Read more...
---
Managing vehicle entry with ANPR
Hikvision South Africa CCTV, Surveillance & Remote Monitoring
The use of automatic number plate recognition (ANPR) for vehicle entry is not new, but it's being used in more innovative ways to streamline processes and help business planning.
Read more...
---
Seeing without being seen
Government and Parastatal (Industry) CCTV, Surveillance & Remote Monitoring
Video surveillance should be as discreet as possible to protect the aesthetics around the legendary promenade in Cannes.
Read more...
---
Improving real-time monitoring
CCTV, Surveillance & Remote Monitoring
IDIS Solution Suite v3.5 features and service modules make enterprise-class VMS even more affordable with no ongoing software licences or connection costs.
Read more...
---