printer friendly version
When retrieving CCTV footage becomes a lucky draw
August 2018
CCTV, Surveillance & Remote Monitoring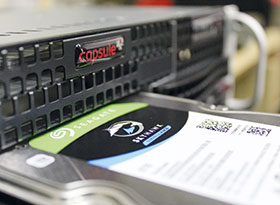 Dedicating a career to the surveillance industry should be a first and foremost choice to contribute to the safety of all. Therefore, when it comes to security, no stones should remain unturned to ensure the optimal performance of the systems installed. However, somewhere down the line, something often goes wrong.
I can comment only what I see as representative of a digital storage vendor for the surveillance market, perhaps similar observations can be made on other components of a typical surveillance infrastructure. More than 200 of our NVR systems have been deployed since we launched our business and, being locally-based, we have a very close eye on the first level support provided during the life-span of those systems. All these systems are handling between 60 to 600 cameras each, in industries such as mining, retail, large corporates, entertainment, etc.
On the 200 systems we recorded that only 10 of them are connected to a UPS (uninterruptible power supply). In a country that took the credit for inventing the term 'Load Shedding', this is quite alarming.
Beside the immediate unavailability of any form of display in the control room, losing the power on any storage unit can result in a loss of data or data corruption, and in a worst-case scenario, an impossibility to restart the unit without a complete reconfiguration. This is true for any storage vendor, regardless of the sophistication of the technology.
The truth is that the migration from DVR to NVR has been completely under-estimated. A single modern NVR can today host a capacity that exceeds the capacity of storage of the biggest data-centre only a decade ago. Many, if not most surveillance sites should be termed 'mission critical' sites. Almost all NVR vendors offer options for this type of site, such as dual storage controllers for redundancy, RAID-6 (allows up to two drives to fail in a RAID array), battery protection and so on.
But, returning to our statistics, on 200 systems, zero of them have a controller for redundancy, zero of them are using anything better than RAID-5 (only one drive can fail at the time in a RAID array). The principal motivation could be the cost, obviously, but a single UPS costing in the region of R10 000 would be a massive improvement – a miniscule component of the total cost of the project.
Furthermore, most of the SIs offer SLA to the final customers with some sort of guarantee of availability during the lifespan of the contract. As a hardware vendor, I find it extremely brave to guarantee the availability of an infrastructure without chasing the potential single point of failure.
As far as storage for CCTV is concerned, RAID technologies and hard drives are not a kind of magic wand, they are not cement-proof (yes, some systems are deployed with no protection while buildings are still in construction), or waterproof (you will be surprised what we see on the support side), and definitely not power-outage proof.
In 2018, more than ever, NVRs are highly sophisticated pieces of technology that require special attention, such as constant low temperatures, constant humidity rate, clean environment, power protection and restraint of access.
The last 'restraint of access' is an interesting one. We have recorded on various sites that multiple hard drives have been pulled 'out and in' resulting in invalidating the RAID array, destroying existing footage and preventing new ones from being recorded. For anyone that wants to commit a crime on a site, it is a much better method of neutralising the entire CCTV system than stealing cameras.
I will conclude that like everything in life (and security is a matter of life), the most important piece is the foundation, your digital storage infrastructure. Your NVR is the foundation of a CCTV infrastructure, neglecting this part or cutting corners to save costs makes irrelevant the most advanced cameras in the world and more importantly ultimately represents a safety risk.
For more information, contact Franck Martinaux, Capsule Technologies, franck@capsule-sa.co.za, www.capsule-sa.co.za
Further reading:
Elvey partners with HALO
Elvey Security Technologies News CCTV, Surveillance & Remote Monitoring
Elvey Group has partnered with HALO Europe to provide Africa's first body-worn solution with zero upfront costs. This includes an IP68-certified body camera and a 4G-connected device.
Read more...
---
Regal announces new partnership
Regal Distributors SA CCTV, Surveillance & Remote Monitoring
Having a bird's eye view of your surveillance data, with the capability to drill down to the details obtained via connected security solutions, is a game changer for security operators, companies and even officers on the ground.
Read more...
---
Invisible connection and tangible protection via cloud
Dahua Technology South Africa Perimeter Security, Alarms & Intruder Detection CCTV, Surveillance & Remote Monitoring Products
Dahua Technology has launched its AirShield security solution that uses advanced, stable and reliable RF communication technology and cloud services, integrating alarm hubs, various detectors and accessories, with several software apps.
Read more...
---
Hikvision expands solar-powered solutions
CCTV, Surveillance & Remote Monitoring Products
Hikvision is offering a portfolio of solar solutions, the 4G solar-powered camera kit, a wireless bridge, and mobile solar security tower solutions to assist in keeping remote and isolated areas safe in a simple, practical, and cost-effective way.
Read more...
---
Affordable entry-level cameras from Dallmeier
Dallmeier Electronic Southern Africa CCTV, Surveillance & Remote Monitoring Products
Dallmeier has introduced the 'E' version of the DOMERA camera family, offering high image quality with 2 MP and 5 MP resolution, and providing detailed images even in low light conditions.
Read more...
---
The importance of the operator's frame of reference
Leaderware Editor's Choice CCTV, Surveillance & Remote Monitoring Security Services & Risk Management Mining (Industry)
The better the operator's frame of reference and situational awareness, and the more informed they are in dealing with CCTV surveillance in the mining industry, the more successful they are likely to be in surveillance.
Read more...
---
Enhancing surveillance on mines
Avigilon Technews Publishing Axis Communications SA Forbatt SA Hikvision South Africa Bosch Building Technologies Editor's Choice CCTV, Surveillance & Remote Monitoring Integrated Solutions Mining (Industry)
Smart Security approached a number of surveillance vendors to find out what the latest in surveillance technology is that can make a difference to security operations in mines, as well as general operations.
Read more...
---
Surveillance to improve worker safety
Axis Communications SA Mining (Industry) CCTV, Surveillance & Remote Monitoring Integrated Solutions
With substantial deposits of mineral resources, mining is critical for South Africa's economic growth and prosperity; however, mining can be dangerous, especially for the people working on the ground and in the shafts.
Read more...
---
Radar-video fusion camera
Axis Communications SA CCTV, Surveillance & Remote Monitoring Mining (Industry) Products
The AXIS Q1656-DLE Radar-Video Fusion Camera device brings video and radar analytics together in AXIS Object Analytics to deliver detection and visualisation.
Read more...
---
Centralised VMS for multiple sites
Mining (Industry) CCTV, Surveillance & Remote Monitoring
Dispersed mining operation relies on AxxonSoft for centralised video management as well as device health monitoring and the reliable distribution of analytics to various camera brands.
Read more...
---