printer friendly version
Super Recognisers International trains first super recognisers worldwide
April 2018 News, Conferences & Events, Training & Education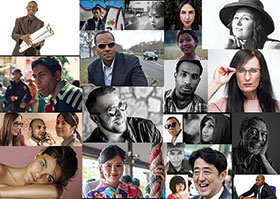 Super recognisers have received a great deal of publicity with the demonstration that only a select few of the population (about 1%) are able to recognise people with exceptional ability.
A group of UK police officers, including internationally renowned Mike Neville who were involved in initiating and running super recognition projects within the Metropolitan police have now set up Super Recognisers International as a private initiative. The new company is aimed at providing a service to various government agencies, including police, as well as other potential clients in areas such as football, event management, and occasions such as carnivals and music festivals.
These clients would share the need to detect criminals and subjects of interest to prevent access, keep an eye on, or for further investigation or follow up. It is the first specialist company of its kind in the world, with its management being recognised internationally.
Kenny Long, one of the managers, who is himself a recogniser, was recently part of a US project to analyse whose face the Statue of Liberty was based on. Driven by research into qualities of super recognisers by Josh Davids at the University of Greenwich as part of a major research programme, Super Recognisers go through a demanding evaluation process. A Super Recognisers association has now been set up in the UK for registration of people who meet the criteria.
The first full scale training course was set up from the 19th – 22nd February for the first ever super recognisers to join the company. As part of the training, Dr Craig Donald was invited to provide his specialist two-day CCTV Behavioural Analysis and Incident Detection to complement the face recognition skills of the delegates – producing super 'super recognisers'.
The delegates came from a range of occupations and backgrounds including some England sports team representatives. Collectively, the group were all among the top performers at face recognition in the UK and probably the world. There was huge motivation for the behavioural analysis side of the training and with a high level of enthusiasm, delegates quickly took the concepts to heart.
While the relationship between face recognition and behavioural recognition is still a point of research, delegates showed strong skills at implementing the concepts and some of them showed some remarkable insights in crime detection during the training. With the ability to pick up areas of concern through behavioural and situational analysis, applying face recognition skills to highlighted groups provides the basis for far quicker identification of subjects. It also means that the recognisers have substantially increased their skills for general crime detection and have truly become some of the best of recognisers internationally.
The course ended off with practical testing to recognise and differentiate faces of suspects in a range of different pictures. Notably, often pictures of people they had to recognise are often from obscure angles from the top, side and with poor definition. Facial recognition software would probably find many of them impossible to pick up, yet the super recognisers did exceptionally well in their detection.
The last exercise was to identify pre-arranged subjects in one of the nearby markets based on a briefing with pictures of them. The performance in this respect was also very good, completing four days of intensive training, information and application. The super recognisers' management team can be justly proud of the concept and the success and calibre of the first group of official super recognisers worldwide.
Further reading:
Enabling SMEs to build back better
Issue 5 2021 , Editor's Choice, News, Conferences & Events
Simpli ConnectED podcast series addresses the demands placed on SMEs in the current economic climate and offers suggestions for keeping the wheels turning.
Read more...
---
Smart city monitoring
Issue 5 2021 , News, IT infrastructure
Fotech, a company focused on digital acoustic sensing technology, has published a white paper on smart city monitoring with a strong focus on the importance of data.
Read more...
---
The Big Three suppliers of video surveillance software
Issue 4 2021 , News
Novaira Insights, a specialist video surveillance market research company, releases further findings from its latest report, The World Market for Video Surveillance Hardware and Software – 2021 edition.
Read more...
---
Total video surveillance market revenues to hit $24.2 bn in 2021
Issue 4 2021 , News
Global video surveillance market revenues are set to reach $24 bn by the end of 2021 according to Omdia's latest Video Surveillance and Analytics Intelligence Database.
Read more...
---
Cellular IoT connections grew by 12%
Issue 4 2021 , News
A new report from the IoT market research firm Berg Insight says that the global number of cellular IoT subscribers increased by 12 percent during 2020 to reach 1,74 billion.
Read more...
---
AI-empowered security operations centre
Issue 4 2021 , News
Prosegur and Security & Safety Things announce strategic collaboration to develop new AI-enabled security services to combine the intelligence of AI and the expertise of human operators to improve security services.
Read more...
---
Claim back your safety
Issue 4 2021 , News
A security company is arming citizens with the power to protect themselves by simply shaking or dropping their phone to activate the distress feature.
Read more...
---
From the Editor's desk: Security on the side
Residential Security Handbook 2021: Secure Living, Technews Publishing , News
Welcome to the second Residential Security Handbook of 2021. In this issue, named Secure Living, we turn our attention a little more inwards and, as you will see in the pages to follow, place more focus ...
Read more...
---
From the Editor's desk: Bitcoin or Ether?
Issue 5 2021, Technews Publishing , News
Well, the July riots are a thing of the past, except, of course, for the million or so rounds of ammo that are still missing and the R120 million in cash that was stolen (cash, not repairs or new equipment ...
Read more...
---
Global relationship strengthened by local partnership
Issue 5 2021, Bosch Building Technologies, ADI Global Distribution , News
Video security and communication products from Bosch Building Technologies are now available through ADI Global Distribution in South Africa.
Read more...
---