printer friendly version
Safety in education
1 February 2018 Education (Industry), CCTV, Surveillance & Remote Monitoring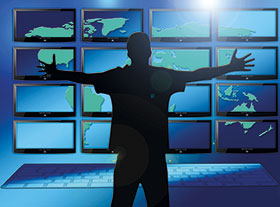 Drawing on the latest developments in technology and the Internet, schools and universities are spoiled for choice when it comes to securing their premises as well as the people on site.
Today, security for educational organisations is a multi-facetted discipline, but the effective and intelligent use of surveillance solutions assists administrators in ensuring their security operation as a whole works together for optimal, integrated safety and security that does not interfere with ongoing education.
Sadly, effective surveillance solutions are the exception rather than the norm. Whether due to financial constraints, poor advice or general apathy, security is a weakness in most educational locations. These weaknesses extend beyond a single location, however, which is unnecessary. Organisations with large, dispersed campuses or even multiple branches can use the latest technologies to ensure economies of scale and make sure their security operation covers more than one campus, even if the locations to secure are dispersed countrywide.
Gino de Oliveira, TVT sales manager at Forbatt SA, explains that security weaknesses can be overcome by selecting the right technology and building an effective solution one layer at a time. He says TVT offers a range of solutions for the education market. These solutions are not stand-alone options, but are integrated with each other – easy integration is one of the hallmarks of TVT's security technology. This allows customers to build effective solutions over time, confident that each phase will easily integrate with others.
Solutions on offer from TVT include video surveillance systems, vehicle management systems, access control and alarm systems. They are all integrated, even remote sites and can be managed from one central station, effectively improving school and university security management.
The outside in
Video surveillance is the basis of good security in the education market and De Oliveira advises administrators to start by installing high-definition (HD) cameras at all entrances and exit points. This creates a perimeter layer which can be integrated with other perimeter technology, all linked to a central control area where video and other data is stored on a centralised storage system. TVT also provides video wall solutions for large premises with many cameras to monitor.
Additional surveillance solutions can be used within the organisation's buildings and these can be integrated with access control systems to ensure the control room knows who is where and can even call up video footage of anyone's entry or exit where required. The addition of an alarm system, also integrated with the surveillance solution ensures that buildings are secure and that any after-hours alarms can be monitored via video streams for additional and immediate situational awareness.
The safety benefit
By integrating the various branches of security technology, De Oliveira explains that you end up with a system of security solutions that reinforce each other and deliver a stronger safety net than any of them could on their own. These solutions can even allow for an electronic roll-call in cases of emergency to ensure that everyone has evacuated the building safely.
Solutions such as the above, not only improve the general safety and security on campus, they also introduce a level of confidence in the staff, teachers and students since they feel secure in their learning environment. You can even extend their usefulness further and catch exam cheats in the act.
Credit(s)
Further reading:
Forbatt SA is an official FLIR distributor
Issue 3 2020, Forbatt SA , News
Forbatt SA has announced that it now has official distribution rights for the FLIR range of products.
Read more...
---
Now you can act before an incident
Issue 3 2020, Forbatt SA , CCTV, Surveillance & Remote Monitoring
An intelligent surveillance system will bring all the relevant events to your attention so you can act before an incident.
Read more...
---
Keeping up with technology
Issue 2 2020, Vox Telecom , Education (Industry)
Security transformation is just as important as digital transformation in the education sector.
Read more...
---
Obtain intelligence from cameras
Issue 2 2020, Secutel Technologies , Education (Industry)
The SecuVue platform can turn ordinary cameras into intelligent sources of information and also extend the ability to detect potential intrusion.
Read more...
---
Is your security fit for purpose?
Issue 2 2020, IndigoVision , Education (Industry)
A Distributed Network Architecture (DNA) offers a direct connection to the camera from your video management software platform.
Read more...
---
Facial biometrics in healthcare
Issue 2 2020, ZKTeco , Education (Industry)
The increased demands on healthcare services is a global phenomenon that needs reliable security systems to help protect each organisation's and person's safety and privacy.
Read more...
---
#SecurityMustPrevail
Issue 2 2020 , Education (Industry)
The former director of protection services at Nelson Mandela University, and former president of Camprosa, shares his research into how educational institutions have adapted in-housing their security services.
Read more...
---
Six steps to heightened security in education facilities
Issue 2 2020, Impro Technologies , Education (Industry)
While educational institutions remain one of the safest places for students to be, increased global trends in crime are creating a contrary opinion for parents and students.
Read more...
---
Tertiary education wants real security
Issue 2 2020, Powell Tronics , Education (Industry)
Portable devices continue to offer a cost-effective and reliable alternative for a number of applications, especially in the education sector.
Read more...
---
Enabling education as essential service
Issue 2 2020, Suprema , Education (Industry)
Suprema offers a range of identity solutions to streamline education processes and procedures to assist in improving outcomes.
Read more...
---