printer friendly version
University hospital goes digital
February 2018 Education (Industry), CCTV, Surveillance & Remote Monitoring, Integrated Solutions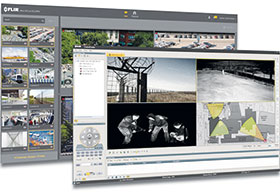 NNUH is a National Health Service (NHS) academic teaching hospital located on the southern outskirts of Norwich and was the first new NHS teaching hospital built in England for more than 30 years. It is one of the largest hospitals in the United Kingdom in terms of in-patient capacity and is a teaching centre for nurses (adult and children), midwives, doctors, therapists and operating department practitioners, whilst hosting the Norwich GP speciality training scheme.
Ensuring safety for patients, visitors and staff
An efficient and convenient CCTV system is a key element in any effort to ensure the safety of hospital patients, visitors and staff. So when NNUH's video monitoring system was hitting its technological limits, the hospital decided it was time for an upgrade of the control room. There was one major challenge: the control room is the main hub of hospital communications and therefore essential for 24/7 response to emergencies. As a result, NNUH required a seamless technology transition.
For the upgrade of the control room, NNUH called in Check Your Security, a Norfolk-based integrator of security monitoring systems. Check Your Security first evaluated the current physical security system in place at NNUH in order to determine which products and solutions would be optimal for the future proofing towards a fully digital environment. This process was undertaken by using an Enterprise Audit Report (EAR) in which Check Your Security establishes a facility characterisation with the key stakeholders and investigates how the latest advances in technology can be implemented.
FLIR's Latitude VMS
Based on the EAR, Check Your Security proposed to equip Norfolk and Norwich University Hospital with a new control room with the latest fully integrated and ergonomic command centre furniture. This shared working environment was tailored to NNUH's needs and now incorporates an effective incident planning area, making use of the latest Latitude VMS version from FLIR for real-time situational awareness. The control room now also features a video wall integrating the video feeds of key cameras, together with a connection to the barriers, access control and emergency intercoms.
FLIR's Latitude VMS provides seamless, forensic quality imaging and user-friendly operation consisting of dedicated, web-based and mobile client software. The system's scalable architecture efficiently supports systems of any size or architecture for implementation throughout enterprises, across multiple sites, cities and continents. Latitude version 7.0 offers effortless viewing, playback, search and export, while maintaining scalability and usability.
As part of the transition to a digital platform, the analogue recording equipment has been decommissioned and the existing cameras have been migrated onto FLIR recording servers and analogue video encoders to integrate its existing 76 external PTZ cameras, internal static cameras, intercom help points and barriers.
FLIR's range of encoders and edge devices allow for a seamless technology transition from analogue to digital using existing site infrastructures. FLIR's Arisel encoder products transform analogue video signals into digital video streams and transmit them via LAN, Internet or Intranet for live viewing and recording. Ariel encoders support H.264 and bi-directional audio.
Smooth technology transition
The NNUH security network and control room environment was quite challenging, with a range of outdated technology and legacy hardware across the hospital. But the implementation of FLIR's Latitude VMS was in fact a smooth and cost-effective transition, allowing Check Your Security to easily integrate the new solution from FLIR into the NNUH existing infrastructure.
The upgraded control room with FLIR's VMS has resulted in an extremely user-friendly and ergonomic shared workspace and lowered operational costs, enabling better patient control and higher quality service. The total solution not only consumes less space, but has also resulted in lower power consumption.
But the most important benefit for NNUH's control room operators probably is that the internal investigation time has been reduced by 25%. FLIR's Latitude VMS has certainly contributed to this, with its sleek and modern client web interface, optimised use of touch screens, thumbnail search for quick and accurate identification of desired clips and its presentation of relevant data and actionable information, allowing control room operators to focus on what is important.
For more information contact FLIR Systems www.flir.com or refer to the www.hsbd.co.za for SA distributors.
Further reading:
Shorten your checkout lines to enhance customer experience
September 2019, Hikvision South Africa , Retail (Industry), CCTV, Surveillance & Remote Monitoring
Hikvision's queue detection technology is purpose-built to offer cutting-edge flow analysis to retail outlets and any situation where waiting to pay is required.
Read more...
---
Constructive CCTV contributions to research
September 2019, Leaderware , Editor's Choice, CCTV, Surveillance & Remote Monitoring
Study leads to understanding that we need more recognition and reward for constructive participation in society.
Read more...
---
Managing staff effectively
September 2019, dormakaba South Africa, iPulse Systems , Integrated Solutions, Access Control & Identity Management
Workforce management solutions allow organisations to track the relationship between productivity and the cost of employment, incorporating issues such as health and safety, T&A, rostering and more.
Read more...
---
New Africa sales manager for Axis Communications
September 2019, Axis Communications SA , News, CCTV, Surveillance & Remote Monitoring
Axis Communications has appointed Brendon Hall, previously the founder and MD of Pentagon, as its new sales manager, Africa.
Read more...
---
Hikvision helps secure African Union Summit
September 2019, Hikvision South Africa , News, CCTV, Surveillance & Remote Monitoring
Hikvision established a complete intelligent video solution to ensure the security of the thirty-third African Union (AU) Summit held on 7 July in Niamey, the capital of Niger.
Read more...
---
Genetec to integrate CylancePROTECT
September 2019, Genetec , Editor's Choice, CCTV, Surveillance & Remote Monitoring, News
Genetec has announced it is partnering with Cylance, a business unit of Blackberry, to bring AI-based antivirus protection to its appliance customers.
Read more...
---
Best in class at sea and ashore
September 2019, Axis Communications SA , Transport (Industry), CCTV, Surveillance & Remote Monitoring
Thermal network cameras support the guard tour function that can be used for continuous monitoring of a particular area according to the pre-set guard tour.
Read more...
---
Increase security efficiency, decrease costs
September 2019 , Security Services & Risk Management, Integrated Solutions
Trackforce offers customisable mobile and web applications to increase security operational efficiency and lower costs.
Read more...
---
New 5000 series single sensor cameras
September 2019, Dallmeier Electronic Southern Africa , Products, CCTV, Surveillance & Remote Monitoring
Data rate reduced by up to 50% and AI-supported object classification in new Dallmeier Series 5000.
Read more...
---
Augmented security with drones
August 2019, Drone Guards , Editor's Choice, Integrated Solutions
Drone Guards is moving into an untapped market of using drones to secure residential estates and other high-value assets such as mines, farms and commercial properties.
Read more...
---