printer friendly version
The value of a child?
February 2018 Education (Industry), Security Services & Risk Management
When considering security on a global level and in first world countries, schools usually take top priority. It is the protection of our children, which are our future after all. However, in South Africa, school security is not on par with the rest of the world.
Considering what I have seen in my life, there is not much that shocks me, but upon visiting some of our schools, I must admit that I am absolutely appalled with the overall standard of security.
I often interview individuals who are responsible for the security at the schools and their understanding of security astounds me even more. Not because they lack training, but because of how ignorant they are in that they do not realise how poor their security actually is.
To make matters worse, many wholeheartedly believe their security is the best and even boast about it proudly. Should I attempt to point out any flaws, they react aggressively. That is if I am even given the chance to voice my concerns because they clearly are not interested in listening.
A case study
In one particular case, I was informed that they have no problems, as the SAPS respond directly to the security guards on site. That surprised me because the rest of the country generally complains about SAPS' response time.
Moreover, the radios of these specific guards were in very bad shape and outdated. I have never heard of the SAPS taking orders from a security guard directly.
While on a tour through the school's premises with the teacher responsible for the school security, my jaw dropped the more she spoke and the more she showed me.
"Why yes, of course, we have regular security meetings," I was told in a manner that made this woman appear quite full of herself.
"How often?" I asked. "Every week, fortnightly, or once a month?"
"Every semester," she replied. That means that security is discussed and takes priority only four times a year!
"Can you show me what is discussed at these meetings?"
"No," she replied. "There are no minutes for these meetings."
My jaw dropped further. How can things be followed up if there are no minutes? There is no proper communication, no management and, in fact, no security.
Without a security risk assessment in hand, you do not have security. Whose responsibility is the safety and security of children?
The value of a child
During this particular interview, I started making some notes and calculations. I came to the following upsetting conclusion:
If you had to place a value on a child, what would it be? Then take into consideration how much an education costs these days. What would you then say the school spends per child regarding security?
Whatever you were thinking, I can guarantee you that you are way off. When calculating the security, the standard of it and the amount spent on it as evaluated by the size of the school, this specific school places the value of a child at approximately R1.00, most other schools go up to R53.00 per month.
Not only do the people who are responsible for security at the school not want to listen to me or any other security adviser, despite our experience, but they sincerely believe that they are at the top of their game.
As a teacher that is trained to guide our children, why will she not heed my advice or give me a chance to explain to her the potential and existing security risks at the school?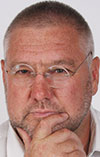 Andre Mundell.
I have over 30 years' experience in security and crime prevention and as an independent risk assessor, I personally had to deal with tons of missing person reports crossing my desk that involved children. This makes me question our security system and why our children and schools are not made a top priority as almost anywhere else in the world.
And as a parent, can you be 100% at ease knowing that while your child is receiving his/her education, that they are safe and will return home at the end of the day? Don't you think that as a parent, it is time that you get involved and take control of the security at your child's school?
For more information, contact Andre Mundell, Alwinco, +27 (0)62 341 3419, andre@alwinco.co.za, www.alwinco.co.za
Credit(s)
Further reading:
30 years of business continuity
May 2019, ContinuitySA, Technews Publishing , Editor's Choice, Security Services & Risk Management
ContinuitySA is celebrating its 30th anniversary this year and Hi-Tech Security Solutions spoke to CEO Michael Davies about the changes he has seen in the business continuity and disaster recovery markets.
Read more...
---
The benefits of background screening
May 2019, iFacts, Managed Integrity Evaluation , Editor's Choice, Security Services & Risk Management
Companies need to be more vigilant about the people they employ by making sure comprehensive background screening checks are conducted.
Read more...
---
Simplifying fire detection system installations
May 2019, Elvey Security Technologies , Editor's Choice, Fire & Safety, Security Services & Risk Management
A fire detection system needs to be selected with extreme care, as is selecting an installer that not only understands the various technologies employed in fire detection, but that also has the necessary accreditations and certifications.
Read more...
---
Security workforce management platform
May 2019, Secutel Technologies , CCTV, Surveillance & Remote Monitoring, Integrated Solutions, Security Services & Risk Management
Secutel Technologies says the South African market is excited about body-cam technology and clearly sees the potential benefits.
Read more...
---
Solar energy storage systems
May 2019, Specialised Battery Systems , Products, Security Services & Risk Management
Specialised Battery Systems has a range of Energy Storage Systems (ESS) available, both standard and custom designed to suit customer requirements.
Read more...
---
Control room software selection
May 2019, Intelligent Monitoring , CCTV, Surveillance & Remote Monitoring, Security Services & Risk Management
Wolfgang Kirsch discusses what customers should look for when selecting a control room management platform.
Read more...
---
Virtual workshops for security management
May 2019 , Training & Education, Security Services & Risk Management
The International Security Industry Organisation (ISIO) and the International Foundation for Protection Officers (IFPO) has announced a series of virtual courses aimed at criminologists, security, investigation, protection and risk management practitioners.
Read more...
---
Anglo American's underground Wi-Fi
May 2019 , IT infrastructure, Security Services & Risk Management
The introduction of underground Wi-Fi has improved productivity and working conditions for hundreds of miners at Anglo American's coal mining operations in Mpumalanga.
Read more...
---
Make sure you ask the right questions
May 2019, Fidelity ADT Security , Home Security, Security Services & Risk Management
Appointing an armed response company for your home is becoming increasingly essential with latest crime stats released by Fidelity ADT pointing towards housebreaking and common thefts as the most often reported types of crime.
Read more...
---
ASIS Security Technology Concepts day
April 2019, Technews Publishing , Editor's Choice, Security Services & Risk Management
ASIS SA kicked the tyres of a few technologies at its first Security Technology Concepts day in February.
Read more...
---