printer friendly version
Virtual surveillance solutions
September 2017 CCTV, Surveillance & Remote Monitoring, IT infrastructure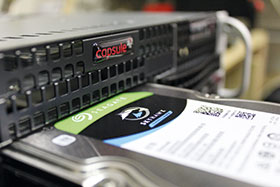 Complex IT infrastructures are today part of the design and architecture of modern surveillance solutions. Servers, storage arrays, network switches and even workstations are now the heart of a surveillance system.
With the rise of high-resolution cameras and security needs such as LPR, facial recog-nition, analytics and access control, the multiplication of IT equipment has pushed system integrators into the game of data centre management, requiring more involvement in the maintenance of the control room due to the complexity of the IT equipment.
An easy approach when designing a surveillance infrastructure is to rely on the bill of materials provided by the surveillance software vendors, thanks to the availability of on-line configuration calculator tools they provide. These tools offer an idea of the quantity of servers, workstations and storage required for a given quantity of cameras, type of site, retention period, etc. In reality, the provided bill of materials is mostly very conservative and out of budget, therefore the project ends up badly qualified, resulting in a long, painful and costly integration exercise.
Designed for surveillance
Another approach is to design the solution not based on commodity hardware, but with solutions coming from vendors exclusively involved in surveillance, and therefore able to design surveillance appliances and technologies specifically for the needs of a surveillance infrastructure. Capsule Technologies is permanently developing and improving technologies, helping to drastically reduce the quantity of hardware without compromising on the performance and the resilience of the solution.
By proposing technologies such as software-defined infrastructure with virtualisation and scale-out storage as foundations, disrupts the dynamic of adding more servers and more storage to fix the problems of an evolving surveillance infrastructure.
A software-defined infrastructure, such as the one proposed by Capsule with CAPS-OS, offers the flexibility of having multiple virtual machines (VM) within a single Capsule Appliance. This appliance offers users a host of features, from failover recording servers to management servers, event servers and even third-party applications (such as video analytics or access control systems) which can be hosted on the additional VMs.
Advantages of virtual machines
In separate VMs, these applications are isolated from each other, creating a safer environment for long term system reliability. Most importantly, the restructuring of the surveillance components into a virtual environment minimises the cost of the IT infrastructure, avoiding the conversion of a control room into a data centre.
Capsule is actively developing for the Bosch and Milestone ecosystems, allying also with IT vendors such as DELL-EMC, Supermicro and Promise to guarantee that end users can obtain more of their surveillance infrastructure within budget, without becoming data centre managers.
Capsule will be demonstrating its solutions for Milestone Xprotect at the Milestone Community Days in Johannesburg the 19th of September and in Cape Town the 22nd of September.
For more information, contact Franck Martinaux, Capsule Technologies, franck@capsule-sa.co.za, www.capsule-sa.co.za
Further reading:
Premium forensic video analytics
Milestone Systems CCTV, Surveillance & Remote Monitoring
With the new XProtect Rapid REVIEW, Milestone and BriefCam bring premium forensic video analytics to XProtect customers around the world.
Read more...
---
New intelligent video wall station
CCTV, Surveillance & Remote Monitoring
IDIS Intelligent Video Wall Station allows affordable and effective centralised monitoring by extending dynamic video wall benefits to smaller and mid-size users.
Read more...
---
Offshore cloud video surveillance system
Eagle Eye Networks CCTV, Surveillance & Remote Monitoring News Transport (Industry)
Eagle Eye Networks and TechBinder collaborate on offshore cloud video surveillance system for maritime sector, bringing real-time remote viewing and notifications to enhance vessel performance data and reporting
Read more...
---
Suprema integrates biometric access control with Genetec
Suprema News CCTV, Surveillance & Remote Monitoring Access Control & Identity Management
Suprema has announced the successful integration of its biometric access control products with Genetec Security Center, a unified security platform that connects security systems, sensors and data in a single intuitive interface.
Read more...
---
Premium forensic analytics
Milestone Systems News CCTV, Surveillance & Remote Monitoring Government and Parastatal (Industry)
With the introduction of XProtect Rapid REVIEW, powered by BriefCam, Milestone's customers will be able to accelerate investigations and find what they are looking for with speed and accuracy.
Read more...
---
City surveillance in South Africa
IDEMIA Government and Parastatal (Industry) CCTV, Surveillance & Remote Monitoring Integrated Solutions
Smart cities and their smarter, more responsible eye in the sky; a look at the video surveillance landscape in South Africa.
Read more...
---
Surveillance in distribution centre
Dahua Technology South Africa CCTV, Surveillance & Remote Monitoring
A large warehouse and distribution centre is benefiting from a 64-camera video surveillance system from Dahua Technology.
Read more...
---
Managing vehicle entry with ANPR
Hikvision South Africa CCTV, Surveillance & Remote Monitoring
The use of automatic number plate recognition (ANPR) for vehicle entry is not new, but it's being used in more innovative ways to streamline processes and help business planning.
Read more...
---
Seeing without being seen
Government and Parastatal (Industry) CCTV, Surveillance & Remote Monitoring
Video surveillance should be as discreet as possible to protect the aesthetics around the legendary promenade in Cannes.
Read more...
---
Improving real-time monitoring
CCTV, Surveillance & Remote Monitoring
IDIS Solution Suite v3.5 features and service modules make enterprise-class VMS even more affordable with no ongoing software licences or connection costs.
Read more...
---