printer friendly version
Virtual surveillance solutions
September 2017 CCTV, Surveillance & Remote Monitoring, IT infrastructure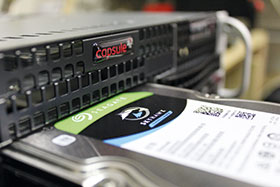 Complex IT infrastructures are today part of the design and architecture of modern surveillance solutions. Servers, storage arrays, network switches and even workstations are now the heart of a surveillance system.
With the rise of high-resolution cameras and security needs such as LPR, facial recog-nition, analytics and access control, the multiplication of IT equipment has pushed system integrators into the game of data centre management, requiring more involvement in the maintenance of the control room due to the complexity of the IT equipment.
An easy approach when designing a surveillance infrastructure is to rely on the bill of materials provided by the surveillance software vendors, thanks to the availability of on-line configuration calculator tools they provide. These tools offer an idea of the quantity of servers, workstations and storage required for a given quantity of cameras, type of site, retention period, etc. In reality, the provided bill of materials is mostly very conservative and out of budget, therefore the project ends up badly qualified, resulting in a long, painful and costly integration exercise.
Designed for surveillance
Another approach is to design the solution not based on commodity hardware, but with solutions coming from vendors exclusively involved in surveillance, and therefore able to design surveillance appliances and technologies specifically for the needs of a surveillance infrastructure. Capsule Technologies is permanently developing and improving technologies, helping to drastically reduce the quantity of hardware without compromising on the performance and the resilience of the solution.
By proposing technologies such as software-defined infrastructure with virtualisation and scale-out storage as foundations, disrupts the dynamic of adding more servers and more storage to fix the problems of an evolving surveillance infrastructure.
A software-defined infrastructure, such as the one proposed by Capsule with CAPS-OS, offers the flexibility of having multiple virtual machines (VM) within a single Capsule Appliance. This appliance offers users a host of features, from failover recording servers to management servers, event servers and even third-party applications (such as video analytics or access control systems) which can be hosted on the additional VMs.
Advantages of virtual machines
In separate VMs, these applications are isolated from each other, creating a safer environment for long term system reliability. Most importantly, the restructuring of the surveillance components into a virtual environment minimises the cost of the IT infrastructure, avoiding the conversion of a control room into a data centre.
Capsule is actively developing for the Bosch and Milestone ecosystems, allying also with IT vendors such as DELL-EMC, Supermicro and Promise to guarantee that end users can obtain more of their surveillance infrastructure within budget, without becoming data centre managers.
Capsule will be demonstrating its solutions for Milestone Xprotect at the Milestone Community Days in Johannesburg the 19th of September and in Cape Town the 22nd of September.
For more information, contact Franck Martinaux, Capsule Technologies, franck@capsule-sa.co.za, www.capsule-sa.co.za
Further reading:
Elvey partners with HALO
Elvey Security Technologies News CCTV, Surveillance & Remote Monitoring
Elvey Group has partnered with HALO Europe to provide Africa's first body-worn solution with zero upfront costs. This includes an IP68-certified body camera and a 4G-connected device.
Read more...
---
Regal announces new partnership
Regal Distributors SA CCTV, Surveillance & Remote Monitoring
Having a bird's eye view of your surveillance data, with the capability to drill down to the details obtained via connected security solutions, is a game changer for security operators, companies and even officers on the ground.
Read more...
---
Invisible connection and tangible protection via cloud
Dahua Technology South Africa Perimeter Security, Alarms & Intruder Detection CCTV, Surveillance & Remote Monitoring Products
Dahua Technology has launched its AirShield security solution that uses advanced, stable and reliable RF communication technology and cloud services, integrating alarm hubs, various detectors and accessories, with several software apps.
Read more...
---
Hikvision expands solar-powered solutions
CCTV, Surveillance & Remote Monitoring Products
Hikvision is offering a portfolio of solar solutions, the 4G solar-powered camera kit, a wireless bridge, and mobile solar security tower solutions to assist in keeping remote and isolated areas safe in a simple, practical, and cost-effective way.
Read more...
---
Smart buildings require smarter networks
Commercial (Industry) IT infrastructure
The smart building is not a new concept, but it's more than just four walls built sustainably, but a network that interconnects people, processes, data, and things. Lots and lots of things.
Read more...
---
VMware unveils new security capabilities
Cyber Security IT infrastructure Products
At the RSA Conference 2023, VMware unveiled enhanced features for its suite of security solutions to address the increasing sophistication and scale of cyberattacks and to deliver strong lateral security across multi-cloud environments.
Read more...
---
Affordable entry-level cameras from Dallmeier
Dallmeier Electronic Southern Africa CCTV, Surveillance & Remote Monitoring Products
Dallmeier has introduced the 'E' version of the DOMERA camera family, offering high image quality with 2 MP and 5 MP resolution, and providing detailed images even in low light conditions.
Read more...
---
The importance of the operator's frame of reference
Leaderware Editor's Choice CCTV, Surveillance & Remote Monitoring Security Services & Risk Management Mining (Industry)
The better the operator's frame of reference and situational awareness, and the more informed they are in dealing with CCTV surveillance in the mining industry, the more successful they are likely to be in surveillance.
Read more...
---
Complex, but critical partner in security
Technews Publishing Bidvest Protea Coin Editor's Choice Integrated Solutions IT infrastructure Mining (Industry)
Smart Security looks at how drones can be applied effectively in mine security operations. The ability to quickly gain a birds-eye view of a situation, whether security, safety or operational in nature, makes drones a significant value-add to mines.
Read more...
---
5G and IoT set to transform mining
Mining (Industry) IT infrastructure
BCW Wireless delivers significant enhancements in worker safety and business productivity at the Nungu Mine in Elandspruit, with 5G wireless-enabled technology instantly addressing a wide range of challenges faced by the mining industry.
Read more...
---