printer friendly version
Integrators in the crosshairs
August 2012
News
Welcome to our August issue. We have a bunch of focus areas this month, from fire to our IFSEC SA review to storage, to our annual healthcare feature and a look at the world of system integration.
The term system integrator (SI) is one of those titles that companies often apply to themselves without actually having the resources to deliver the services an SI should. But there again, what should an SI do? We put this question to a few people we thought should know and you can see the responses in our SI section.
Safe to say, calling yourself a SI is not simply a title, it involves a host of skills and technical capabilities you generally cannot get from the shop on the corner. And as the world moves to more integrated systems, those without the required skills are going to be in trouble. Although they did not say it openly, the only way smaller companies are going to compete in large projects is to ensure they have in-depth skills and knowledge on specific niche areas.
Making yourself an expert in a niche is really the only way for smaller businesses to prepare for the future and be co-opted into larger projects. Naturally there is still an enormous amount of smaller or solution-specific projects out there for the small players to play in, but money talks and as customers become more educated they will demand integrated solutions instead of silos of product specific installations.
A recent article on IPVM.com highlighted the problems customers have with their SIs. The article highlights three common reasons for firing your SI: poor service, lack of knowledge and too expensive/lack value. Sounds like these complaints are levelled at SIs globally, you can read the article at www.ipvm.com/report/why_integrators_get_fired .
Scenario planning
We also review the first Hi-Tech Security Solutions Executive Breakfast in this issue. Clem Sunter was our guest speaker on the topic of scenario planning. The audience was incredibly positive of his contribution with everyone giving him maximum points in the feedback.
Looking at the brief overview we offer in the article will give you food for thought with respect to planning for your own and your business's future. However, you can find much more information on www.mindofafox.com or by grabbing one of his books. The books on sale at the Executive Breakfast sold out in minutes.
And on the topic of scenarios, we are working on the Access and Identity Management Handbook 2013. Let us know if you have anything to contribute, and if you have not received the brief for it yet, let me know on andrew@technews.co.za and I will get it to you.
And, as always, any comments on this issue can be sent to the same address.
Correction
Axis Communications has notified Hi-Tech Security Solutions that the case study titled 'Retail giant rolls out additional surveillance' in the July issue contained outdated information and the company has therefore retracted information included in the case study.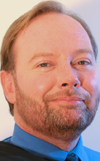 Andrew Seldon – Editor
Credit(s)
Further reading:
Retail solutions beyond security
Issue 8 2020, Axis Communications SA, Technews Publishing, Hikvision South Africa , Editor's Choice, CCTV, Surveillance & Remote Monitoring
The need for security technology to deliver more than videos of people falling or stealing from retail stores is greater than ever.
Read more...
---
Gallagher to resell Invixium
Issue 3 2021 , News
Gallagher and Invixium recently announce a global agreement in which Gallagher will distribute Invixium products for access control.
Read more...
---
Innovation drives secure eSignature solutions for Africa
Issue 3 2021 , News
Impression Signatures and Striata recognised the need for secure, efficient and easily manageable eSignature solutions and have partnered to ensure easy access to safe, efficient eSignature solutions.
Read more...
---
Roy Alves appointed as national sales manager for J2
Issue 3 2021, J2 Software , News
As part of its global expansion strategy, cybersecurity firm J2 has appointed Roy Alves as its national sales manager to enable African businesses to identify and address their cyber capacity needs.
Read more...
---
Video security primer released
Issue 3 2021 , News
The right video management system can make an organisation smarter and more efficient, as well as more secure according to Eagle Eye Networks' new guide on evaluating cloud video surveillance systems.
Read more...
---
ACDC expands in Longmeadow
Issue 3 2021 , News
ACDC Dynamics and ACDC Express are hosting a customer day in Longmeadow, Edenvale on 28 and 29 May 2021.
Read more...
---
Urban branches bring the human connection back into the suburbs
Issue 3 2021, Fidelity Services Group , News
Advances in technology and evolving crime patterns have changed the face of the security industry, introducing a highly systems-driven approach to provide communities with the necessary support and technology innovation.
Read more...
---
Integrated video telematics solution
Issue 3 2021 , News
Webfleet Solutions, part of Bridgestone, launched Webfleet Video into the market. With Webfleet Solutions and Lytx integrated on one platform, users can access and manage both their vehicles and their ...
Read more...
---
One lock to rule them all?
Issue 3 2021, ASSA ABLOY South Africa, Technews Publishing , Financial (Industry)
eCLIQ is a multi-layered locking system which combines key-operated mechanical and electronic protection through a range of high-security cylinders and padlocks for applications beyond doors.
Read more...
---
From the editor's desk: Privacy is your responsibility
Issue 3 2021, Technews Publishing , News
We have a look at the Protection of Personal Information Act (PoPIA) in this issue, which is set to become a reality as of 1 July. We didn't have space for much information, but more on the topic will ...
Read more...
---