printer friendly version
Merger takes FS-Systems forward
October 2015
Integrated Solutions
FS-Systems has carved out a name for itself in the SI market over the years, first trading as FireFight, a company launched in 1971, focusing on fire detection and suppression technology and services.
In the '80s, the company branched into manufacturing its own products, but found it needed to focus on one core business. The company then split into a manufacturing company, which was eventually renamed Ziton, now owned by UTC, and the integration arm was renamed FireSpec and continued with its focus on the fire market, but also diversified into other aspects of enterprise security, including access control, surveillance, voice evacuation and PSIM.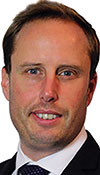 Carlo Klopper, MD of FS-Systems.
In 2013, FireSpec purchased a specialist IP video surveillance company, Integrated Gaming Security Solutions (IGSS). The acquisition gave FireSpec expertise in high definition IP video surveillance solutions, specifically relevant to the gaming vertical. IGSS was renamed FutureVid Solutions.
In 2015, the two companies merged into one new entity, ready to take on the enterprise security integration market, and was renamed FS-Systems, with Carlo Klopper (ex regional lead for UTC) as MD.
Tackling project work
Klopper says the merged FS-Systems is focused on project work, specifically the difficult projects others take strain in completing. The reason for this is the training and experience of FS-Systems' employees. Klopper is focused on ensuring the people within FS-Systems are able to deliver at the highest quality projects, on time and on budget, no matter what the task is.
The same applies to the company's technical teams. They are on a continual path of upgrading their skills to be able to best service clients. To ensure its skills are ahead of the pack, FS-Systems selects a limited number of technology partners and insists on using products it has experience in and knows it can rely on to perform as required.
The product partnerships it has developed include areas such as access control including biometrics, fire, voice and IP video. The brands it focuses on include Avigilon for video surveillance, Gallagher and Impro for access control, TOA and Bose for voice evacuation, and UTC's brands and Securiton for fire detection and suppression.
The company also focuses on a number of verticals. It has completed large projects in the mining industry, most recently at a copper mine with multiple sites. The solutions implemented include enterprise access control, workforce management and IP video solutions. All these are managed centrally from the company's head office.
Other verticals include supplying high definition video solutions to the gaming industry as well as healthcare, property and property management groups, and the logistics industry.
It is also an old hand at the education market. FS-Systems has, for example, a long-term relationship with the University of Cape Town (UCT) where it has an onsite team to support its installed solutions. The work done at UCT covers 190 buildings, over 30 000 students, 1800 access controlled doors, 30 000 smoke detectors and over 250 alarm systems running over IP.
Delivering business value
Despite its capacity to implement and maintain significant security projects, Klopper says the company is focused on delivering business value on top of its security solutions. Its aim is to use traditional security products and solutions to optimise customers' security and business processes and benefit the company as a whole.
In providing more than security solutions, Klopper says the company is on track to live up to its vision of delivering value to companies across sub-Sahara Africa requiring protection of their people, property and assets.
Over the next year or so, Klopper adds that FS-Systems' focus will be on growing its presence in South Africa and sub-Saharan Africa by expanding its presence in Johannesburg, as well as in South America, all areas it already does business in. He also wants FS-Systems to be the best company to work for in order to attract and retain the best skills in the industry.
For more information contact FS-Systems, +27 (0)21 685 1111, enquiry@fs-systems.co.za, www.fs-systems.co.za
Further reading:
TOA's new IP horn speaker
Issue 4 2021, TOA Electronics , Products, Integrated Solutions
TOA's new IP-A1SC15 IP Horn Speaker (15 W) easily integrates video and audio systems to assist in responding immediately to an emergency situation by means of a live announcement.
Read more...
---
Winners of the inaugural South Africa OSPAs
Issue 4 2021, Technews Publishing, Secutel Technologies, Cathexis Technologies , Editor's Choice, News, Integrated Solutions, Security Services & Risk Management
The presentation of the first-ever South Africa Outstanding Security Performance Awards (OSPAs) took place virtually on Thursday 3rd June 2021 as part of an internationally attended online thought leadership webinar.
Read more...
---
Gijima and Cattron to deliver intelligent solutions
Issue 4 2021, Gijima Specialised Solutions (GSS) , Industrial (Industry), News, Integrated Solutions
South African ICT provider, Gijima, has entered into a partnership agreement with Cattron, a provider of high-performance, intelligent control solutions, as part of Gijima's quest to expand its horizons.
Read more...
---
Cybersecurity in the physical security world
Issue 4 2021, Technews Publishing, Milestone Systems, Axis Communications SA, AVeS Cyber Security, Vox , Editor's Choice, Cyber Security, Integrated Solutions, IT infrastructure
Hi-Tech Security Solutions, in partnership with Milestone Systems, hosted a round table discussion to find out about the trends and realities and the importance of cybersecurity in the physical security and IoT world.
Read more...
---
Smart living with Dahua
Issue 4 2021, Dahua Technology South Africa , Integrated Solutions, Residential Estate (Industry)
The Dahua Intelligent Residential Solution aims to achieve smart security, smart living and smart property management by using a combination of cutting-edge technologies while taking living experience to a new level.
Read more...
---
Unification for better security, efficiency and flexibility
CCTV Handbook 2021 , Integrated Solutions
When surveillance, access control, intrusion detection, communications, licence plate recognition and analytics work together cohesively through a unified platform, they not only secure a business, but yield actionable business intelligence.
Read more...
---
You will always need a security officer
CCTV Handbook 2021, Mantis Security , Integrated Solutions
There are many advocates who want to do away with a physical guard, claiming that cameras and analytics etc. are enough of a deterrent by themselves.
Read more...
---
Backup-as-a-Service
Issue 3 2021, Commvault , Integrated Solutions
Spike in ransomware attacks calls for adoption of Backup-as-a-Service solutions by modern enterprises, says Kate Mollett, regional director at Commvault South Africa.
Read more...
---
The supply chain of the future
Issue 3 2021 , Integrated Solutions, Security Services & Risk Management, Retail (Industry)
For retailers to maximise their bottom line, the supply chain needs to be fast, efficient and responsive, which requires the use of intelligent, integrated technology.
Read more...
---
How IoT is enabling the rise of smarter homes
Issue 3 2021, Vox , Smart Home Automation, Integrated Solutions
At its most basic level, an IoT solution comprises three main components: sensors, a data transmission network and a platform to analyse and view the information.
Read more...
---