printer friendly version
Procam CCTV partners with Uniview
July 2015
News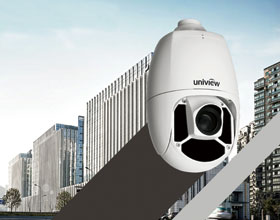 Uniview is a China-based company boasting a staff complement of over 2000 employees, of which nearly 50% are focused on constant research and development (R&D). Uniview has been pioneering in IP-based video surveillance since 2005 and has grown to be one of the top three leading CCTV manufacturers in China.
In addition, Uniview holds the third-largest domestic market share and is rich in IT experience, as well as innovative designs for products which have been a solid stepping stone into the international market.
During its nine years of experience, Uniview has not only been involved in China, but in many international projects which include public security, traffic monitoring, park monitoring, petrochemical surveillance as well as high-end buildings and many more.
Procam CCTV is looking forward to forging a successful partnership with Uniview, a dynamic and fast growing company that aligns with Procam CCTV's core mission and values of providing quality products at reasonable prices to its customers. Uniview considers research and development key in striving to become a global leader in the video surveillance industry, and therefore invests more than 15% of annual sales into R&D, resulting in the invention of leading technologies and products.
Uniview's product portfolio boasts a top quality and innovative IP range consisting of network cameras, NVRs, IP SAN, DC and VMS. In addition Uniview offers 500 m IR speed domes, NVRs which can handle 1024 cameras and can be used in conjunction with its control room software which is able to control 100 000 cameras simultaneously.
All these factors will only enhance the level of quality of surveillance equipment in South Africa where CCTV equipment has become a must rather than a nice to have. Not only are businesses across South Africa having CCTV installed at a rapid rate, but so are homes and quality has become more important. It is in this arena that Uniview stands out from the many manufacturers in the market.
For more information contact Procam, +27 (0)11 867 5419, tasker@procamcctv.co.za, www.procamcctv.co.za
Further reading:
Black Point Tech continues the tradition
Issue 2 2021, Black Point Tech cc t/a BPT , News
Black Point Tech, trading as BPT, is a new company that inherits the history of others that, in the past, have distributed solutions in the fields of intercom systems, parking management as well as general access control solutions.
Read more...
---
Suprema ranks first in survey
Issue 2 2021, Suprema, neaMetrics , News, Access Control & Identity Management
In a recent survey conducted in Korea, Suprema was chosen as the top brand for access control management software and mobile access solutions.
Read more...
---
Suprema integrated with Nedap
Issue 2 2021, Suprema , Access Control & Identity Management, News
Suprema recently announced that it has integrated its latest facial recognition devices into Nedap's access control system, AEOS, to enable organisations to manage their access control by making use of Suprema's latest facial recognition technology.
Read more...
---
Commercialising vehicle security monitoring services
Issue 2 2021 , News
To protect connected vehicles around the world against cyberattacks, Panasonic and McAfee will build vehicle SOCs that enable accurate detection and early response to attacks and help strengthen cybersecurity measures in the automotive industry.
Read more...
---
Fidelity ADT expands security footprint
Issue 2 2021, Fidelity ADT , News
Fidelity ADT has concluded an agreement with National Security & Fire in the Vaal and KZN South Coast areas whereby it will be taking over the monitoring and armed response service contracts in these areas as of 1 April.
Read more...
---
AURA expands into East Africa
Issue 2 2021 , News
South African business, AURA, is expanding its operations into East Africa with new Kenyan office and general manager.
Read more...
---
From the editor's desk: Maybe security should STTFS
Issue 2 2021, Technews Publishing , News
The IT industry has an acronym, RTFM, Read the Manual; you'll notice I left the F out. The same can be said for the security industry, but a recent experience has shown me that both industries, even as ...
Read more...
---
ONVIF reaches milestone of 20 000 conformant products
Issue 2 2021 , News
ONVIF has announced that more than 20 000 security products are now conformant to its various profiles, indicating the strong market demand for interoperability of hardware and software offerings and the relevance of ONVIF as a driver of open standards within physical security.
Read more...
---
Suprema's fingerprint recognition algorithm supplied to Samsung Galaxy S21 series
Issue 2 2021, Suprema , News
Suprema announced that it supplied BioSign 4.0, its under-display fingerprint recognition algorithm to the Samsung Galaxy S21 smartphones with support from Qualcomm Technologies.
Read more...
---
ISO 27001 awarded to Secutel Technologies
Issue 2 2021, Secutel Technologies , News
Secutel Technologies, a developer of physical security technology and provider of cloud-based solutions, announced that it has achieved the International Organization for Standardization (ISO) 27001 certification.
Read more...
---