printer friendly version
Non-linear junction detector
May 2015
Products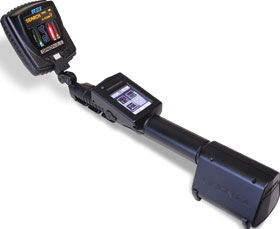 The new Orion 2.4 HX Non-Linear Junction Detector (NLJD) for cyber technical surveillance countermeasures sweeps and surveys, is now available from Eavesdropping Detection Solutions (EDS) in Centurion. With the HX, Research Electronics International (REI) in the USA introduces a new generation of high power NLJDs. The Orion has a maximum power output of 6.6 W making it the most powerful compact non-linear junction detector available on the market.
It can easily detect and locate any hidden electronics regardless whether the device is radiating, hard-wired or turned off. The Orion easily detects eavesdropping devices, recording devices, cell phones and even hidden SIM cards. The Orion 2.4 HX is the first NLJD on the market with a time graph display. The TGD continuously displays the history of the harmonic responses.
The Orion 2.4 HX NLJD has a new polycarbonate body and antenna head which provides many user benefits over traditional NLJDs.
Professional TSCM teams utilise a NLJD during sweep surveys in boardrooms and offices to locate covert surveillance devices. Wardens and custodial personnel utilise them to search for cell phones, SIM cards and other electronic contraband.
For more information, contact EDS, +27 (0)12 665 2109, info@tscm-za.com, www.tscm-za.com
Further reading:
Access Track
Securex Preview 2019, Access Track , Products
Access Track Integri-Register is an easy-to-use and cost effective electronic visitor information management system aimed at replacing traditional access registers that is suitable for use at any access ...
Read more...
---
Active Track
Securex Preview 2019, Active Track , Products
Active Track is showcasing current and new guard monitoring and visitor management systems, as well as a virtual Active Track and an intelligent messaging system. Come and experience the new applications ...
Read more...
---
Advanced ID Solutions
Securex Preview 2019 , Products
Securex 2019 will see the launch of a new company entering into the PACS space, Advanced ID Solutions, in partnership with AceProx Identifikationsysteme and ID Control. ID Control manufactures and supports ...
Read more...
---
Ajax Systems
Securex Preview 2019 , Products
Ajax Systems is a European security systems manufacturer, founded in 2011 and its products are represented in 77 countries. Ajax Systems has developed unique wireless communication protocols Jeweller ...
Read more...
---
Arteco
Securex Preview 2019, Arteco Global , Products
Arteco will showcase its integrated and event-based solutions and unveil the newborn in its software portfolio: OMNIA, Arteco's user-centred intuitive UI. The interface is developed specifically for Universal ...
Read more...
---
ASSA ABLOY
Securex Preview 2019, ASSA ABLOY South Africa , Products
ASSA ABLOY will be showcasing the latest in access control and security with solutions suitable for all applications and environments. Visitors can experience the new eCLIQ electronic keying system, which ...
Read more...
---
Axitech
Securex Preview 2019, Axitech , Products
Axitech will be showcasing products and solutions that foster the development of new trends in the security industry. From ground-breaking detection systems, reliable security hardware and ICT solutions ...
Read more...
---
Baltic Car Equipment
Securex Preview 2019 , Products
Baltic Car Equipment (BCE) is presenting its FMS500 product line for fleet management solutions. The product range includes the FMS500 One, FMS500 Light, FMS500 Light+, FMS500 StCAN, FMS500 Tacho and ...
Read more...
---
BluChip Retail Solutions
Securex Preview 2019 , Products
Come and experience the power of NFC and UHF technology not only as a security element, but combined with digital it opens a world of new opportunities. We will be show casing a range of hardware options ...
Read more...
---
Centurion Systems
Securex Preview 2019, Centurion Systems , Products
Centurion Systems will be making its return to Securex with a product line-up aimed specifically at the commercial market. While Centurion is perhaps best known as a manufacturer of gate motors, this ...
Read more...
---