printer friendly version
Guaranteed cellular detection
August 2014 Integrated Solutions, IT infrastructure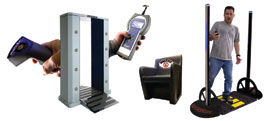 During 2012, members of the correctional fraternity in South Africa approached Eavesdropping Detection Solutions (EDS) to help them find a solution to detect contraband cellular telephones in the prison and custodial environment. They were looking for a 'black box' or an all-in-one solution. Unfortunately, such an easy solution does not exist. The only solution that comes close is the jamming of cellular communications inside the prison, but jamming is prohibited in South Africa and interferes with legitimate users in the same environment.
EDS conducted research and visited equipment manufacturers in the USA and UK to learn what they were doing and what equipment is available on the market. It seems that most equipment manufacturers were just focusing on one aspect of detection and were trying to promote their product as the ultimate solution. We quickly realised that there is not one equipment solution that can work under all circumstances. One thing led to another and towards the end of 2013 the company CellDetect was born with the exclusive aim to bring solutions to the correctional and custodial communities. CellDetect was officially launched at the IFSCE 2014 security exhibition in May 2014.
CellDetect designed a strategy and solution called The CellDetect Solution. The solution rests on a few pillars namely prevention, detection, localisation and neutralisation supported by intelligence (research), technical knowledge and training. The best equipment from five different global manufacturers are combined in the solution which will ensure that correctional and custodial personnel will have the advantage when applying The CellDetect Solution.
The foundation of the strategy rests on intelligence and research. The type of facility and its level of contact with the outside world drives The CellDetect Solution.
A facility that mainly hosts awaiting trial prisoners will focus their efforts on the prevention of cellular telephones coming into the facility by concentrating on the awaiting trial prisoners themselves when they return from their court appearances and the contact that they have while in the court and in transit to and from the courts.
There is specific equipment that is designed to help with the prevention of devices getting into facilities such as the SentryHound Cellular Detection Portal, the Mastiff body orifice scanning chair and the Manta Ray personal cell phone detection scanner. Recently a drone was used in Australia to fly drugs and a cell phone into a prison. The CellDetect Solution will soon include a Drone Detection System as part of its detection strategy.
A facility hosting prisoners serving life sentences who have very limited outside contact will focus their efforts on the wardens, correctional, support personnel and visitors who may have contact with these inmates from time to time.
Once a device makes its way into the prison environment there are basically two options to detect, locate and to neutralise it. The first is to conduct regular physical searches. This is sometimes like searching for a needle in a haystack. It is time consuming and without the right equipment not easy to do.
A more convenient way is to monitor the cellular radio frequencies for activities behind the prison walls. There are various pieces of equipment available depending on budget, etc. Each has its own advantages and disadvantages.
The CellDetect Solution for radio frequency monitoring and detection consists of a handheld portable spectrum analyser such as the Oscor Green SA (which acts as the RF cockpit), a passive GSM monitoring system such as the SearchLight GSM detector that provides real- time intelligence about the telephones, make, SIM cards, network and enables the operator to trace the cellular telephone to the cell from where it is operated. There are other portable handheld supporting detectors carried by the correctional services personnel while on duty and patrol such as the PocketHound, the WolfHound Pro and the Delta V RF detector.
With the above information and intelligence physical searches are conducted with the aid of a non-linear junction detector (NLJD) such as the Orion 2.4 NLJD which has been specifically designed for the correctional and custodial environments. The NLJD scans for electronic components and is an important aid to scan mattresses, walls, furniture and other hiding places for electronic components. The Orion 2.4 NLJD is so sensitive that it will even detect a hidden SIM card in a mattress, under a carpet, hidden in a chair or other furniture.
Focusing just on detecting and preventing cellular telephones alone could be a huge mistake. Wi-Fi based communication devices have been detected recently in a local maximum prison. Routers are getting smaller and more portable and are easy to hide. Some are now smaller than cellular telephones. The CellDetect Solution caters for such devices and the YellowJacket DF Wi-Fi Detector has been specifically designed to detect Wi-Fi based communications.
It also makes provision for Bluetooth operated devices. Recently 35 Bluetooth headsets were found in an Irish prison where jamming of the cellular frequencies are done to prevent cellular communications. The inmates have shifted away from GSM to making use of Bluetooth technology to communicate with each other and others.
Wi-Fi and Bluetooth operate on different frequencies than cellular based devices. The GSM jamming has no effect on Wi-Fi (2.4 GHz and 5 GHz) and Bluetooth (2.4 GHz)based devices.
All of these devices once in and operating within the prison environment presents a technical problem but the wardens and others supposed to prevent and detect these devises do not have any technical knowledge or nor do they receive any training. CellDetect has designed a three-day practical training course to provide basic technical knowledge to increase understanding as well as teaching the CellDetect strategy to deal with the prevention, detection, localisation and neutralisation of these devices.
For more information contact, CellDetect,+27 (0)12 664 3157, www.celldetect.co.za
Further reading:
S&ST launches second App Challenge
Issue 2 2021 , Integrated Solutions, CCTV, Surveillance & Remote Monitoring
Security & Safety Things has launched its second App Challenge for the development of creative, specialised video analytic applications for specific use cases in retail, transportation/smart cities, healthcare and entertainment/stadiums.
Read more...
---
Geutebrück releases latest management system
Issue 2 2021 , CCTV, Surveillance & Remote Monitoring, Integrated Solutions
G-SIM X Panopticon, the latest release of Geutebrück's management system, integrates additional features designed for more rapid and cost-effective setup, enhanced intuitive operation, and multi-site networking.
Read more...
---
Residential security gets smarter
Issue 2 2021 , Integrated Solutions
Technology is changing the face of the South African residential security industry, with increasingly sophisticated tools like thermal cameras, facial recognition systems, licence plate readers and even secure storage solutions.
Read more...
---
Dealing with farm attacks
Issue 2 2021, Technews Publishing , Editor's Choice, Integrated Solutions, Security Services & Risk Management, Agriculture (Industry)
Brutal farm attacks are unfortunately a common event in South Africa. Laurence Palmer suggests a proactive, community-based approach as the optimal way to prevent these heinous crimes from happening in the first place.
Read more...
---
First cameras based on inteox open camera platform
Issue 2 2021, Bosch Building Technologies , CCTV, Surveillance & Remote Monitoring, Integrated Solutions
MIC inteox 7100i cameras support predictive solutions with machine learning, deep neural network-based video analytics, and third-party software apps for customised applications.
Read more...
---
Introducing Video Storage Solutions
Issue 1 2021 , Integrated Solutions, CCTV, Surveillance & Remote Monitoring, IT infrastructure
Video Storage Solutions (VSS) was formed with the single objective of providing system integrators who are part of the Milestone Community with verified video recording and storage appliances. VSS is distributed in South Africa by First Distribution.
Read more...
---
Dahua to build open and smart NVR ecosystem
Issue 1 2021, Dahua Technology South Africa , CCTV, Surveillance & Remote Monitoring, Integrated Solutions
From initial connection demands of third-party IPC and PTZ suppliers, demands of alarm sensor and platform manufacturers, to demands of algorithm and app developers, the NVR is playing an increasingly significant role in connecting front-end devices and other equipment.
Read more...
---
Turning video into actionable intelligence
Issue 1 2021 , Integrated Solutions
According to Stephanie Rosenmayer, business unit manager at Datacentrix, the role of the camera has changed completely, moving away from traditional security usage to become a multi-purpose, centralised device that can help organisations deal with operational, manufacturing, as well as health and safety challenges.
Read more...
---
An integrated, multi-faceted approach
Residential Security Handbook 2021: Smart Estate Living , Specialised Video Solutions (SVS) , Integrated Solutions
The effective protection of estates requires an integrated, multi-faceted approach combining technological and human interfaces, resulting in optimal services and reduced costs.
Read more...
---
The benefits of integrated systems
Residential Security Handbook 2021: Smart Estate Living , Milestone Systems, XtraVision, Technews Publishing, Arteco Global , Integrated Solutions
For the residential estate, the need for integration should be part of security from the initial planning phase to ensure that the full security solution can be managed centrally, and to make adding new technology as simple as possible.
Read more...
---