printer friendly version
Banking on green technology
April 2014
Retail (Industry)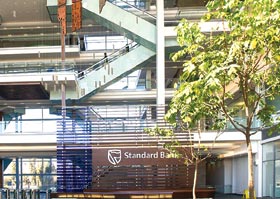 The new Standard Bank office in the Rosebank business area of Johannesburg, known as 30 Baker Street, is using technology based on the NiagaraAX Framework in an innovative approach to lighting control.
The Standard Bank office was designed to be highly efficient and low carbon. It has been awarded a five-star Greenstar Design Rating by the Green Building Council of South Africa – putting it into the top 10 of the country's most sustainable buildings. The 65 000 m² office development has a nine-storey east wing and an 11-storey west wing joined by a central atrium. The building will house 5000 Standard Bank staff.
Energy efficient technologies
Many energy efficient and low-carbon technologies have been used in the building, and it has also taken an innovative approach to the lighting. The elitedali system for the NiagaraAX DALI lighting solution is being used to control, maintain, manage and visualise 4500 DALI light fixtures and 1600 DALI multi-sensors. The building's HVAC systems are also controlled and managed by Tridium's NiagaraAX Web technology.
The client was focused on achieving sustainable operation of the building, and the elitedali solution has played an important part in this. It has equipped the building with an intelligent lighting system that automates dimming and switching off of lights in response to daylight and occupancy sensors. The elitedali solution also automates maintenance of the lighting system, reducing the time required to replace luminaires. The system also monitors lighting levels alongside energy usage.
Control Network Solutions (CNS) developed elitedali, which is based on the Tridium NiagaraAX Framework. CNS MD, Mike Welch explains: "DALI has been a solution for controlling lighting according to occupancy and daylight while managing maintenance requirements for some time. The contrast with the combination of elitedali and the NiagaraAX Framework is that it is the most vendor-independent solution available today. It simplifies the infrastructure for accessing lighting data and control."
One of the most powerful aspects of the elitedali solution is that it gives building owners and managers access to detailed information on their lighting energy use that was not easily accessible until now. This enables the effective use of 'cloud analytics and big data' applications.
The power of information
With elitedali, information on the energy use of lighting can be accessed in a usable format and that is increasingly what clients are looking for. Welch says: "Businesses want to be able to access and analyse this information, because they know it can help them to save energy and reduce the operating costs of their business."
This level of information enables business to attribute the costs of office space to productivity. "Financial management of costs is now very granular so the ability to compare performance of space in different buildings can help to identify areas for improvement," adds Welch.
Without the combination of elitedali and the NiagaraAX Framework, gathering data on lighting easily by the business owner at this level was not possible. Where there was some basic data, it was in a proprietary format so it was difficult to combine with data gathered from other areas of the building services. Elitedali puts that information into the client's hands, and enables them to specify the format of the data produced. They can also change the way the lighting operates and observe changes in energy use.
Benefits of the elitedali and NiagaraAX Framework approach to lighting
* Mitigate against rising energy costs.
* Use NiagaraAX to address, discover and commission networks of DALI open standard light fixtures.
* No third-party commissioning tools or processes required.
* Automatic DALI device modelling in NiagaraAX.
* No data IO mapping and labelling required, reduced commissioning time and risk.
* Use with any DALI product conforming to the DALI IEC 62386 standard.
* Significantly the most vendor-independent solution available.
* Lowest in use for CO2 emissions according to EU independent commissioned report.
For more information contact ADI Global Distribution, +27 (0)11 574 2532, adelaide.taylor@adiglobal.com, www.adiglobal.com
Credit(s)
Further reading:
ADI signs distribution agreement with Avigilon
Issue 5 2020, ADI Global Distribution , CCTV, Surveillance & Remote Monitoring
New distribution agreement sees security buyers in EMEA gain access to Avigilon video, cloud and access control solutions from ADI.
Read more...
---
Jack Edery takes on BDM role for Pima Electronic Systems
Issue 3 2020, ADI Global Distribution , News
Pima Electronic Systems, manufacturer of the well-known PIMA range of alarms and associated products, has appointed Jack Edery as country business development manager.
Read more...
---
Ten compliance trends in financial institutions
November 2019 , Security Services & Risk Management, Retail (Industry)
Regulatory reporting has grown in profile over the last number of years, with more budget and more employees dedicated to compliance activities than ever before.
Read more...
---
Shorten your checkout lines to enhance customer experience
September 2019, Hikvision South Africa , Retail (Industry), CCTV, Surveillance & Remote Monitoring
Hikvision's queue detection technology is purpose-built to offer cutting-edge flow analysis to retail outlets and any situation where waiting to pay is required.
Read more...
---
Coffee by IoT
September 2019 , Retail (Industry)
Costa Coffee selects Eseye to help transform the global retail coffee experience by deploying IOT coffee machines to deliver premium quality drinks.
Read more...
---
Intelligent queue detection
August 2019, Hikvision South Africa , CCTV, Surveillance & Remote Monitoring, Retail (Industry)
How do you keep waiting times to a minimum, and react quickly to growing checkout lines? Intelligent queue detection technology could be the answer.
Read more...
---
People counting for retail success
July 2019, Hikvision South Africa , CCTV, Surveillance & Remote Monitoring, Retail (Industry)
How counting the people who enter your mall or store can help you improve customer experiences and boost your revenues.
Read more...
---
ADI Expo 2019
June 2019, ADI Global Distribution , Calendar of Events
   Johannesburg: 2 July    Cape Town: 4 July ADI will host its successful Expo for the 4th consecutive year this year. This year's event will be a one day event, held in Johannesburg and Cape Town. With ...
Read more...
---
Service station security basics
June 2019 , Associations, Integrated Solutions, Retail (Industry)
It comes as no surprise that the petroleum and retail industries are targeted by criminals as these businesses receive, to a great extent, cash in exchange for their products and services.
Read more...
---
Access wherever you are
June 2019, ADI Global Distribution , Associations, News
ADI Global Distribution, a South African distributor of security and fire technology products has joined ESDA, the Electronic Security Distributors' Association.
Read more...
---