printer friendly version
Piping hot cash
August 2012
Security Services & Risk Management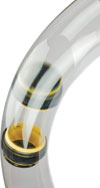 GPT, a Bidvest company, has developed a new system to protect and recycle cash. While pneumatic tube systems, and specifically the Sumetzberger system, are nothing new in the market, a new application of the system promises to be the nemesis of cash in transit heists and armed robberies in stores.
Imagine a world where you don't have to keep a big float in the store because cash can reach you 10 minutes after a request through a tube system? The system was originally developed for hospitals to transport medicines, but is now being used in a variety of applications. The Sumetzberger system, distributed and implemented by GPT, is a computer driven engine that can be programmed to deliver to or from a specific point.
The system was first implemented by Europcar to move keys, but the market soon realised the anti-crime advantages. Cash can now be transported via a tube directly to a drop safe, minimising the risk of theft.
Ryno Joubert, a business consultant for GPT, says that the Sumetzberger system fits in perfectly with the GPT business strategy. Sumetzberger is about process optimisation. Having exclusive sub-Saharan distribution rights extends the GPT strategy to all valuables and not just cash. GPT can now provide customers with a turnkey solution. The tube system fits in with a variety of products, including note counters, coin sorters, counterfeit detectors and drop safes. In retail centres, cash can be transported straight from tills to cash centres, enabling cashiers to keep tills almost empty and request cash within minutes.
Additional savings
An added value is the saving on insurance due to much lower cash levels in store. In taking CIT away from shopping centres, the need for firearms and resultant risk to consumers is removed, whereas under the current system there can be up to 380 weapons at a shopping centre on any given day to protect cash in transit.
Cash is now managed through a closed loop recycling solution, in other words the cash stays in the shopping centre and is recycled between groups of stores. Even when maintenance is required on the system, the cash is not retrievable. Another advantage is huge cost savings, especially on cash-in-transit and insurance costs while dramatically improving client service. When change or a product such as a cellphone is required, the cashier does not have to leave his or her workstation to retrieve the objects. It arrives immediately via the tube and can be handed over to the client. It is no longer necessary to send a client from pillar to post. The customer can have one point of contact.
The system can be used by anybody that has a need to move cash or anything else small enough to fit into the cylinder, such as medicines, cellphones or jewellery. The system is robust making mistakes and incorrect deliveries a thing of the past. It is made up of a motor, a control panel, a computer with software and diverters.
Each station gets an IP address and each diverter has an optical sensor. The carrier moves at 6 m per second. If a cylinder does not reach the next diverter within the stipulated time, the system reverts and pulls everything back to the original station. Even cutting the pipe to get to the money will not work due to the fact that the system works on pressure, releasing the pressure will cause the system to stop.
Reporting included
Software includes a reporting system providing feedback on the amount of transactions from each station, times per transaction, problems in system and peak times. It can also include a scheduler, avoiding peak times where each retailer can only draw or send at a specific time. The 'secure receive function' provides a facility where each receiver is given an ID card programmed with a code. The only way to release the carrier is with the ID card.
In addition, each carrier has a radio frequency identification (RFID) tag programmed to deliver to a specific station. The carrier therefore automatically sees which station it is intended for. In such, carriers are dedicated to work stations and cannot be used by other stations.
The pneumatic tube system was originally developed in Austria in 1921. The Sumetzberger system was developed in 1961 and today it is one of the technology leaders in the world and is represented in more than 40 countries. There are 3500 systems implemented globally. The system has been endorsed by Business Against Crime, Standard Bank and the SBVs (cash centres). To date, the system has had a 100% success rate. When a fault occurs, it will automatically send an e-mail to a technologist who will respond, before the client is aware of a problem.
Wanda van Vuuren, sales and marketing director of GPT, says that this is a much needed anti-crime solution for South Africa. "It will even assist the banks in not having to draw as much cash from the Reserve Bank."
For more information contact Global Payment Technologies (GPT), +27 (0)11 997 6600, www.gpt.co.za
Further reading:
Communication in any situation
Issue 8 2020, Elvey Security Technologies , Global Communications , Security Services & Risk Management
Global Communications offers an industry-first with five-year warranty on select Kenwood two-way radios.
Read more...
---
The year resilience paid off
Issue 8 2020 , Editor's Choice, Security Services & Risk Management
Hi-Tech Security Solutions spoke to Michael Davies about business continuity and resilience in a year when everything was put to the test.
Read more...
---
The reality of farm attacks
Issue 3 2021, Technews Publishing , Security Services & Risk Management
Nowhere in the world are people being as brutally attacked and murdered like farmers in South Africa (including a number of black emerging farmers and black farm labourers that have been attacked and injured or killed).
Read more...
---
Insights into PoPIA compliance
Issue 3 2021, Technews Publishing , Security Services & Risk Management
Hi-Tech Security Solutions asked Carrie Peter, solution owner at Impression Signatures, for a few insights on what this piece of legislation means in the real world.
Read more...
---
Top 10 security misperceptions
Issue 3 2021 , Cyber Security, Security Services & Risk Management
The Sophos Rapid Response team has compiled a list of the most commonly held security misperceptions they've encountered in the last 12 months while neutralising and investigating cyberattacks in a wide range of organisations.
Read more...
---
The supply chain of the future
Issue 3 2021 , Integrated Solutions, Security Services & Risk Management, Retail (Industry)
For retailers to maximise their bottom line, the supply chain needs to be fast, efficient and responsive, which requires the use of intelligent, integrated technology.
Read more...
---
PoPIA: Time Is up
Issue 3 2021 , Security Services & Risk Management, IT infrastructure
The Protection of Personal Information Act (PoPIA) comes into full effect on 1 July 2021 and there remains much confusion and ambiguity regarding its definitions, requirements and enforcement.
Read more...
---
Anomaly detection is the first layer
Issue 3 2021 , Security Services & Risk Management
A multi-layered, proactive approach to data management and protection is essential and this begins with anomaly detection as the first line of defence.
Read more...
---
Towards a cashless world
Issue 3 2021 , Security Services & Risk Management
In addition to being safer from a viral transmission perspective, contactless payment is also faster and integrating multiple contactless payment methods assists small businesses to better maintain financial liquidity.
Read more...
---
mySOS targets neighbourhood safety
Issue 2 2021 , Security Services & Risk Management
Beyond protection for valuables and premises, people are also looking to ensure their personal safety and that of their loved ones as they move around and within community areas.
Read more...
---