printer friendly version
Taking T&A on the road
SMART Access & Identity 2023
Access Control & Identity Management
Time and attendance (T&A) is nothing new in South Africa. Ever since employees clocked in manually with cards, some clocking in when they weren't even there or didn't even exist, employers have been measuring the time staff spend on the job. With the sudden increase in working from home in 2020, some companies even started to put spyware on their staffs' systems to keep tabs on them from afar as a remote means of T&A.
Due to buddy-clocking and ghost workers, card-based T&A; has given way in many instances to biometric systems where employees have to clock in with their fingerprint. This works well in ensuring accurate payment for hours worked by real people who actually exist. Unfortunately, for the many workers who spend their time on the road, ensuring they are working their full number of hours can be tricky. GPS tracking can let employers know where they are, but not that they are doing their jobs correctly.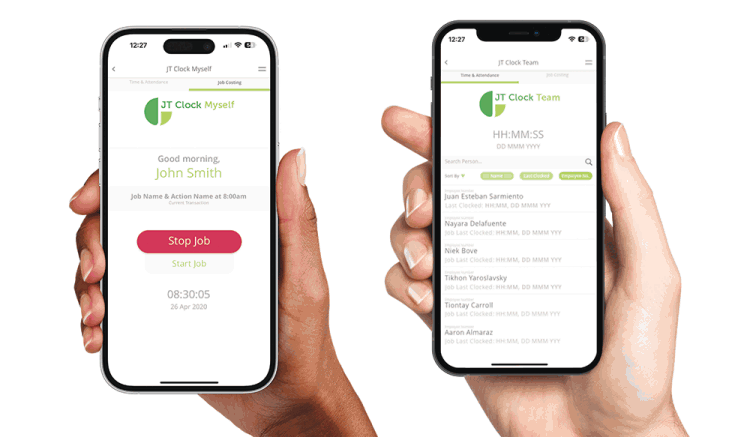 As Jarrison System's Alastair McPhail puts it, "Where exactly are your employees and how much time do they require to perform their job functions whilst out on the road or at home?"
To answer this question, business needs data from their employees as they move around, recording their movements and accurately calculating the time spent on each task. A new solution from Jarrison Systems does this: JT Clock.
"JT Clock is a mobile clocking solution for Apple and Android smartphones," McPhail explains. "It allows employees to clock in and out via their mobile, even using fingerprint verification if required via the smart phone's biometric reader or a USB-attached reader. All data is sent to and collated in the Jarrison Time application. It can be used by solo workers or teams, providing GPS location and even geofencing. Moreover, new workers can be added via the app by a supervisor and synchronised to Jarrison Time."
Job costing is also included, allowing staff to note when they start a specific job and when they knock-off. Management can set which teams are sent to which sites from Jarrison Time, which automatically notifies employees via their mobiles. Each clocking can also include a photograph to prove the job was done – both for the employer and the customer.
McPhail adds that the app also works in offline mode. If staff move into an area with no network coverage, the app works as normal, and the data will be synchronised once connectivity is resumed.
Credit(s)
Further reading:
Gallagher Security releases Command Centre v9
Gallagher News & Events Access Control & Identity Management Integrated Solutions
Richer features, greater integrations, with the release of Gallagher Security's Command Centre v9 security site management software designed to integrate seamlessly with various systems and hardware.
Read more...
---
Paxton's Net2 secures medicinal cannabis facility
Paxton Access Control & Identity Management Healthcare (Industry) Videos
Paxton's Net2 access control has been installed at Highlands Grow, a fully licensed industrial-scale cultivator, producing cannabis for medicinal and recreational use.
Read more...
---
Lock down your access control with Alcatraz AI
C3 Shared Services Healthcare (Industry) Access Control & Identity Management AI & Data Analytics
Alcatraz AI, represented in South Africa by C3 Shared Services, changes access control by harnessing the power of artificial intelligence and analytics at the edge, where facial recognition becomes the essential credential autonomously.
Read more...
---
Effective access control
Flow Systems Access Control & Identity Management Products & Solutions
Flow Systems has introduced its new Extra Heavy Duty Industrial Rising Vehicle Barrier, which provides a high level of protection. It is a traditional-looking control barrier with the benefits of high-level physical protection.
Read more...
---
Newport Aquarium replaces traditional locks and keys
Paxton Access Control & Identity Management Entertainment and Hospitality (Industry)
Newport Aquarium wanted to replace its old security system with an easy-to-use and high-security access control solution to keep the animals, visitors, and staff safe. The solution was Net2, a PC-based access control system that offers centralised administration.
Read more...
---
Securing easy access
Suprema neaMetrics Access Control & Identity Management
Securing access to hospitals and healthcare institutions presents a unique set of challenges, because these facilities operate 24/7, have highly 'open' access in public areas and require a strict level of security.
Read more...
---
Reliable mass notification
Access Control & Identity Management
The use of voice alarm and voice evacuation systems within the healthcare industry ensures a safer and more reassuring environment in the event of an emergency.
Read more...
---
Upgrading security at lifestyle estate
Turnstar Systems Access Control & Identity Management
Lifestyle estates are often located in out-of-town settings, and living away from the hustle and bustle of the city can be conducive to a relaxing lifestyle. However, it requires a high level of security to keep residents secure.
Read more...
---
Protecting our most vulnerable
Access Control & Identity Management
In a nation grappling with the distressing rise in child kidnappings, the need for innovative solutions to protect our infants has never been more critical. South Africa finds itself in the throes of a child abduction pandemic.
Read more...
---
New generation of cyber-focused controllers
Gallagher News & Events Access Control & Identity Management Products & Solutions
The C7000 gives users an opportunity to leverage their hardware and firmware to build a platform designed to catapult their organisation into the future, with cybersecurity baked in from inception.
Read more...
---