printer friendly version
Tips to protect your computer while working from home
Issue 3 2022
Smart Home Automation
Many people are now working from home or using a hybrid work model, which means more employees than ever are taking their office computers home. Most companies have an IT department that handles cybersecurity in the office, but that might not protect you when you're at home. If you work from home, even part-time, it's vital to follow these tips to ensure you have the security that protects you and your company.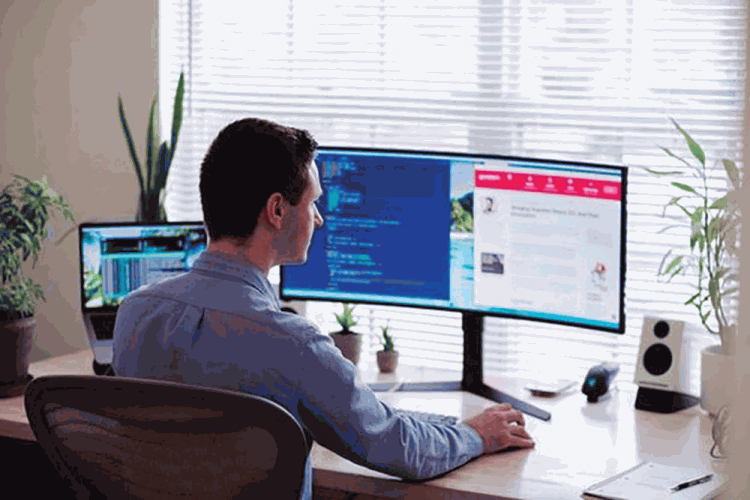 Install and use antivirus software: Every company should have antivirus software installed on its devices. If your company laptop or PC doesn't, ask your IT department about getting it. This software creates a barrier to protect your computer from viruses, making them less vulnerable to hacking.
Update your system and apps constantly: Like you should update your smart home devices regularly, the same applies to your company's operating system and all associated apps. Check for updates at least once per week, turn on automatic updates, and always install the latest security updates as soon as they're available.
Don't allow family to access work devices: Never let your spouse or children use your work computer or phone. They may not know that accessing certain websites on a work computer can make it vulnerable to data breaches. It's best to secure your PC, laptop, and other work devices using a password and multi-factor authentication.
Cover your webcam: Use a lens cover or even a piece of black electrical tape to cover your webcam when it's not in use. Hackers can access your webcam and spy on you, listen to phone conversations, or use it to bribe you while making a cybersecurity threat. Unplug your webcam if it's separate from your computer when you're not using it.
Use a company-provided VPN: If your company has VPN software, ensure that you're using it while you work from home. Configure your home network to connect to the company VPN automatically.
Use centralised storage: All employees should be on the same cloud or company server when storing important documents and other data. This ensures that your company has backup if the system is ever compromised or if local files are lost or accidentally deleted. It also protects documents by using the company firewall attached to the centralised storage solution.
Keep your Wi-Fi secure: Use the tips mentioned in the previous article to keep your home Wi-Fi secure, including setting up unique passwords, using multi-factor authentication, and regularly installing any security updates. Remember to implement WPA2 network encryption.
Be aware of email scams and keep your email secure: There are countless phishing and other scams that can come through in an email. Always check on links included in emails by previewing them first, and never click on any suspicious links. Make sure that you configure your work email settings to block email addresses that come from scam websites or suspicious senders.
Originally posted on www.porch.com
Further reading:
What to consider when choosing a power backup plan
Products Smart Home Automation
Electricity is set to double in price in the next five years, and load-shedding will be an ongoing occurrence for at least the next decade.
Read more...
---
The benefits of investing in whole-house surge protection
Smart Home Automation Security Services & Risk Management Residential Estate (Industry)
When you consider that the potential for equipment damage can run well into the hundreds of thousands of rands, whole-house surge protection is a worthwhile expense.
Read more...
---
Smart home devices market growing across META
Smart Home Automation News
The Middle East, Turkey, and Africa (META) smart home devices market continues to register significant gains on the back of increasing awareness and improving end user experiences, according to the latest insights from International Data Corporation.
Read more...
---
How to keep your smart devices secure at home
Smart Home Automation
If you use any form of smart technology, there's one thing every device has in common: it connects to your home Wi-Fi network.
Read more...
---
Questions to ask before signing on the dotted line
Fidelity Services Group Smart Home Automation
You must make sure you understand exactly what type of service you can expect in an emergency. Ask as many questions as you need until you are comfortable with your decision.
Read more...
---
Integrated personal security that travels with you
Editor's Choice Integrated Solutions Smart Home Automation
Individuals can take their security with them when travelling with the new Nomad all-in-one integrated security solution that keeps you and your belongings safe.
Read more...
---
Changing the battery game
Smart Home Automation
Load-shedding damages gate motor and alarm system batteries but lithium iron phosphate batteries are poised to change the game.
Read more...
---
Power caddies for solar
GSS Group Residential Estate (Industry) Products Smart Home Automation
GSS Group has launched new products relating to power usage and solar power in compact designs. The units compensate for power outages and load-shedding conditions in various areas in Africa.
Read more...
---
Make any household device more intelligent
Vox Smart Home Automation Integrated Solutions
Sixth Sense, an Internet-of-Things (IoT) product powered by Vox, has launched a range of low-powered sensors that deliver a variety of practical use cases for the average South African household.
Read more...
---
Fluss gives you control over home and business access
Residential Estate (Industry) Products Smart Home Automation
A local South African company has developed an app that integrates with a small device connected to home or business electrical systems, turning smartphones into a key to open any gate, garage or door.
Read more...
---