printer friendly version
CathexisVision keeps your information secure
Issue 1 2022
Cyber Security
For over 20 years, customers and installers worldwide have trusted Cathexis to secure and optimise their physical sites and keep their information safe while doing so. Cybersecurity features ensure that no matter the market sector or site requirements, every element of CathexisVision is kept secure: communication, cameras, data and footage.
CathexisVision is used in logistics and transport, healthcare, mining and manufacturing, education, banking, retail and several other market sectors worldwide. The software's features and analytics suite, along with integration with leading camera brands and systems such as access control, perimeter monitoring, point-of-sale, intercoms and more, make CathexisVision a comprehensive security solution that detects incidents, alerts operators and implements user-configured, automated actions to keep sites secure.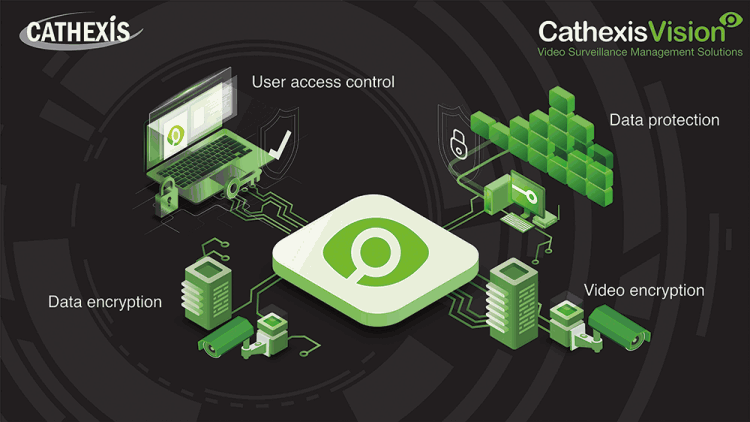 The company is committed to data protection and information security. Several cryptographic techniques are applied to protect the system. CathexisVision supports four levels of encryption for external site connections, IP camera connections are secured and network channels are protected through per-connection encryption. Login credentials are validated using secure public key methods and the application of encryption methods provides data integrity verification. In addition to these measures, CathexisVision's features such as the option to restrict camera views using privacy zones and its support infrastructure aid its clients' privacy compliance efforts.
Operators can trust that the footage retrieved from CathexisVision is secure and reliable and thus usable as evidence. Playback can be controlled by passwords, footage can be watermarked and archives are protected from being exported. Original footage and metadata can only be played via the proprietary Cathexis Archive Viewer.
CathexisVision's strength in ensuring physical security is matched by its system integrity and data security, offering clients a comprehensive, fully integrated and sophisticated solution to meet their security requirements, now and in the future.
Credit(s)
Further reading:
Industrial control systems under attack
News Cyber Security
According to Kaspersky ICS CERT statistics, from January to September 2022, 38% of computers in the industrial control systems (ICS) environment in the META region were attacked using multiple means.
Read more...
---
OSINT: A new dimension in cybersecurity
Cyber Security
The ancient Chinese strategist Sun Tzu noted, you should always try to know what the enemy knows and know more than the enemy.
Read more...
---
Sasol ensures Zero Trust for SAP financials with bioLock
Technews Publishing Editor's Choice Cyber Security Security Services & Risk Management
Multi-factor authentication, including biometrics, for SAP Financials from realtime North America prevents financial compliance avoidance for Sasol.
Read more...
---
Building a holistic application security process
Altron Arrow Cyber Security
Altron Arrow asks what it means to build a holistic AppSec process. Learn what's involved in a holistic approach and how to get started.
Read more...
---
Managing data privacy concerns when moving to the cloud
Cyber Security
While the cloud offers many business benefits, it can also raise concerns around compliance, and some organisations have taken the approach of staying out of the cloud for this reason.
Read more...
---
Accelerating your Zero Trust journey in manufacturing
IT infrastructure Cyber Security Industrial (Industry)
Francois van Hirtum, CTO of Obscure Technologies, advises manufacturers on a strategic approach to safeguarding their businesses against cyber breaches.
Read more...
---
The democratisation of threats
Cyber Security
Bugcrowd looks at some of the primary vulnerabilities the world faced in 2021, and the risks moving forward with growing attack surfaces and lucrative returns on crime.
Read more...
---
Protecting yourself from DDoS attacks
Cyber Security Security Services & Risk Management
A DDoS attack, when an attacker floods a server or network with Internet traffic to prevent users from accessing connected online services, can be costly in both earnings and reputation.
Read more...
---
Exploiting Android accessibility services
Cyber Security
Pradeo Security recently neutralised an application using Android accessibility services that exploits the permission to perform fraudulent banking transactions.
Read more...
---
Cyber resilience is more than cybersecurity
Technews Publishing Editor's Choice Cyber Security Integrated Solutions IT infrastructure
Hi-Tech Security Solutions held a round-table discussion focusing on cyber resilience and found that while the resilience discipline includes cybersecurity, it also goes much further.
Read more...
---