printer friendly version
CathexisVision keeps your information secure
Issue 1 2022
Cyber Security
For over 20 years, customers and installers worldwide have trusted Cathexis to secure and optimise their physical sites and keep their information safe while doing so. Cybersecurity features ensure that no matter the market sector or site requirements, every element of CathexisVision is kept secure: communication, cameras, data and footage.
CathexisVision is used in logistics and transport, healthcare, mining and manufacturing, education, banking, retail and several other market sectors worldwide. The software's features and analytics suite, along with integration with leading camera brands and systems such as access control, perimeter monitoring, point-of-sale, intercoms and more, make CathexisVision a comprehensive security solution that detects incidents, alerts operators and implements user-configured, automated actions to keep sites secure.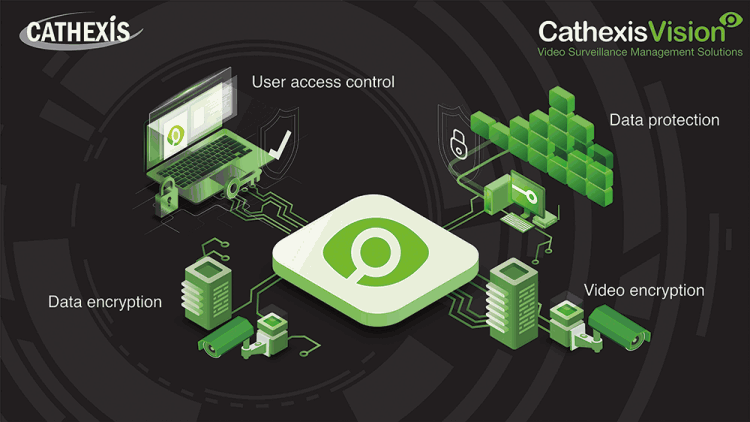 The company is committed to data protection and information security. Several cryptographic techniques are applied to protect the system. CathexisVision supports four levels of encryption for external site connections, IP camera connections are secured and network channels are protected through per-connection encryption. Login credentials are validated using secure public key methods and the application of encryption methods provides data integrity verification. In addition to these measures, CathexisVision's features such as the option to restrict camera views using privacy zones and its support infrastructure aid its clients' privacy compliance efforts.
Operators can trust that the footage retrieved from CathexisVision is secure and reliable and thus usable as evidence. Playback can be controlled by passwords, footage can be watermarked and archives are protected from being exported. Original footage and metadata can only be played via the proprietary Cathexis Archive Viewer.
CathexisVision's strength in ensuring physical security is matched by its system integrity and data security, offering clients a comprehensive, fully integrated and sophisticated solution to meet their security requirements, now and in the future.
Credit(s)
Further reading:
Cyber attackers used over 500 tools and tactics in 2022
Cyber Security News
The most common root causes of attacks were unpatched vulnerabilities and compromised credentials, while ransomware continues to be the most common 'end game' and attacker dwell time is shrinking – for better or worse.
Read more...
---
Addressing the SCADA in the room
Industrial (Industry) Cyber Security
Few other sectors command the breadth of purpose-built and custom devices necessary to function, as the industrial and manufacturing industries. These unique devices create an uncommon risk that must be assessed and understood to fully protect against incoming attacks.
Read more...
---
Recession or stress?
Cyber Security News
The economic landscape has seen many technology companies lay off vast numbers of employees, but for cybersecurity, the picture looks very different – a dynamic mixture of excitement, challenges and toxicity.
Read more...
---
Vulnerabilities in industrial cellular routers' cloud management platforms
Industrial (Industry) Cyber Security Security Services & Risk Management
Research from OTORIO, a provider of operational technology cyber and digital risk management solutions, unveils cyber risks in M2M protocols and asset registration that expose hundreds of thousands of devices and OT networks to attack
Read more...
---
NEC XON appoints Armand Kruger as Head of Cybersecurity
News Cyber Security
NEC XON has announced the appointment of Armand Kruger as the Head of Cybersecurity. Kruger will oversee all cybersecurity offerings including cybersecurity strategy, programmes, and executive advisory.
Read more...
---
Caesar Tonkin new head of cybersecurity business, Armata
News Cyber Security
Vivica Holdings has announced the appointment of cybersecurity expert Caesar Tonkin to head up its cybersecurity business Armata, which provides technology solutions and niche expertise needed to help businesses better protect themselves.
Read more...
---
Surveillance-free surfing
News Cyber Security Products
Zoho has launched Ulaa, a privacy-centric browser built specifically to help users secure their personal data and activity by providing a browser solution that universally blocks tracking and website surveillance.
Read more...
---
Troye and Arctic Wolf join forces
News Cyber Security Security Services & Risk Management
Troye has announced a strategic partnership with Arctic Wolf to enable Troye to provide customers with enhanced cybersecurity solutions and services that help protect their businesses from advanced cyber threats.
Read more...
---
Relaxed home cybersecurity could render consumers accidental 'inside actors'
Editor's Choice Cyber Security Smart Home Automation
Cisco security experts warn of snowball impact of relaxed approach to cybersecurity on personal devices, noting 60% of users primarily use their personal phone for work tasks and 76% have used unsecured public networks for work tasks.
Read more...
---
VMware unveils new security capabilities
Cyber Security IT infrastructure Products
At the RSA Conference 2023, VMware unveiled enhanced features for its suite of security solutions to address the increasing sophistication and scale of cyberattacks and to deliver strong lateral security across multi-cloud environments.
Read more...
---