printer friendly version
CathexisVision keeps your information secure
Issue 1 2022
Cyber Security
For over 20 years, customers and installers worldwide have trusted Cathexis to secure and optimise their physical sites and keep their information safe while doing so. Cybersecurity features ensure that no matter the market sector or site requirements, every element of CathexisVision is kept secure: communication, cameras, data and footage.
CathexisVision is used in logistics and transport, healthcare, mining and manufacturing, education, banking, retail and several other market sectors worldwide. The software's features and analytics suite, along with integration with leading camera brands and systems such as access control, perimeter monitoring, point-of-sale, intercoms and more, make CathexisVision a comprehensive security solution that detects incidents, alerts operators and implements user-configured, automated actions to keep sites secure.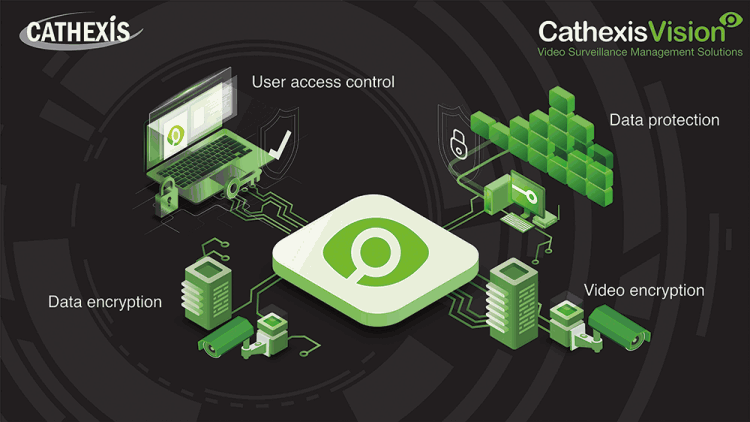 The company is committed to data protection and information security. Several cryptographic techniques are applied to protect the system. CathexisVision supports four levels of encryption for external site connections, IP camera connections are secured and network channels are protected through per-connection encryption. Login credentials are validated using secure public key methods and the application of encryption methods provides data integrity verification. In addition to these measures, CathexisVision's features such as the option to restrict camera views using privacy zones and its support infrastructure aid its clients' privacy compliance efforts.
Operators can trust that the footage retrieved from CathexisVision is secure and reliable and thus usable as evidence. Playback can be controlled by passwords, footage can be watermarked and archives are protected from being exported. Original footage and metadata can only be played via the proprietary Cathexis Archive Viewer.
CathexisVision's strength in ensuring physical security is matched by its system integrity and data security, offering clients a comprehensive, fully integrated and sophisticated solution to meet their security requirements, now and in the future.
Credit(s)
Further reading:
Poor router security makes SMBs vulnerable to attack
Cyber Security
While major malware and ransomware incidents frequently make headlines in the media, router vulnerabilities are not as frequently publicised, but the outcomes of these violations could be immensely damaging.
Read more...
---
Cybercriminals eye South African SMEs lack of security
Cyber Security
Just as a business owner wouldn't underinsure a tangible business asset such as a factory, SMEs shouldn't leave their digital assets unlocked and in plain sight of criminals.
Read more...
---
Harnessing the power of AI-driven XDR
Cyber Security
According to AIMultiple, 90% of infosec personnel in the U.S. and Japan said they're anticipating an increase in these automated attack campaigns, due in no small part to the public availability of AI research.
Read more...
---
Be prepared for the increase in reconnaissance
Cyber Security
Because ransomware has become so lucrative, cybercriminals are becoming more devious and putting significantly more energy into reconnaissance.
Read more...
---
Cybereason expands presence across sub-Saharan Africa
News Cyber Security
Cybereason has appointed Chantél Hamman as its new channel director focused on growing the company's presence across sub-Saharan Africa.
Read more...
---
How to weather the approaching perfect storm
Cyber Security
Cybercrime is spiking and security skills are scarce, and small and medium enterprises (SMEs) are particularly vulnerable as the financial impact of falling victim to these security breaches can result in their total collapse.
Read more...
---
Cyber resilience is more than security
Industrial (Industry) Cyber Security IT infrastructure
Kate Mollett, regional director at Commvault Africa advises companies to guard against cyberattacks in the shipping and logistics sector using an effective recovery strategy.
Read more...
---
Preventing cyberattacks on critical infrastructure
Industrial (Industry) Cyber Security
Cyberattacks have the potential to disrupt our lives completely, and in instances where critical national infrastructure is attacked, they could disrupt the country's entire economy, leading to loss of life and livelihoods.
Read more...
---
Cybersecure surveillance cameras
HiTek Security Distributors News CCTV, Surveillance & Remote Monitoring Cyber Security
Provision-ISR builds customer trust and opens up new opportunities with Check Point Quantum IoT Protect Firmware built into Provision-ISR cameras.
Read more...
---
Branches and roots
Cathexis Technologies CCTV, Surveillance & Remote Monitoring
Cathexis is a locally owned South African company where development engineers in the Durban office continue to innovate and improve the company's video surveillance management systems.
Read more...
---