printer friendly version
Off-grid with a second life
Issue 7 2021
Security Services & Risk Management
Revov is a local company specialising in selling batteries into various verticals, from industrial to residential. The batteries it sells are not the usual lead-acid batteries, but lithium iron phosphate (LFP) batteries.
Lance Dickerson, one of the founders of Revov, has many years of experience in the telecoms industry in various African countries where he learned the value of reliable batteries in areas where the electricity supply could not be relied upon to keep communications going 24x7.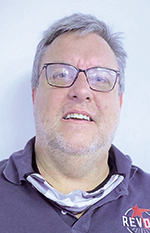 Lance Dickerson.
On his return to South Africa, Revov was started as a distributor for BYD batteries. BYD is the largest manufacturer of electric vehicles and accessories in the world. These LFP batteries are used in a variety of vehicles, but reach the end of their working life (specifically their working life in vehicles, not the batteries overall working life) after between 1500 and 1800 cycles. Since the batteries are designed for between 5000 and 7000 cycles, Dickerson saw an opportunity to sell what Revov calls second-life batteries into the local market. (The company also supplies new LFP batteries when required.)
Revov imports these batteries from BYD, tests and refurbished them, placing them into more usable enclosures for the verticals it serves (mostly in 5 kWh or 10 kWh packages and can build configurations with up to 20 000 batteries) and distributes them through its channel partners. Batteries can be built into containers, which can be linked to provide up to 7200 kWh for more high-voltage applications.
Dickerson says the batteries should last for 10 years (or more), depending on use. If they complete a full cycle each day, that would be about 3650 cycles over 10 years, which they can easily handle.
Revov works with its resellers to make sure the batteries are installed correctly and deliver the best service when used with solar panels and other off-grid solutions – and it has the skills onboard to provide additional support if required. Naturally, the batteries don't need to be used with solar or other renewable sources, but can be used during peak electricity hours and charged in off-peak hours. And of course, they are invaluable when Eskom breaks its toys and we end up with load shedding.
Currently the cost of a solution is only slightly more than Eskom's fees, but once the next round of increases occurs, the solution will actually be cheaper. With a return on the infrastructure investment in about five years, Dickerson says the number speak for themselves. With a 0.01% return rate over the past 42 months during which it has supplied around 110 MWh in total. Each battery has a warranty for 10 years or 3500 cycles
Why LFP?
When asked why Revov's LFP batteries would be a better choice than traditional lead-acid batteries, Dickerson offers a number of benefits. The first is temperature. While Revov's batteries and lead-acid batteries cost about the same, the LFP systems operate at a higher ambient temperature (between 33 and 35-degrees Celsius without degradation) as opposed to 25-degrees of lead-acid batteries.
This makes the 12 V options suited for outdoor perimeter security around farms and other remote areas, for example. The outdoor heat will reduce the lifespan of lead-acid batteries far faster than LFPs, making your battery investment last longer.
In addition, while discharging lead-acid batteries to less than 50% of their capacity can reduce the battery's full lifespan faster, LFP batteries can use almost 100% of their capacity without such deterioration. Finally, LFP batteries are also smaller and weigh less.
Revov has a direct presence in Cape Town, Durban and Johannesburg from where it supports its South African partners and customers and it has partners in Namibia, Zimbabwe and Botswana.
Credit(s)
Further reading:
Is AI the game-changer for streamlining anti-money laundering compliance?
Financial (Industry) Security Services & Risk Management
In the aftermath of South Africa's recent grey listing, companies are now confronted with the imperative to address eight identified strategic deficiencies, while simultaneously reducing their financial crime risk through anti-money laundering compliance processes.
Read more...
---
Five ways to reduce your cyber insurance premiums
Security Services & Risk Management News
With the global costs of cybercrime expected to soar to $13 trillion within the next five years, cyber insurance is booming as organisations try to mitigate the risk of financial losses.
Read more...
---
What South Africans need to know about smart devices
Technews Publishing Editor's Choice
We live in a world surrounded by smart devices, from our pockets to our driveways and living rooms.
Read more...
---
Client satisfaction boosted by 85% at Thungela Mine
Thorburn Security Solutions News Security Services & Risk Management Mining (Industry)
Thorburn Security, a division of Tsebo Solutions Group, has announced its recent collaboration with Kwa-Zulu Natal security company, Ithuba Protection Services, as part of its Enterprise Supplier Development (ESD) initiatives across Africa.
Read more...
---
Migrating to the cloud? Beware the many hurdles
IT infrastructure Security Services & Risk Management
While there are undoubtedly many benefits, there are also numerous hurdles to cloud adoption. Some of the biggest challenges revolve around managing cloud spend, understanding the cost components of cloud infrastructure, and how those costs can scale.
Read more...
---
Key strategies for businesses in the face of cyber threats
Cyber Security Security Services & Risk Management
Businesses face severe financial and reputational consequences due to data breaches and daily website hacks, and not all organisations are adequately prepared to combat these escalating threats.
Read more...
---
Synology enhances functions for advanced surveillance integration
Technews Publishing CCTV, Surveillance & Remote Monitoring IT infrastructure Products
With the capability to function as both an API client and server, Surveillance Station offers a versatile platform for integration, whether it's embedding video streams into other platforms or overlaying external data onto recorded video.
Read more...
---
Planning for the worst is key to success
Technews Publishing Security Services & Risk Management
Planning for the worst is key to success when disaster strikes. Amidst frequent load shedding and often unpredictable stages of power outages, many businesses are concerned about the possibility of a total blackout.
Read more...
---
Protecting South African systems through XDR cybersecurity
Cyber Security Security Services & Risk Management
Carlo Bolzonello, Country Lead for Trellix South Africa, discusses how the country can protect its valuable digital assets through the artificial intelligence-enabled Extended Detection and Response (XDR) cybersecurity approach.
Read more...
---
SMART Surveillance Conference 2023
Technews Publishing Editor's Choice CCTV, Surveillance & Remote Monitoring Conferences & Events
Some people think the future is all about cloud technologies, but the SMART Surveillance conference demonstrated that AI is making edge surveillance much more attractive, over distributed sites, than ever before.
Read more...
---