printer friendly version
Thermal perimeter and fire protection
CCTV Handbook 2021
CCTV, Surveillance & Remote Monitoring
Hikvision has launched HeatPro, a new thermal series of cameras designed to provide affordable all-weather deterrent and alerts. It is especially useful in perimeter protection and fire prevention applications.
The HeatPro series features deep-learning thermal video analytics for perimeter protection, and object temperature measurement and fire detection with real-time alarms. Features like accurate human/vehicle classification, visual and auditory alarms for perimeter protection, and speedy temperature exception alarms for fire prevention make them ideal for SMB (small- and mid-size business) applications.
Perimeter defence with AI
When securing a perimeter, higher accuracy and a low false alarm rate can help reduce operational costs. The HeatPro series achieves this with video analytics based on deep learning algorithms, radically reducing false alarms.
The cameras focus on short-range perimeter protection (0 – 50 metres), where they deliver target detection and classification. The use of AI means that the cameras can distinguish between a person and a vehicle. This comes in especially useful when the two targets are close together. Traditionally, they can only be recognised as one 'target', but intelligent algorithms mean that they can now be detected separately, increasing accuracy.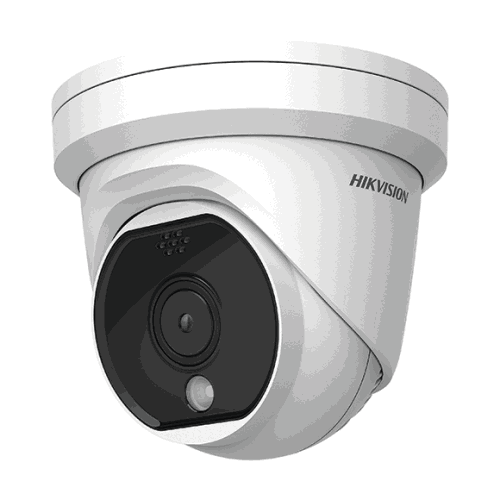 Thermal cameras are also able to easily locate potential threats in zero visibility conditions, where a conventional camera could not. They do this by detecting the latent radiation emissivity of an object, so not relying on visible light. This means they can operate in all-weather conditions and the darkest night. They also don't emit light, which means their presence is not obvious, making them useful in scenarios where they need to be hidden.
The HeatPro Series is also designed to be efficiently and quickly installed, with a simple, three-step deployment, bringing setup time down to 30 seconds. Traditionally thermal cameras require specialist engineers to configure and double check, taking extra time and energy. HeatPro cameras have been designed with installation time and effort in mind – they are simpler to install so installers can spend more time correctly configuring them for optimum operations and the lowest false alarm rate possible.
Temperature measurement for fire prevention
The HeatPro series is also equipped with the ability to measure temperature. This process is very useful in a scenario where overheating could lead to fires. The camera can provide non-contact temperature measurement for fast and visible detection. This means that action can be taken earlier, potentially preventing a fire from the very beginning. The camera can trigger a fire alarm faster than a smoke sensor.
The temperature measurement function can also be used to help check any potential overheating issue and troubleshoot problems.
The series contains a number of different models and options, with bullet and turret forms and bi-spectrum or single lenses. The cameras can be built into a number of solutions, for instance seamlessly working with NVRs, AX PRO alarm systems and even Hik-Connect for real-time mobile alerts by phone. They can be used in various scenarios, not least residential buildings, offices, construction sites, car parks, retail outlets and warehouses.
"Dedicated to bringing professional protection solutions to the mass market, these cameras provide perimeter protection with unparalleled accuracy and fire detection with fine sensitivity", says Stefan Li, director of thermal products at Hikvision.
Credit(s)
Further reading:
Retail solutions beyond security
Issue 8 2020, Axis Communications SA, Technews Publishing, Hikvision South Africa , Editor's Choice, CCTV, Surveillance & Remote Monitoring
The need for security technology to deliver more than videos of people falling or stealing from retail stores is greater than ever.
Read more...
---
A 'step-change' in tracking and monitoring
Issue 8 2020, Dahua Technology South Africa , CCTV, Surveillance & Remote Monitoring, Products
View an overall scene while monitoring a specific person or vehicle, or obtain a panoramic view while being able to zoom in and track particular targets.
Read more...
---
AI-powered hardhat detection
Issue 8 2020, Hikvision South Africa , Industrial (Industry), CCTV, Surveillance & Remote Monitoring
Hardhats save lives, but only if people wear them. Intelligent, AI-powered hardhat cameras are helping to ensure workers in dangerous locations stay safe at all times.
Read more...
---
AX PRO wireless alarm solutions
Issue 8 2020, Hikvision South Africa , Perimeter Security, Alarms & Intruder Detection, Products
Hikvision announced its new generation of wireless alarm systems – the AX PRO – delivering comprehensive alarm solutions for both residential and commercial applications.
Read more...
---
Integrated, cloud-based access and attendance solution
Issue 4 2021, Hikvision South Africa , Access Control & Identity Management
Hikvision has launched its new cloud-based and integrated access and attendance solution with centralised multi-site access control and time and attendance management to simplify HR operations.
Read more...
---
Entry-level XVR powered by AI
Issue 4 2021, Dahua Technology South Africa , CCTV, Surveillance & Remote Monitoring, Products
Dahua Technology recently launched its Cooper-I Series XVR. As the first entry-level XVR to offer AI functions, this series allows customers to use AI-enabled XVRs without spending a fortune.
Read more...
---
Multi-imager with built-in AI
Issue 3 2021, Bosch Building Technologies , CCTV, Surveillance & Remote Monitoring, Products
Bosch has introduced a multi-imager camera with built-in AI to support predictive solutions. The new Flexidome multi 7000i cameras combine multi-directional overviews with actionable insights for wide-area coverage.
Read more...
---
ONVIF releases Profile M
Issue 3 2021 , News, CCTV, Surveillance & Remote Monitoring
ONVIF has released Profile M to address the dynamic video analytics market as well as expanding the pathways for the use of metadata and event handling into other systems, such as access control, cloud services and IoT platforms.
Read more...
---
Skills in CCTV camera operations
Issue 4 2021, Leaderware , Editor's Choice, CCTV, Surveillance & Remote Monitoring, Security Services & Risk Management
I also come across some delegates who are simply outstanding in their ability to understand and apply the concepts, or who identify potential suspects through a natural feel for criminal behaviour. Early ...
Read more...
---
Bosch launches new X series cameras
Issue 4 2021, Bosch Building Technologies , CCTV, Surveillance & Remote Monitoring
The new Flexidome IP starlight 8000i X series cameras combine built-in AI and enhanced image quality to support predictive solutions in mission-critical applications.
Read more...
---