printer friendly version
Reception area access control equipment
Issue 3 2021
Access Control & Identity Management
A reception area is arguably one of the most influential areas in an office environment. The reception creates the first impression of the company and must have that warm welcome feeling making you believe that you are dealing with a successful company.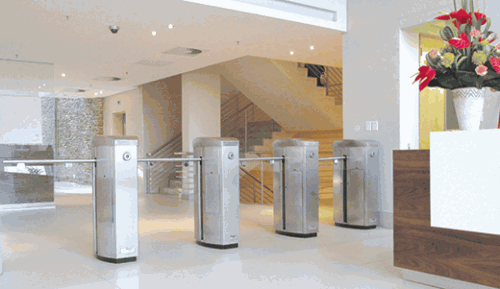 Genius drop arm pedestrian barrier.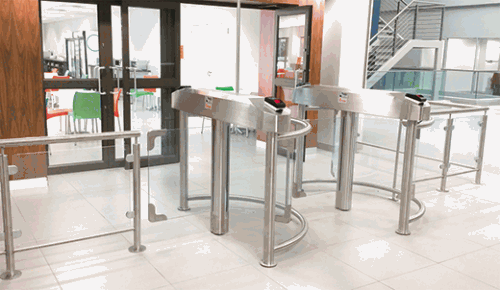 Cyclone half height glass turnstile.
Pro-wing Speedstile.
Although looks are important, access needs to be controlled, especially if you take into account that the reception area is also your main point of entry for your staff and customers. You don't want uncontrolled access. But, how do you enforce access control without creating an industrial or prison-like feeling while at the same time have access control that is robust and secure without compromising the look and feel. Your access control must blend in with your surroundings.
Boomgate Systems offers a wide variety of equipment, ranging from manual, semi-automated as well as fully automated products. The company does manufacturing of equipment in-house, so customisation of its products like filler rails to close open spaces that need to be closed in between the equipment is a must. The material of choice is Stainless Steel 304 brushed, as Stainless Steel blends in very well with the surroundings and is very durable.
Boomgate Systems' range of entrance control Speedstiles come with fully programmable controllers, from controlling the opening and closing speed, stopping tailgating and auto-close function if no person walks through, securing your reception at all times.
Boomgate offers the following products, specifically designed for every environment:
• 180° Pro-wing speedstile with 24 V DC brushless motor.
• 180° automated paraplegic swing gate with 24 V brushless motor.
• Semi-automated paraplegic swing gate with maglock.
• Drop arm barrier with 24 V brushless motor.
• Pro-wing retractable speedgate with 1800 mm high glass panels.
• Stainless steel filler rails with glass infill fully customisable.
• Euro-style waist-height turnstile.
• Cyclone gass half-height turnstile.
• All of the above automated products are suitable for COVID hands-free access control.
Credit(s)
Further reading:
Control from anywhere
Issue 3 2021 , Access Control & Identity Management
From the flexibility of managing security from any location to the convenience of using a smart phone in place of an access card, Gallagher delivers user-friendly technology, underpinned by the strongest security.
Read more...
---
Facial recognition advances
CCTV Handbook 2021, Suprema, IDEMIA , ZKTeco, Technews Publishing , Access Control & Identity Management
Reliable facial biometrics is still in the domain of access control, but integration with surveillance technologies is fast becoming a reality.
Read more...
---
Blockchain used for strong identity and authentication
Issue 3 2021 , Access Control & Identity Management
1Kosmos BlockID digital identity solution approved as NIST 800-63-3 conformant and FIDO2 certified, powered by advanced biometrics and a private blockchain.
Read more...
---
NeoFace Watch Thermal improves health and safety
Issue 3 2021 , Access Control & Identity Management
NeoFace Watch Thermal protects organisations, their customers and employees through contactless monitoring and management of COVID-19 protocols, providing real-time dashboards and process automation in a cost-effective solution that keeps people safe.
Read more...
---
Linking HR and security
Issue 3 2021, iFacts , Access Control & Identity Management
Employee screening is implemented to ensure the risk of the company is managed and fraudsters do not enter the workplace, but the results of the vetting are not often linked to other areas in the business.
Read more...
---
Smart entrance control technologies
Issue 3 2021 , Access Control & Identity Management
An important part of physical security systems, entrance control has gained even greater prominence on the security agenda in the age of the COVID-19 pandemic.
Read more...
---
Multi-credential flexibility
Issue 3 2021, Suprema , Access Control & Identity Management
Suprema CoreStation is an intelligent door controller which provides biometric-enabled security over a centralised access control system and can store up to 500 000 users with a fingerprint-matching speed of up to 400 000 matches per second.
Read more...
---
Manage multiple sites with Paxton10
Issue 3 2021, Paxton , Access Control & Identity Management
Thomas Faith, the Paxton10 product manager, discusses how installers and end-users can now benefit from Multi-site management functionality release in a recent update from Paxton.
Read more...
---
Thwarting data theft
Issue 3 2021, Astra Fasteners , Access Control & Identity Management
Special care must be taken to secure customer data in computer centres in shared facilities with a high level of data and people traffic, where identification, organisation and control are non-negotiable.
Read more...
---
Axis Camera Station Secure Entry
Issue 3 2021, Axis Communications SA , Access Control & Identity Management
Axis Camera Station now includes access control management, allowing users to visually identify visitors or get automatic alerts in case of incidents; and the same operator can monitor the video and the access control.
Read more...
---