printer friendly version
One lock to rule them all?
Issue 3 2021
Financial (Industry)
It is hard to think of somewhere with more critical security needs than a bank. While cybersecurity grabs the headlines, in the day-to-day business of banking, physical security of people and assets is paramount.
We've all seen the heist movies. Of course, in the real world, bank security is more complex than fitting the biggest titanium door you can find. Buildings, ATM housings and cash-in-transit delivery services all have totally different workflows, but each demands high-security locking they can trust, just like a vault.
Could a single locking technology accommodate such a diverse range of needs?
Trusted security and a safety net
eCLIQ is a multi-layered locking system which combines key-operated mechanical and electronic protection. A range of high-security cylinders and padlocks for applications beyond doors maximise physical security and attack resistance. CLIQ technology then layers encrypted, user-friendly electronic security on top – adding control and convenience without the need for wires: all eCLIQ locks for doors, padlocks, cabinets, lifts, gates and any relevant machines are wireless. Power to the lock's microelectronics comes from a standard battery inside every programmable eCLIQ key.
These layers of physical and electronic security work together to give banks a safety net should a key go missing. Any lost eCLIQ key's access rights are simply removed, instantly, using the system software and it no longer opens any door, vault or ATM.
Easy installation, easy management
Because it's a key-based solution, eCLIQ offers a simple step up from mechanical security to powerful access control, with no change to existing hardware like doors. Retrofitting is hassle-free.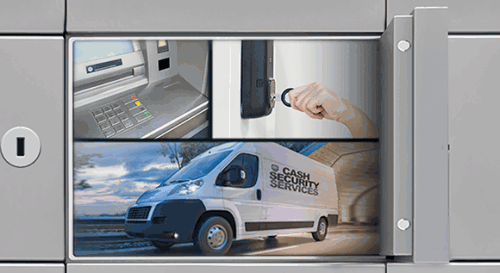 The secure CLIQ Web Manager software interface works on any standard browser, or on an intranet with multi-factor log-in authentication for administrators. Facility managers can control workflows by tailoring every user's access permissions, without bulging key-chains or having to design a complicated, expensive key management system. One programmable (and reprogrammable) key covers all their needs.
Areas requiring special clearance are easily defined and access to them restricted to specific staff. If multiple system administrators are required, CLIQ handles it – even across different sites or time-zones.
Facility managers can place programming devices at strategic points – near the staff entrance, say – for employees or contractors to revalidate their permissions regularly. Shorter access rights validity instantly upgrades security in a banking hall or back-office.
Equally, the CLIQ system can generate an audit trail for any lock or user on demand, thereby streamlining incident investigation. Programming devices collect audit trails at the time of reprogramming. CLIQ functionality saves you time and money.
CLIQ can secure more than just doors. Cylinders are ideal for ATM housings and bank staff or third-party vendors don't even need to carry another key to unlock the ATM. Their single key is programmed to open just the right ATM at the right time – a secure and controlled workflow. Every opening is tracked and audited within the same Web Manager software.
Protecting cash on the move
Running a cash transit department or business adds another variable to the security mix: staff and cash are always on the move and the entire workflow must be secured. If you are back at HQ to collect a key, you are wasting time and fuel. An extension of the same system – CLIQ Connect technology – has it covered.
With CLIQ Connect, a key-holder no longer needs to update access rights physically in person by returning to base or even by moving to the nearest location with a programming device. All they need is a smartphone, the CLIQ Connect app and a secure Bluetooth connection.
If you need to redirect a cash collection team while they are on the road, you just set new access permissions for a building or ATM within the Web Manager. The key-holder makes a secure Bluetooth connection between their programmable CLIQ Connect key and the app to instantly update their permissions. They can now open the necessary locks at their new destination.
The online opening function of CLIQ Connect can even contribute to secure sequence unlocking for cash collections. For example, locks can require key-operated unlocking within 60 seconds of access also being authorised by a system administrator.
For more information contact ASSA ABLOY Africa, Hayley Elwen, +27 11 761 5000, hayley.elwen@assaabloy.com, www.assaabloy.co.za
Credit(s)
Further reading:
Retail solutions beyond security
Issue 8 2020, Axis Communications SA, Technews Publishing, Hikvision South Africa , Editor's Choice, CCTV, Surveillance & Remote Monitoring
The need for security technology to deliver more than videos of people falling or stealing from retail stores is greater than ever.
Read more...
---
LPR is an integrated solution
CCTV Handbook 2021, DeepAlert, XtraVision, Technews Publishing , CCTV, Surveillance & Remote Monitoring
The power of LPR is only experienced when it is integrated with other technologies, from video analytics and AI, through to connecting to external databases.
Read more...
---
Decentralised operations is where it's at
CCTV Handbook 2021, G4S Secure Solutions SA, Technews Publishing , Editor's Choice
Control rooms are evolving into operations centres that serve a variety of applications, such as risk management, surveillance, process management, network monitoring, personnel management and asset management.
Read more...
---
Storage solutions for surveillance
CCTV Handbook 2021, Technews Publishing, Forbatt SA, Duxbury Networking , IT infrastructure
When it comes to storage, simply knowing where your video is stored, how to access it quickly and how to handle the large amount of data is a complex task.
Read more...
---
Facial recognition advances
CCTV Handbook 2021, Suprema, IDEMIA , ZKTeco, Technews Publishing , Access Control & Identity Management
Reliable facial biometrics is still in the domain of access control, but integration with surveillance technologies is fast becoming a reality.
Read more...
---
Recover your margins with services
CCTV Handbook 2021, Technews Publishing , Editor's Choice
The security industry has reached yet another inflection point with the rise of the cloud, specifically with its utility in security services which have become an operational expenditure reality.
Read more...
---
The reality of the cloud
CCTV Handbook 2021, Technews Publishing , Editor's Choice
One unmistakable take-away from this year's CCTV Handbook is that no matter whether it's a hybrid or an 'all-in' model, the cloud is the new frontier for surveillance operations.
Read more...
---
Cloud surveillance options from AWS
CCTV Handbook 2021, Technews Publishing , CCTV, Surveillance & Remote Monitoring
The idea of doing away with the task of managing your own IT infrastructure and simply using a reliable and scalable infrastructure, provided by and managed by someone else, seems like a good idea.
Read more...
---
The service of security
CCTV Handbook 2021, Technews Publishing, Watcher Surveillance Solutions , CCTV, Surveillance & Remote Monitoring
Watcher Surveillance Solutions provides an off-site Surveillance Operating Centre (SOC), offering a cloud-based video management system that manages customers' video feeds using the latest in-video analytics and artificial intelligence.
Read more...
---
Displays and video walls
CCTV Handbook 2021, Hikvision South Africa, Technews Publishing, Dahua Technology South Africa, Forbatt SA , CCTV, Surveillance & Remote Monitoring
Hi-Tech Security Solutions spoke to four companies that offer display solutions to find out whether display technology is still advancing, or if it has simply become a 'must have' to make your control room work.
Read more...
---