printer friendly version
Touchless access control for the new pandemic reality
Issue 1 2021
Access Control & Identity Management
Bosch has released version 4.8 of its Building Integration System (BIS), which offers safe, touchless access control solutions to curb the spread of viruses like COVID-19. BIS 4.8 supports biometric and mobile device authentication and provides building managers with enhanced integration of fire panels and intrusion panels.
In light of the global coronavirus pandemic, building operators need to rethink their access control solutions. Instead of systems that require physical touch and thereby increase the risk of virus transmission, contactless solutions that still meet the highest security guidelines are preferable. In response to these requirements, BIS 4.8 expands on the trusted features and benefits of version 4.7 to now work with three different touchless solutions that safeguard personal health:
• Face recognition. BIS 4.8 has been redesigned to work with the face recognition solution from IDEMIA. The face recognition device obtains a biometric scan from a safe distance and matches facial features with credentials in an encrypted database. Doors and gates open via the BIS Access Engine and the Bosch Access Modular Controller (AMC2).
• Touchless fingerprint readers. Integrated with IDEMIA's Morphowave reader, BIS 4.8 controls access via a touchless fingerprint scan. A simple wave of the hand in front of the touchless sensor triggers a 3D scan of four fingers. Access rights are confirmed within less than one second by the system's fingerprint database for a clean and highly secure solution.
• Access via mobile phones. In conjunction with the mobile access control solutions from STid and HID, BIS 4.8 allows users to use their mobile phone instead of a card for access at the secure reader. For STid's Mobile ID, the method requires an STid reader, while a Bosch Lectus secure reader works with HID's Mobile Access solution. Users only need to install an app to verify access rights and use the safe, wireless technology.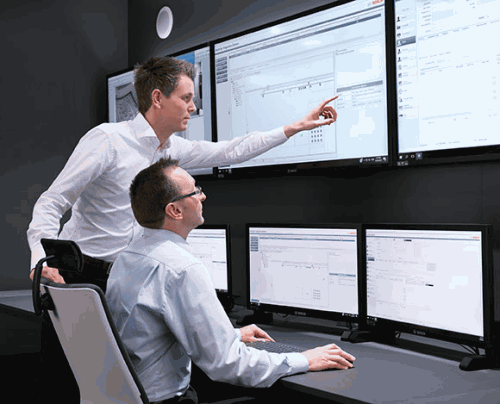 Aside from facilitating contactless access, all three solutions are also intuitive, quick and convenient compared to keycards and similar methods, as there is no need to carry an access card or remember a password in order to gain entry to a building or area.
Seamless fire and intrusion panel integration
Combining BIS 4.8 with Bosch B and G Series intrusion panels or MAP 5000 panels unlocks a new level of convenience: Users require only one authorisation badge to control two systems. Disarming areas of the intrusion system and granting access can be realised with the same badge on the same reader, without entering a PIN code, for easy, one-step authorisation.
Improved flexibility and efficiency
With the introduction of version 4.8, BIS continues to unify the management of multiple security and safety domains and maximise flexibility for key customer requirements. New features include:
• Integration of the latest Bosch Avenar 2000 and 8000 fire panels and peripherals, along with command and control via BIS, with devices and status shown on maps, and events managed more intuitively via an alarm list.
• User authorisation for Bosch B and G Series intrusion panels is managed directly within BIS for up to 2000 users on as many as 25 intrusion panels, instead of handling authorisations separately on each of the 25 panels.
• Central overview of all existing access and B and G Series intrusion authorisations for the complete installation within one system.
With these updates, BIS 4.8 helps operators meet the health and safety demands of the new reality without compromising on functionality and security. As a centralised platform for operational building management, the new version of BIS offers greater convenience, flexibility, and efficiency.
Credit(s)
Further reading:
Suprema ranks first in survey
Issue 2 2021, Suprema, neaMetrics , News, Access Control & Identity Management
In a recent survey conducted in Korea, Suprema was chosen as the top brand for access control management software and mobile access solutions.
Read more...
---
Suprema integrated with Nedap
Issue 2 2021, Suprema , Access Control & Identity Management, News
Suprema recently announced that it has integrated its latest facial recognition devices into Nedap's access control system, AEOS, to enable organisations to manage their access control by making use of Suprema's latest facial recognition technology.
Read more...
---
Single bollard stops and destroys simulated bomb truck
Issue 2 2021 , Access Control & Identity Management
Delta Scientific announced the successful testing of its Model DSC635, a single shallow foundation bollard design that stops and destroys a 6804 kg test truck with less than 0.6 m of static penetration and 1.87 m of dynamic penetration.
Read more...
---
All-in-one signalling device
Issue 2 2021, Bosch Building Technologies , Fire & Safety
The Avenar all-in-one 4000 offers a complete solution through the optional combination with all Avenar fire detectors as well as an innovative power concept that permits up to 125 devices per ring bus.
Read more...
---
Size of OSDP-verified list is underappreciated
Issue 2 2021 , Access Control & Identity Management
Farpointe Data announced that, at first glance, it appears that there are just 25 devices from seven different vendors listed as OSDP Verified. Although that doesn't seem like a lot, it really is.
Read more...
---
Mail.Ru selects HID Global
Issue 2 2021, HID Global , Access Control & Identity Management
HID Global announced that Mail.Ru has chosen its HID Mobile Access solution for secure and convenient access control using smartphones and other mobile devices.
Read more...
---
Choosing the right integrated security solution
Issue 2 2021, ZKTeco , Access Control & Identity Management
A need for comprehensive and well-constructed security strategies for financial institutions is more profound now than it has ever been in the past.
Read more...
---
Harnessing smart expandability
Issue 2 2021, Centurion Systems , Access Control & Identity Management
Centurion Systems designed the D5 SMART gate motor to be a product that is as powerful as a standalone solution as it is as part of a larger security ecosystem.
Read more...
---
Intelligent detectors protect terracotta warriors
Issue 2 2021, Bosch Building Technologies , Perimeter Security, Alarms & Intruder Detection
Bosch intrusion alarm solution secures UNESCO World Heritage Site with Sensor Data Fusion technology, including several hundred TriTech motion detectors with passive infrared (PIR) sensors and microwave Doppler radar detection technology.
Read more...
---
First cameras based on inteox open camera platform
Issue 2 2021, Bosch Building Technologies , CCTV, Surveillance & Remote Monitoring, Integrated Solutions
MIC inteox 7100i cameras support predictive solutions with machine learning, deep neural network-based video analytics, and third-party software apps for customised applications.
Read more...
---