printer friendly version
Residential Estate Security Conference 2020
Residential Estate Security Handbook 2020
Editor's Choice
Back in the good old days when conferences that people attended in a single location were a thing, Hi-Tech Security Solutions held its Residential Estate Security Conference 2020 at the Durban Country Club in March, shortly before the COVID-19 lockdown started.
COVID-19 did not affect the conference with only one person cancelling their attendance due to fears of the virus and the conference was once again well attended. This conference cut down on the number of presentations in order to provide delegates with quality information and more time to network with the sponsors and each other. The sponsors in Durban were:
Platinum sponsor:
• IDEMIA
Gold sponsors:
• Dahua Technology
• Vox
• Bidvest Protea Coin
Silver sponsors:
• Comb Communications
• Excellerate
• Hikvision
• Nemtek
• Secutel
The presentations were packed full of information pertinent to the estate market. Below we offer a brief insight into the presentations.
What does AI look like today?
The conference started with a presentation by Gerhard Furter from Iris AI. Furter provided an overview of what artificial intelligence (AI) actually is and then expanded into some current real-world AI capabilities.
Putting it simply, Furter explained that AI "is a technology that allows a piece of software to act like it is a fairly intelligent human". AI systems can learn from data, change their own behaviour and think about certain kinds of things more effectively than a human thinks, but the system (at this stage) can't guess, be intuitive or understand something that does not have data associated with it. It is therefore bad at understanding politics or religion.
He went on to cover some of the areas in which AI is making its presence known today, such as:
- Recognition: AI software can recognise humans using their faces or skeletons, extract human traits such as age, gender and ethnicity.
- Presence: AI understands the impact of a person's presence (or an object's presence) in a space, and can use this to interpret behaviour.
- Condition: Medical AI can diagnose illness weeks in advance and even assist in surgery.
- Augmentation: AI systems can be used to augment the human body through both invasive and non-invasive means.
Understand risks to manage them effectively
Kevin van Zyl, the managing director of Horizon Risk Solutions, was up next and he delved into the topic of risk management for estates. Van Zyl first defined what risk is before expanding on specific aspects of an estate's strategy to create a secure environment.
Of the topics discussed, he included the A's of threat analysis – adversary, asset, action – followed by the process of identifying vulnerabilities and developing a strategy to deal with them. The process is not a single, one-time project, but an ongoing process of improvement based on the Six Sigma data-driven improvement cycle: define, measure, analyse, improve, and control. This is only one approach an estate can take, but it is a recognised process with many years of work behind it in a variety of industries.
Naturally, the collection of data from diverse resources to analyse and highlight the areas of risk is critical. Additionally, solutions are not standalone products or systems, but different options selected according to the requirements of the estate in question, which build on each other to create a sustainable security infrastructure that is flexible enough to adapt to new threats and solutions as they arise.
Efficiency and cost savings
Kevin Monk, managing director of Stallion Electronic Security, was up next with some insight into how estates can reduce their security spend and improve their efficiency when retaining a company offering the full security solution as a service. In his presentation, Monk explained that the service involved everything from guarding and monitoring through to technology, installed and maintained according to a set service-level agreement (SLA).
It's called a service because the estate would pay a set monthly fee and receive all the agreed-upon components. Any deviation in the service from the agreed SLA could also result in penalties to the service provider, thereby making it a better option than retaining multiple providers for different jobs, who can point the finger for failure at each other, according to Monk.
He also showed how the fees could be calculated (the actual fee would depend on what the estate required, such as how many guards and camera feeds, etc.), demonstrating that the service model would actually work out cheaper for an estate. Additionally, new services can be added easily as and when required.
Invisible efficiency and security
Shantelle Walters, CEO of Cotswold Downs, provided some insight into the security operation at the luxurious Cotswold Downs Estate. In an estate of this nature, residents demand security as a natural part of their lifestyle, but at the same time do not want it to intrude or be too 'in your face'. As Walters noted, "Security requires a delicate trade-off between providing effective protection to a particular environment while creating a positive experience for the customer."
To accomplish this does not require the latest technology, but careful planning. Having experience in shopping mall security where shoppers don't see all that happens behind the scenes in terms of security, Cotswold Downs also wanted 'invisible efficiency' where its security was effective, but not intrusive.
Walters highlighted some of the processes in place at the estate to keep residents safe and the commercial ventures, such as the golf course and restaurant, secure and accessible. She also touched on the importance of a good security team that has a history in the estate, as well as regular communications with neighbouring estates that will allow communities to work together in support of the area's security in general.
Cyber risks threatening residential estates
While most of the conference was focused on the threats to estates from a physical security perspective, Craig Rosewarne, the managing director of Wolfpack Information Risk, gave delegates a peek into the threats they also face in the cybersecurity world.
The connected world we live in means that every estate is online in some way, and many of the estate security systems are also connected to the Internet. That means these systems are open to cyberattacks, which are so prevalent in the world today. Whether it's a phishing email or malware included in an attachment, many criminals would like to get the information estates hold on their residents and their bank accounts (and other personal details). Additionally, imagine how impressed your residents and HOA (homeowners' association) will be if your estate systems are locked by ransomware, preventing people from getting in or out of the gate.
And it's not only the estate that is at risk. With the number of gadgets and networked systems making their way into homes today, many of them insecure, there is also the danger of home users being targeted and infected, or even infecting the estate systems inadvertently.
Understanding the cyber threats out there and how to secure your estate and residents is critical as more online activities are conducted in the 'new normal.'
Platinum presentation
As the Platinum Sponsor, IDEMIA was invited to address the audience for a short overview of its products and solutions aimed at estates. However, the company was ahead of the curve and banned all travel for its staff due to the pandemic. Fortunately, Impro, an IDEMIA partner, was on hand to handle the presentation in which IDEMIA's MorphoWave was highlighted, along with Impro's Access Portal, which is fully integrated into the Wave.
Gold sponsor panel
After the lunch break, the Gold Sponsors formed a panel to answer questions about their offerings as they apply to estates.
Rudi Potgieter from Vox explained how the company had changed from a telecoms giant and branched out into other fields, such as supplying visitor management solutions for estates. He was also able to talk about where the security market is going in light of the various changes in communications and technology.
Jet Zhu was representing Dahua Technology and he was able to go into more detail about the company's AI advances and how these can help estates in terms of perimeter protection through better analytics. He also spoke on other Dahua solutions for estates, from access control and ANPR through to speeding control as well as critical infrastructure.
Steve van Greunen was on hand to tell the delegates more about Bidvest Protea Coin's services to estates. Of the various topics he touched on, he drew attention to the potential future for estates through the improved use of technology and people, and how these goals can be reached in the real world where simply starting from scratch is not a viable option.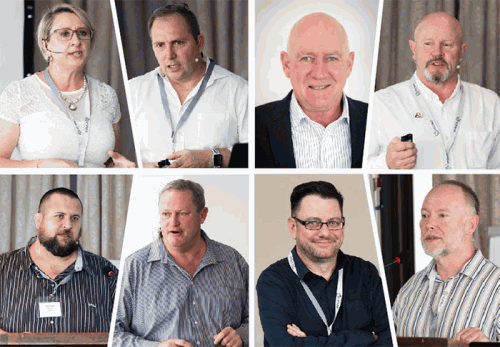 Make your network work for you
A network is a vital necessity these days, especially as more people work from home. Estates are no strangers to fibre networks, however Rudi Potgieter from Vox was on hand to explain how the network (whether fibre or something else) can provide much more than a mere data connection. A unified and well-managed network can be used to offer data as well as voice connections (and video, which has become more important) in a simplified and cost-effective manner. Some of the options for large estates could even add to the coffers of the estate when run in collaboration with various service providers in the market.
Highlighting the seriousness of the cyber threat, even for estates, Potgieter also mentioned cybersecurity and some of the risks that modern IoT (Internet of Things) devices and solutions can bring to the table. So, while networks are necessary for estates as well as each home within the estate, and also potentially beneficial to the estate's budget, care must be taken to ensure the digital entrances to estates and the data they hold are as well protected as the physical access control points.
Not a fly-by-night solution
The use of drones for security has been the topic for conversation on numerous occasions. The problem in South Africa is not a lack of skill or technology, but the overbearing regulatory burdens covering the use of drones. Bertus van Zyl is the managing director of Drone Guards and he was on hand to talk about the utility of drones and the ways in which estates can make use of them – legally.
Drone Guards has a number of options for estates looking to use drones in support of their guarding operation. Although the popular idea is to reduce the number of human resources in security through the effective use of technology like drones, the reality is that technology is more effective as a support to the human element, making people more effective and not as a replacement.
Van Zyl was planning to demonstrate one of the drones in the airspace around the Durban Country Club (DCC), however, the ever changing regulatory landscape prevented this. To explain: the previous week, the land the DCC was located on was open for the demonstration flight, however, on the conference day the drone used picked up that the area was now restricted (for some reason) and refused to lift off. (Leading drone manufacturers include a GPS function in their equipment that will prevent drones from taking off in restricted airspace, like airports, for safety reasons).
Closing another successful and edifying Residential Estate Security Conference, and potentially the last one for some time given the implications of the COVID-19 pandemic, Hi-Tech Security Solutions thanked the speakers and sponsors for their support, and all the delegates who we hope went home with some interesting insights to apply in their estates security operations.
Credit(s)
Further reading:
More to expect from Securex 2022
Specialised Exhibitions Editor's Choice
Securex South Africa 2022 will take place from 31 May to 02 June 2022 at Gallagher Convention Centre in Johannesburg, and will be co-located with A-OSH Expo, Facilities Management Expo and the new Firexpo 2022.
Read more...
---
Securex 2022 exhibitors serve up the best in security
Specialised Exhibitions Editor's Choice
Exhibitors at the upcoming Securex South Africa 2022 trade show will be demonstrating the best in security-related products and services to the market.
Read more...
---
Integrated personal security that travels with you
Editor's Choice
Individuals can take their security with them when travelling with the new Nomad all-in-one integrated security solution that keeps you and your belongings safe.
Read more...
---
Managed services in a nutshell
Technews Publishing IT infrastructure
With industry standards, security requirements, regulations, digital technology capabilities and mobile consumer engagement ever evolving, it's more critical than ever for organisations to keep up with the pace of change.
Read more...
---
Securex Preview 2022
Technews Publishing Editor's Choice
Hi-Tech Security Solutions asked the exhibitors at this year's Securex event to briefly mention some of the highlights we can expect from them at this year's show.
Read more...
---
From the editor's desk: Signs of life?
Technews Publishing News
Welcome to the latest issue of Hi-Tech Security Solution. The big news in this issue is the Securex Preview which, although smaller than in the past, is still a great (late) start to the year as it means ...
Read more...
---
Self-learning AI for existing CCTV systems
Iris AI Editor's Choice CCTV, Surveillance & Remote Monitoring News
Snap Guard is a cloud application that integrates into a property owner's live CCTV feed, working with existing hardware and software, adding an additional layer of security.
Read more...
---
Mark Kane and Wayne Schneeberger join Stallion Security
Stallion Security Editor's Choice CCTV, Surveillance & Remote Monitoring Integrated Solutions
Stallion Security has announced that Mark Kane and Wayne Schneeberger have joined its ranks at the same time as the company confirms its acquisition of Myertal Tactical Security's offsite monitoring business.
Read more...
---
Ongoing cybersecurity with a click
Technews Publishing Editor's Choice Cyber Security Security Services & Risk Management
Maintain your cybersecurity posture with web services from Pretect designed to keep your IT infrastructure optimally protected 24 x 7.
Read more...
---
The Complete Manual on CCTV Management
Technews Publishing Editor's Choice CCTV, Surveillance & Remote Monitoring Security Services & Risk Management
Sonja de Klerk, retired Brigadier from the SAPS Forensic Science Laboratory has written a book on managing your CCTV systems to optimise the value of it as evidence.
Read more...
---