printer friendly version
Time savings of up to 95% when dimensioning packages
Issue 4 2020
CCTV, Surveillance & Remote Monitoring
Whether contract logistics or freight forwarding, time expenditure and accuracy have a direct influence on profitability. The measurement and re-measurement of packages is still particularly time-consuming. A new solution by Dallmeier promises a savings potential of up to 95 %. By using camera and software technology developed in-house, the system can be employed very accurately and flexibly for the most diverse packages.
Manually measuring packages is still one of the most inefficient logistics processes. For a forwarding agent with, for example, 1.8 million packages per year, a re-measurement of only 10 % of the packages would take almost 3000 hours for manual measurement. With the automatic 'on-the-fly' volume measurement by Dallmeier, logisticians can optimise several processes at once, from loading to invoicing to the calculation and monitoring of shipping costs.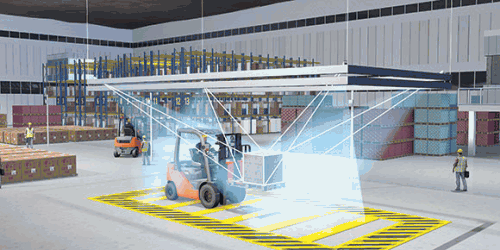 The video-based system is extremely flexible and measures even complicated packages and different packaging materials with high accuracy.
Three seconds per pallet, or 70 000 euros per year
A process analysis of the industry-standard manual measurement with the MTM (Methods-Time Measurement) method reveals a process time of 61.92 seconds for the entire manual measurement and logging process, including the recording of the data in the warehouse management system (WMS). According to measurements by Dallmeier, the video-based system can reduce this process to just under 3 seconds. Using the sample calculation, with a calculated 0.38 euros per pallet, logistics companies can achieve savings of up to 70 000 euros in personnel costs.
Dallmeier's solution for volume measurement promises time and cost savings of up to 95%.
Maximum flexibility through camera technology
The measuring system is camera-based and therefore efficient and accurate: It also measures difficult packaging materials and special packaging dimensions with maximum precision. The system is particularly efficient in detecting and recording the exact dimensions of poorly packed pallets and overhangs. The measurement can be performed at a speed of up to 10 km/h (2.77 m/s). The system correlates the determined volume data with the scan data and automatically transfers it to the WMS. The result: completely automated recording and transmission of all relevant packaging data. In addition, logistics companies can connect the system for volume measurement with existing hand scanners or permanently installed scanning systems and weighing systems.
For more information contact Dallmeier Southern Africa Office, +27 11 510 0505, dallmeiersa@dallmeier.com, www.dallmeier.com.
Credit(s)
Further reading:
Retail solutions beyond security
Issue 8 2020, Axis Communications SA, Technews Publishing, Hikvision South Africa , Editor's Choice, CCTV, Surveillance & Remote Monitoring
The need for security technology to deliver more than videos of people falling or stealing from retail stores is greater than ever.
Read more...
---
A 'step-change' in tracking and monitoring
Issue 8 2020, Dahua Technology South Africa , CCTV, Surveillance & Remote Monitoring, Products
View an overall scene while monitoring a specific person or vehicle, or obtain a panoramic view while being able to zoom in and track particular targets.
Read more...
---
AI-powered hardhat detection
Issue 8 2020, Hikvision South Africa , Industrial (Industry), CCTV, Surveillance & Remote Monitoring
Hardhats save lives, but only if people wear them. Intelligent, AI-powered hardhat cameras are helping to ensure workers in dangerous locations stay safe at all times.
Read more...
---
HDR and GDPR ready, with edge-storage
Issue 2 2021, Dallmeier Electronic Southern Africa , CCTV, Surveillance & Remote Monitoring
Dallmeier introduces new generation of Picoline ultra-compact fixed dome and varifocal box cameras.
Read more...
---
S&ST launches second App Challenge
Issue 2 2021 , Integrated Solutions, CCTV, Surveillance & Remote Monitoring
Security & Safety Things has launched its second App Challenge for the development of creative, specialised video analytic applications for specific use cases in retail, transportation/smart cities, healthcare and entertainment/stadiums.
Read more...
---
Improving patient care
Issue 2 2021, Axis Communications SA , CCTV, Surveillance & Remote Monitoring, Healthcare (Industry)
Nemours Children's Health System has installed Axis network video cameras in every patient room to improve patient care to avoid nuisance alarms.
Read more...
---
Geutebrück releases latest management system
Issue 2 2021 , CCTV, Surveillance & Remote Monitoring, Integrated Solutions
G-SIM X Panopticon, the latest release of Geutebrück's management system, integrates additional features designed for more rapid and cost-effective setup, enhanced intuitive operation, and multi-site networking.
Read more...
---
Surveillance in remote areas
Issue 2 2021, LD Africa , Products, CCTV, Surveillance & Remote Monitoring
The JH016 4G Solar Powered Outdoor Security Camera is designed to meet the security needs for remotely monitoring off-the-grid locations, without Internet/Wi-Fi or power.
Read more...
---
Vemotion reports a surge in streaming video surveillance applications
Issue 2 2021 , CCTV, Surveillance & Remote Monitoring
Vemotion Interactive, the UK manufacturer of low-latency, high-performance, live video streaming solutions for systems integrators and OEM solutions providers reports that over the past 12 months trends in streaming live video have accelerated.
Read more...
---
Eagle Eye Networks and Salto partner in co-living trend
Issue 2 2021, Eagle Eye Networks , CCTV, Surveillance & Remote Monitoring
Cloud video surveillance and cloud access control are giving co-living communities the necessary insights into how to better protect, manage and optimise the use of their spaces.
Read more...
---