printer friendly version
Business benefits for Actom
November 2011 Access Control & Identity Management, Industrial (Industry)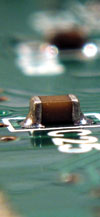 A modern, automated time management solution solves major problems, cuts time and saves money.
Based in Knights, Germiston, Actom MV Switchgear is a local designer, manufacturer and supplier of equipment, systems and services for medium voltage (MV) electricity distribution.
Describing the challenges created by the company's manual attendance system, Donovan Stevens of Actom says, "We were using a manual clock card system which created endless problems in managing our workforce of over 700 people. Our difficulties ranged from various issues relating to buddy clocking, through to disputes about time worked and the extensive admin work that was continuously required to complete our wage calculations.
"To make matters worse, maintaining the manual clocking stations in good order was difficult, expensive and time-consuming."
Accuracy in time management
A number of companies were approached as part of Actom's search for a solution to the recurring costs that were being caused by the clock card system. Jarrison Systems were selected on the basis of its particular expertise in configuring and installing automated time and attendance solutions. Stevens says that Jarrison assisted from the outset by providing advice as to the sort of solution that would best address the challenges Actom was facing in terms of bringing stricter control to the whole issue of time management and reporting.
For Jarrison Systems, it was important to propose a solution that would be particularly strong in its ability to accurately identify all the users at Actom. Jarrison's Jason Matthews says that Morpho fingerprint scanners deliver this ability more effectively than any type of card-based system: "It does not make the slightest bit of difference whether you are using manual clock cards or slightly more modern swipe cards. They are all susceptible to the same level of abuse and can so easily be shared amongst members of the workforce, enabling people to clock for one another."
In a situation like the one at Actom, Matthews stresses the importance of eliminating all the uncertainty around who is actually clocking in and out. He says, "Once we can establish certainty concerning a users' identity, we can then build from there in terms of automating the process of recording all the clocking transactions."
At Actom, this recording is managed on the Jarrison Time software platform that captures time-based data at the Morpho clocking stations. The software also provides attendance data that can be used to provide real-time management information to the system's seven administrators on issues such as absenteeism and latecomers.
Securing support for the solution
Stevens acknowledges the importance of consulting with the Actom workforce concerning the solution and the reasons that motivated its introduction. "The workforce's concerns about the fingerprint-based system and its implications were most effectively addressed by running the new replacement solution for two months in parallel with the old manual system.
"Our people needed to see that this comparatively advanced technology would actually work and that it would work better than the old manual system. For me, gaining support for the new system was one of our most important tasks in ensuring its successful implementation."
According to Stevens, "Jarrison System's system played a vital role in all aspects of the project. It provided us with valuable information and advice in setting up reports that meet our requirements and it completed each phase of the project in keeping with our agreed scheduled on implementation milestones."
Fact file
Sector: Manufacturing in the electrical engineering sector
Scale of project: Enterprise, 700+ personnel
Key elements: Morpho MA500 Fingerprint scanners operating on Jarrison Time management software
Benefits: Highly accurate time management, delivering cost savings across all aspects of T&A
Solution supplier: Access Control & Time and Attendance, Jason Matthews, Jarrison Systems, +27 (0)83 556 9259
Client details
Company: Actom MV Switchgear a division of Actom (Pty) Ltd
Contact person: Donovan Stevens
Business sector: Manufacturing
Tel: +27 (0)11 820 5111
E-mail: donovan.stevens@actom.co.za
Further reading:
Managing staff effectively
September 2019, dormakaba South Africa, iPulse Systems , Integrated Solutions, Access Control & Identity Management
Workforce management solutions allow organisations to track the relationship between productivity and the cost of employment, incorporating issues such as health and safety, T&A, rostering and more.
Read more...
---
Hennie Lategan joins Centurion as head of exports
September 2019, Centurion Systems , News, Access Control & Identity Management
Centurion Systems has announced the appointment of Hennie Lategan as the head of the company's exports department.
Read more...
---
Rockwell Automation a founding member of ISA Global Cybersecurity Alliance
September 2019 , News, Industrial (Industry)
To better secure today's complex and often vulnerable production operations, the ISA Global Cybersecurity Alliance recently announced Rockwell Automation as a founding member.
Read more...
---
New AlproMAX7 secures maximum rating
September 2019 , Access Control & Identity Management, Products
Alpro has launched a new range of ultra-secure mechanical mortice deadlocks, the AlproMAX7 which comply with BS EN 12209.
Read more...
---
ViRDI UBio Tab 5
September 2019 , Access Control & Identity Management, Products
ViRDI Distribution SA (ViRDI Africa) has announced the release of its long-awaited UBio Tablet to the South African market.
Read more...
---
Visitor access control at Ruimsig Country Club
September 2019, Elvey Security Technologies , Access Control & Identity Management, Products
Cost-effective access control solution that would control the ingress and egress of people, without hindering the traffic throughput of members.
Read more...
---
Estate-focused visitor management solution
September 2019, Vox Telecom , Access Control & Identity Management, Residential Estate (Industry)
Vox has expanded its cloud-based visitor management solution to cater specifically for the needs of small multi-dwelling unit estates and large residential estates.
Read more...
---
Biometrics control airport railroad
September 2019, Suprema , Access Control & Identity Management
63 km railroad to Incheon Airport is centrally controlled and secured by Suprema biometric hardware and software.
Read more...
---
Becoming more cyber-savvy within the OT environment
September 2019 , Cyber Security, Industrial (Industry)
Organisations running operational technology (OT) have increasingly come under cyberattack, with malware sending shockwaves through these sectors.
Read more...
---
Dual energy X-ray inspection system
September 2019, Regal Distributors SA , Products, Access Control & Identity Management
The ZKX6550 X-ray inspection system increases the operator's ability to identify potential threats; the device is designed to scan briefcases, carry-on baggage, small cargo parcels.
Read more...
---