printer friendly version
BACSA goes biometric
Access & Identity Management Handbook 2012
Access Control & Identity Management
Ideco and Stanley partner to sponsor biometric security and time management at Business Against Crime SA.
Directors at Business Against Crime South Africa (BACSA) have acquired the benefit of advanced fingerprint identification technology, service and support to bolster the non-profit organisation's internal security.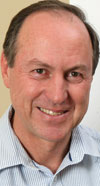 Dr Graham Wright, BACSA CEO
The Gauteng-based organisation, which is in its 15th year of operation, sought to link up with a prospective partner within the relevant industry in order to replace its card-based attendance and daily exit/entry system. The traditional system was problematic, prone to technical difficulties and could not keep up with the organisation's requirements, said Denise Curry, IT and facilities manager, BACSA.
The organisation partnered with two primary sponsors, Ideco Biometric Security Solutions (Ideco) and Stanley Security Solutions, to gain the necessary hardware, software, manpower and support that formed part of the overall solution.
Ideco is an established provider of solutions, services and support within the field of identity management. The company has an established track record of service delivery, via its partner network, to key sectors including commerce, government and retail.
When the opportunity to enter into a partnership with BACSA presented itself, the management at Ideco was eager to commit.
"Business Against Crime is a donor-driven organisation that is positioned on the front line of a united effort to eradicate crime in general, as well as that which impacts heavily on trade and industry," says Marius Coetzee, COO, Ideco. "We wanted to bring our technical expertise and knowledge of the environment to this project. There is immediate value in affiliation to this organisation and what it represents. We support Business Against Crime and what it has set out to achieve and believe we can also make a small difference by helping out in this regard."
The company supplied four Sagem MA100 fingerprint readers, ES2 installation and all relevant software licences.
Stanley Security Solutions is an established, long-time services partner of Ideco. The company was initially brought on board to install the solution, but extended its contribution to include sponsorship of all peripherals including magnetic locks, power supplies as well as exit and emergency lock switching. According to Curry, the newly implemented system has already proven invaluable to the organisation and its daily operation.
"The fingerprint-based readers and the solution as a whole is a significant step forward for Business Against Crime and its operation. We required a system that was based on sound technology… that was accurate and secure. Our sponsorship partners, Ideco and Stanley Security Solutions, have truly made a significant contribution in technology, expertise, time and labour. Their willingness to assist and the value of their experience and knowledge is something we appreciate. From the beginning of this project to the end, from inception to installation, our partners have provided consistent, reliable ongoing support and advice. This has been a great success," she says.
Fact file
Sector: Non-profit business association
Scale of project: Single site, 50 personnel
Key elements: Ideco ES² Free Operating Software, Morpho MA100 fingerprint scanners.
Benefits: Cost-effective access solution based on free software that delivers the security benefits of fingerprint identification.
Solution supplier: Ideco ES² free software, Morpho MA100 fingerprint scanners; JJ Baird, Ideco, +27 (0)11 745 5600, jjbaird@ideco.co.za
Installer: Glen Baptiste, Stanley Security Solutions, +27 (0)11 844 3200
Client details
Company: Business Against Crime SA
Contact person: Denise Curry
Business sector: Non-profit business association
Tel: +27 (0)11 883 0717
E-mail: denise@bac.org.za
Further reading:
Gallagher Security releases Command Centre v9
Gallagher News & Events Access Control & Identity Management Integrated Solutions
Richer features, greater integrations, with the release of Gallagher Security's Command Centre v9 security site management software designed to integrate seamlessly with various systems and hardware.
Read more...
---
Paxton's Net2 secures medicinal cannabis facility
Paxton Access Control & Identity Management Healthcare (Industry) Videos
Paxton's Net2 access control has been installed at Highlands Grow, a fully licensed industrial-scale cultivator, producing cannabis for medicinal and recreational use.
Read more...
---
Lock down your access control with Alcatraz AI
C3 Shared Services Healthcare (Industry) Access Control & Identity Management AI & Data Analytics
Alcatraz AI, represented in South Africa by C3 Shared Services, changes access control by harnessing the power of artificial intelligence and analytics at the edge, where facial recognition becomes the essential credential autonomously.
Read more...
---
Effective access control
Flow Systems Access Control & Identity Management Products & Solutions
Flow Systems has introduced its new Extra Heavy Duty Industrial Rising Vehicle Barrier, which provides a high level of protection. It is a traditional-looking control barrier with the benefits of high-level physical protection.
Read more...
---
Newport Aquarium replaces traditional locks and keys
Paxton Access Control & Identity Management Entertainment and Hospitality (Industry)
Newport Aquarium wanted to replace its old security system with an easy-to-use and high-security access control solution to keep the animals, visitors, and staff safe. The solution was Net2, a PC-based access control system that offers centralised administration.
Read more...
---
Securing easy access
Suprema neaMetrics Access Control & Identity Management
Securing access to hospitals and healthcare institutions presents a unique set of challenges, because these facilities operate 24/7, have highly 'open' access in public areas and require a strict level of security.
Read more...
---
Reliable mass notification
Access Control & Identity Management
The use of voice alarm and voice evacuation systems within the healthcare industry ensures a safer and more reassuring environment in the event of an emergency.
Read more...
---
Upgrading security at lifestyle estate
Turnstar Systems Access Control & Identity Management
Lifestyle estates are often located in out-of-town settings, and living away from the hustle and bustle of the city can be conducive to a relaxing lifestyle. However, it requires a high level of security to keep residents secure.
Read more...
---
Protecting our most vulnerable
Access Control & Identity Management
In a nation grappling with the distressing rise in child kidnappings, the need for innovative solutions to protect our infants has never been more critical. South Africa finds itself in the throes of a child abduction pandemic.
Read more...
---
New generation of cyber-focused controllers
Gallagher News & Events Access Control & Identity Management Products & Solutions
The C7000 gives users an opportunity to leverage their hardware and firmware to build a platform designed to catapult their organisation into the future, with cybersecurity baked in from inception.
Read more...
---