printer friendly version
Products are irrelevant
September 2010
News
Regular readers will know we often harp on about convergence and integration. Our belief, based on customer input is that the old way of doing security in silos is on the way out and being replaced, if it has not already been replaced by integrated solutions. Moreover, the benefits of the Internet Protocol (IP) are obvious and this networking technology is quickly consuming market share; just take a look at the growth of IP or network cameras when compared to analogue sales.
The IT industry went through this cycle years ago when it was forced to stop selling products and start offering customers solutions. Today the IT industry is even further along and with cloud services becoming more realistic, it now offers customers services. Why install a big accounting system in-house when you can let someone else pay for the hardware and software, assume the responsibilities of constant maintenance of both, while you make use of the software remotely – as a service.
These services are all built on the back of an industry-wide adoption of standards, such as IP. And it is not always the best or most efficient technology that wins. And, of course, there are issues of data privacy incorporated in these services, but it seems that privacy is getting more airtime these days, but less respect.
The growth in remote monitoring services in the security industry echoes this move. As standards are adopted and customers are no longer interested in service provider A delivering a bunch of guards each morning while service provider B handles the perimeter, alarm and intrusion side of things and someone else doing the armed response service, we are seeing the security industry moving in the same direction.
Of course we will always need technology and products to work for us, but advances in technology will soon ensure that the top few products are pretty much the same except for the brand name. You can buy a Dell, HP or Acer PC these days and you get pretty much the same functionality and warranty from each. What makes the difference and will make the difference in the security world are the solutions you design for the customer.
It is the old cliché of having one number to call when something goes wrong and seeing the value in a solution or service, not just the cost of a grudge purchase. You will see traces of this growing phenomenon in various articles in this issue. I would like to hear what the various industry players think about the idea of solutions and services. Drop me a note at andrew@technews.co.za.
All the best, Terry
We recently carried a small article noting that Terry Scallan was not standing for re-election as chairman of SAIS. To end off this column, below is a note Terry sent to me thanking the industry for its support.
"To the Board of Governors, members and friends of the South African Institute of Security, I would like to thank you all for your friendship and support during my term of office as the chairman of the SAIS Board of Governors."
We wish Terry all the best. The new chairman has his work cut out for him. My suggestion is that his first order of business is to increase the amount of red wine at SAIS lunches.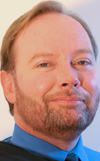 Andrew Seldon, Editor
Credit(s)
Further reading:
Insights from the 2023 Cloud Security Report
News Cyber Security
Increased costs, compliance requirements, hybrid and multi-cloud complexities, reduced visibility, and a lack of skilled practitioners cause organisations to slow or adjust their cloud adoption strategies.
Read more...
---
New algorithm for OT cybersecurity risk management
Industrial (Industry) Cyber Security News Commercial (Industry)
OTORIO's new risk management model and attack graph analysis algorithm technology, calculates OT cybersecurity threats and provides risk mitigation actions, prioritised according to actual exposure and potential impact on operations.
Read more...
---
Robots: a security opportunity or a threat?
Editor's Choice News Conferences & Events
Professor Martin Gill, Director of Perpetuity Research & Consultancy International and the School of Criminal Justice at the University of South Africa (UNISA), will be holding a Global Thought Leadership Security webinar on 22 June 2023 to discuss the contentious issue of robots operating in the security industry.
Read more...
---
UNISA sponsors Securex seminars
Editor's Choice News Conferences & Events
As part of UNISA's 150-year birthday celebrations, UNISA has sponsored the Securex Theatre Seminar Programme, which will include a number of prominent industry specialists, academics and security practitioners focusing on a number of themes.
Read more...
---
Facilities Management Seminar Theatre
Securex South Africa News
The free-to-attend Facilities Management Seminar Theatre, powered by Broll, delivers information on the latest market trends, thereby keeping attendees up to date on solutions and technology centred on increasing facility system optimisation.
Read more...
---
The latest security trends at Securex South Africa 2023
Securex South Africa News Conferences & Events Training & Education
Security technology evolves at a blistering pace, so it's important to keep up to date with changing trends in order to ensure maximised safety of human and personal assets. The Securex Seminar Theatre, powered by UNISA, is the place to be.
Read more...
---
Sustainability School opens for enrolment
Education (Industry) News Security Services & Risk Management
Three-part programme, first developed for Schneider Electric employees, is now available for free for companies worldwide. Attendees learn how to future-proof their businesses and accelerate their decarbonisation journeys.
Read more...
---
From the editor's desk: Get Smart
Technews Publishing News
      Welcome to the fourth issue of Hi-Tech Security Solutions for 2023, which is also the first issue of Smart Security Solutions. As noted in previous issues, Hi-Tech Security Solutions has been rebranded ...
Read more...
---
Matt De Araujo joins Ajax Systems
Ajax Systems News Perimeter Security, Alarms & Intruder Detection
Matt De Araujo has joined Ajax Systems as Head of Sales in sub-Saharan Africa with a goal to strengthen the local team and exceed expectations.
Read more...
---
Elvey partners with HALO
Elvey Security Technologies News CCTV, Surveillance & Remote Monitoring
Elvey Group has partnered with HALO Europe to provide Africa's first body-worn solution with zero upfront costs. This includes an IP68-certified body camera and a 4G-connected device.
Read more...
---