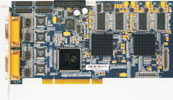 High-resolution hybrid DVR cards
April 2010, Products
The DS-42xxHFVI series card is one of Hikvision's new generation audio and video compression products. It adopts a high performance video processing chip with low power consumption and is used for real-time audio and video capturing and encoding. This product incorporates hardware compression which translates into a much smoother and consistent video stream.
The DVR card does the processing onboard as opposed to software compression where this is left up to the CPU. iVMS DVR software is supplied with this product. There are many features such as point of sale/text overlay, the ability to add an alarm device with eight inputs and eight outputs, intelligent search and many more.
There is one audio input per channel of video, ie, the 8 channel card has eight audio inputs and the 16 channel card has 16 audio inputs. Ogg Vorbis compression is used for the audio compression ensuring clear audio output. Further to this, central management software (CMS) is included with the cards. The capability is to view 64 channels per screen or one can do a screen pop on an event such as a bank vault being opened.
The cards incorporate dual video streaming where the main stream would usually be high resolution and high frame rate for video recording. The sub stream would be set at a lower resolution and lower frame rate for streaming to a device such as a laptop with a 3G connection. The software also has a mobile phone solution where any modern mobile phone running Java 2 will be able to view the channels remotely.
The Hybrid capability means that additional Hikvision IP cameras can be added to the system, at no expense other than that of the camera. The DVR cards come in an 8-channel and a 16 channel variant, and are stackable up to 40 channels in one PC. All channels are real-time at 25 fps and at 4CIF resolution. This product is available from all Regal branches as card only or as prebuilt DVR (up to 32 channels) in both PC and rack mount casing.
For more information contact Merwede van der Merwe, marketing manager, Regal Distributors, +27 (0)11 553 3300, merwede.van.der.merwe@regalsecurity.co.za, www.regalsecurity.co.za