printer friendly version
Library access to almost all
Access & Identity Management Handbook 2009
Access Control & Identity Management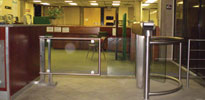 Ease of access to the appropriate people is critical for Medunsa's campus library.
The Medunsa Campus Library, situated in Pretoria, is a more specialised library in that its core business focuses on information services for approximately 4000 health and science students and faculty members. It is therefore not open to the general public and access has to be closely monitored.
In the past, the Medunsa Campus Library employed the services of a security guard standing at the entrance and checking student and staff cards. As can be imagined, this was not very effective as cards were regularly lost and students would often lend their cards to friends to allow them access to the library. In addition, the majority of the guard's time was taken up by him performing routine card checking rather than fulfilling his other job requirements.
In addition to the above-mentioned, the Medunsa Campus Library was going through an overall equipment and facilities refurbishment and security was one of the issues to be addressed.
Access to the library by only bona fide students and faculty was imperative for security. Therefore, having an access solution that was easy to use, robust and secure was imperative and would benefit the campus as a whole. Furthermore, the installation of the new access control solution meant the appearance of the entrance foyer also improved. With the removal of the old glass panes and the installation of an attractive security desk meant that the Medunsa Campus Library looked more inviting, and up-to-date.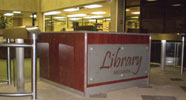 After consultation with CI Polokwane, the Medunsa Campus Library settled on a Morpho access control fingerprint system, combined with Turnstar stainless steel and glass turnstiles.
Now that a solution had been agreed upon, it was time to convince the relevant decision makers. In the case of the Medunsa Campus Library, these decision makers were the executive director and deputy director. According to a spokesperson, this was not really a problem.
"In terms of the implementation, we did not really hit any hurdles, although, funding was a limiting factor. Because of the lack of funding, the choice of components to use in the system was rather limited.
"Time constraints were also limiting. The entire solution had to be installed and up and running by the end of 2008."
When choosing which solution the library would go with, quotations were requested from interested companies, and the lowest quotation that met the specifications was selected. CI Polokwane was chosen in this case. The actual solution that the library chose was not based on referrals, but instead on a similar solution installed at the Turfloop Campus Library which impressed the management.
The installation was completed within a week. The registration of staff and students started in January 2009 and was completed by the end of March 2009. The library could have adopted an 'everyone needs to register now' approach, but instead opted for a more gradual, less invasive approach – thus avoiding any disruption.
The project achieved what the Medunsa Campus Library wanted – an effective and attractive access system at reasonable cost and suitable for a library environment. The library was also looking for something that was easy to operate, secure and robust – the Sagem MA 500 fingerprint access control system along with the Turnstar turnstiles achieved just that and more.
The library is happy with the solution so far and the only advice it can offer other libraries is that the systems available differ in their suitability for specific environments; and libraries should consider a variety of systems before selecting one.
For more information contact Karel de Bruin, CI Polokwane, +27 (0)15 293 1475/6, c200@mweb.co.za
Further reading:
Paxton10 for smart buildings
Issue 5 2020, Paxton Access , Access Control & Identity Management
Paxton10, offering access control and video management on one simple platform, is available in the South African market.
Read more...
---
Suprema enhances cybersecurity
Issue 5 2020, Suprema , Access Control & Identity Management
Suprema BioStar 2 is a web-based, open and integrated security platform that provides comprehensive functionality for access control and time and attendance.
Read more...
---
A wizz at visitor management
Issue 5 2020 , Access Control & Identity Management
WizzPass is a locally developed software platform for managing visitors to businesses, buildings or business parks.
Read more...
---
Contactless at the game
Issue 5 2020, IDEMIA , Access Control & Identity Management
IDEMIA partners with JAC to successfully test frictionless biometric access technology at Level5 Stadium in Japan.
Read more...
---
Focus on touchless biometrics
Residential Estate Security Handbook 2020, Hikvision South Africa, Saflec, IDEMIA , Suprema, Technews Publishing , Access Control & Identity Management
The coronavirus has made touchless biometrics an important consideration for access control installations in estates and for industries globally.
Read more...
---
Providing peace of mind
Residential Estate Security Handbook 2020, ZKTeco , Access Control & Identity Management
Touchless technology embedded with face and palm recognition sensors provide 100% touchless user authentication for a variety of applications.
Read more...
---
Frictionless access with a wave from IDEMIA
Residential Estate Security Handbook 2020, IDEMIA , Access Control & Identity Management
Platinum Sponsor IDEMIA displayed its frictionless biometric reader, the MorphoWave Compact, at the Residential Estate Security Conference.
Read more...
---
Cost effective without compromising security
Residential Estate Security Handbook 2020, Bidvest Protea Coin , Access Control & Identity Management
Bidvest Protea Coin offers a range of services, all integrated to offer a future-proof and cost-effective security solution for estates.
Read more...
---
Broad range of estate solutions
Residential Estate Security Handbook 2020, Hikvision South Africa , Access Control & Identity Management
Hikvision offers residential estates a range of systems and solutions that deliver security, from the gate to the individual's own home.
Read more...
---
Excellerate looks beyond traditional guarding
Residential Estate Security Handbook 2020, Excellerate Services , Access Control & Identity Management
Excellerate Services has a suite of best-of-breed technologies that have been integrated into a sophisticated SLA, incident and people management system.
Read more...
---