printer friendly version
Integration is the name of the game
Access & Identity Management Handbook 2009
News
Welcome to the 2009 edition of the Access Control Handbook. Although it has been released somewhat later than is usual, this year's handbook will offer an interesting selection of thoughts, technology and case studies.
The topic of this year's handbook is integrated identity and access management. When we decided to focus on this area, we were not sure how far South African companies were going in integrating their security and business processes. Naturally there would be some leaders in the field, but were the majority still stuck with their proprietary, standalone solutions?
It is refreshing to see how many companies have started on the integration road. There is still a long way to go before we reach any ideal level of integration between the logical and physical worlds, but the trend is there. As you will see from the large selection of case studies we have, some companies are happy with integrating time and attendance with access control and leaving it at that, others have seen benefit in going further and hooking up their ERP software to allow centralised control over their employees identities and permissions.
It is a matter of value. As companies realise the value delivered from integration, we can expect them to take further steps, as long as budgets and vendors permit. Sadly, the proprietary nature of much of the security world makes it harder to integrate disparate products into a centralised solution.
Manufacturers of proprietary systems think they are forcing customers to stick to their brand, guaranteeing revenues for the long term. This was a solid business model in the past and still is if you are a large multinational corporation offering complete solutions, but for smaller players all you are doing is chasing your customers into the already well-greased hand of the multinationals. Future solutions are going to demand open standards that allow for integration with whatever best-of-breed systems the client requires. If you cannot provide everything, you may not be providing anything.
It is also rather refreshing to see that global corporations and cheaper Chinese products are not squeezing local manufactures out. The margin pressures are definitely there, but local quality seems to be holding its own and even beating the supposedly better international products.
As our first foray into integrated access control, we have put together a balanced publication that looks at where technology can take us in the future, but also focusing on what is happening in the real world right now. We hope you enjoy the opinions and trends as much as the case studies we have collected from a variety of companies and industries.
Comments and criticisms are welcome, as always, at andrew@technews.co.za.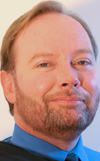 Andrew Seldon
Editor
Credit(s)
Further reading:
From the editor's desk: The worst of times
Issue 4 2020, Technews Publishing , Editor's Choice
While the world is going through a tough time at the moment with the pandemic and seemingly endless economic problems, Hi-Tech Security Solutions and Technews Publishing has had an additional burden of ...
Read more...
---
Securex postponed to June 2021
Issue 3 2020 , News
Following COVID-19 developments, Specialised Exhibitions is postponing the Securex, A-OSH and FM expos to June 1 -3, 2021.
Read more...
---
Leaders in risk & security: Assessing threat, risk and vulnerability
Issue 4 2020, Sentinel Risk Management, Technews Publishing , Editor's Choice
After serving a 27-year 'life sentence' in the military, Andy Lawler has spent over ten years in the private security industry as a risk specialist.
Read more...
---
Customised personal security app for your workforce
Issue 4 2020, Technews Publishing , Editor's Choice
Zecure takes the idea of app-based security to the business world, providing employees with a suite of applications on hand to cater to their personal security needs.
Read more...
---
XtraVision under new management and set for new horizons
Issue 4 2020, XtraVision, Technews Publishing , News
XtraVision, a distributor of electronic security and fire solutions in Africa and South America, has changed hands with founder Anthony Rosenbaum stepping down.
Read more...
---
Coping with COVID-19
Issue 4 2020, Sentinel Risk Management, Xone Integrated Security, ISF SFP, Technews Publishing , Editor's Choice
Hi-Tech Security Solutions spoke to four security service providers about their new business reality and how they are coping with the stringent regulations.
Read more...
---
Milestone forges ahead globally and in Africa
Issue 4 2020, Milestone Systems, Technews Publishing , Editor's Choice
Hi-Tech Security Solutions was given the opportunity to speak to Milestone's Kenneth H. Petersen and Anders Johansson about the company's annual performance and its regional plans.
Read more...
---
Mustek expands product portfolio with Molex
Issue 4 2020, Mustek Security Technologies , News
Mustek has announced the expansion of its existing product portfolio with the introduction of the Molex structured cabling brand.
Read more...
---
Fraud detection via voice
Issue 4 2020 , News
SAFPS to collaborate with OneVault to improve fraud detection in call centres without frustrating customers.
Read more...
---
Lianne Mc Hendry joins Bosch
Issue 4 2020, Bosch Building Technologies , News
Bosch Security and Safety Systems appoints new business development manager responsible for the Eastern Cape, Western Cape and KwaZulu-Natal.
Read more...
---