printer friendly version
Remote IP means low cost
March 2009
CCTV, Surveillance & Remote Monitoring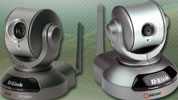 This D-Link white paper describes the benefits of remote IP camera monitoring and offers a few real-world case studies of D-Link IP cameras in use.
Internet protocol cameras (IP cameras) enable anyone with access credentials and a standard browser to remotely monitor, control and record video from any location with Internet or private network connectivity. The latest equipment features user-friendly interfaces for remote monitoring, event triggers and configuration on the fly.
Alert notifications or alarm triggers, for example can be set up in just a few clicks, with snapshots or video clips sent directly to cellular phones, e-mail, FTP or Web pages. The newest equipment offers excellent video quality, which can be adjusted for bandwidth and evidence requirements. The management and monitoring features are easier than ever to set up.
IP camera background
Unlike traditional analogue closed circuit television systems that transport analogue signals back to a centralised video recording device, IP surveillance systems digitise and compress video at each camera. The cameras send simple digital signals across the IP network.
From end-to-end, IP surveillance is a decentralised data encoding system that sends binary data across a shared, standards-based IP network – the same one used for e-mail, Web pages, file transfers, and other data network applications. The resulting media can be watched, stored, or acted upon like any other piece of data. That is important, because video usage and applications in business, at home, and across the World Wide Web are booming.
As unique and creative video solutions are developed, the characteristics of IP video (portability, flexibility, and scalability) will only become more of an advantage. By portable, we mean that IP video can be delivered anywhere there is a network connection (local, private or Internet). By flexible, we are describing both the software capabilities and the physical characteristics of IP cameras.
With wireless features, weatherproof housings, and Power over Ethernet (PoE), most modern IP cameras can be placed anywhere (then picked right up and placed somewhere entirely different without re-configuration). By scalable, we are talking about the general scalability of IP, where storage, processing and bandwidth are easily expanded with open standards.
Benefits
Remote access and management
Remote access is one of the key benefits of IP surveillance systems. With IP cameras and the right networking equipment, you can view, manage, and record video locally and remotely using standard Internet browsers like Internet Explorer, Firefox, and Safari.
IP camera-generated images (including video) can be viewed on a wide range of devices, including:
* Web browsers.
* Cell/mobile phones.
* Handheld devices.
* Laptop computers.
* Desktop computers.
* Mobile terminals in security and police cars.
Multiple authorised clients can directly access and manipulate any camera installation from any location in the world. D-Link's IP camera management software – which comes free with each camera – supports up to 32 cameras. In addition, most IP cameras allow users to change frame rates, resolution, and timed record cycles remotely.
Management and monitoring software solutions sold with digital IP systems include automated snapshot, event, alarm and motion detection features. D-Link provides the management and surveillance software free with its IP cameras, unlike some other vendors.
Full access via mobile/cellphone
Mobile phones and smartphone devices that use 3GPP systems can easily view and manage IP cameras. Users can have video clips and snapshots sent directly to their phones as MMS messages, for example. Or, users with Internet data plans on their phones can log in to common mobile phone browsers. They can also receive alerts via e-mail on their phones.
Mobile accessibility is the perfect solution for business users and family members that are on the road and want anytime/anywhere access to their assets, premises and family members. Use the cameras to monitor property, check up on infants, keep in touch with relatives, view secure areas or record specific movement incidents, like moving cars, shift changes, scheduled activities and more.
The possibilities are endless, and IP video feeds can be monitored from any device that supports open IP standards for messaging and streaming.
Event driven intelligence
One of the most compelling reasons to use IP cameras is automation. Built-in software and third party applications make IP camera images and feeds infinitely automateable. As a result, any camera event can provide intelligence that is customised to specific situations and custom user delivery preferences.
By contrast, a typical digital video recorder (DVR) surveillance system is only as smart as the person monitoring it at the moment it is being watched. With an IP-based system, you gain efficiency, reduce costs, eliminate errors, and add this automated intelligence layer.
Typical IP camera and management software settings handle motion detection, event triggers, alert automation, and more. For example, certain cameras might only send data to the recording servers when a specific threshold of motion is detected. Sensitivity settings can be adjusted so insignificant movements will not trigger a recording. This saves recording space and human analysis time by keeping only what is relevant to the particular security situation at hand.
Third party application integration
A wide variety of third party applications offer solutions for licence plate recognition, people counting, geographic information systems (GIS), and face recognition. Like the standard IP camera software, these solutions allow you to configure alerts and send video and snapshot messages to e-mail and mobile phone clients. This includes notifications to handheld PDAs, cell phones, or other IP connected devices.
One-way or two-way audio
Since IP Surveillance systems are merely passing around information packets, any kind of additional data (sound, graphics, applications, event triggers, etc) can accompany the data stream. Several D-Link IP cameras come equipped with built-in microphones and speaker jacks for two-way communication. Analogue systems, on the other hand, cannot handle single channel audio or two-way sound channels without added cabling and expense. Deploying audio with the video images becomes very simple in IP Surveillance applications.
Low cost
D-Link offers several cameras with varying features priced from $70 to $700. These include stationary Web access cameras that feature motion triggering and scheduled recording options on the low end, and fully-featured pan, tilt, zoom (PTZ) models that feature wireless connectivity, 2-way audio, extreme low light sensitivity, and smooth video recording. Storage (NAS, SAN and stand-alone disk drives) solutions are also inexpensive, so large files are no longer as prohibitive as they used to be. Computing equipment in general – like desktops, laptops, routers and mobile phones – is also reasonably priced when compared to proprietary digital and closed analogue surveillance systems.
Case studies
Arizona's Sanders Unified School District uses D-Link IP cameras to deter break-ins and vandalism at their schools. They no longer have to worry about the safety of their students and assets, and their cameras can be accessed from any Web browser, anywhere.
Reason Computer installed D-Link IP cameras to protect aircraft in a Minneapolis airport hangar. They gather evidence for insurance claims and are able to set alerts for very specific on-camera events.
At Florida's Gulfarium Marine Park, animal trainers and veterinarians in remote locations study animal behaviour, provide a diagnosis, or observe medical procedures via D-Link IP cameras.
The 89 restaurant Souper Salad restaurant chain monitors stores from any remote location with D-Link equipment. They ruled out closed circuit television systems because they needed remote Internet monitoring capabilities.
For more information contact Karien Wood, D-Link, +27 (0)12 665 2165, karien@d-link.co.za
Credit(s)
Further reading:
Shorten your checkout lines to enhance customer experience
September 2019, Hikvision South Africa , Retail (Industry), CCTV, Surveillance & Remote Monitoring
Hikvision's queue detection technology is purpose-built to offer cutting-edge flow analysis to retail outlets and any situation where waiting to pay is required.
Read more...
---
Constructive CCTV contributions to research
September 2019, Leaderware , Editor's Choice, CCTV, Surveillance & Remote Monitoring
Study leads to understanding that we need more recognition and reward for constructive participation in society.
Read more...
---
New Africa sales manager for Axis Communications
September 2019, Axis Communications SA , News, CCTV, Surveillance & Remote Monitoring
Axis Communications has appointed Brendon Hall, previously the founder and MD of Pentagon, as its new sales manager, Africa.
Read more...
---
Hikvision helps secure African Union Summit
September 2019, Hikvision South Africa , News, CCTV, Surveillance & Remote Monitoring
Hikvision established a complete intelligent video solution to ensure the security of the thirty-third African Union (AU) Summit held on 7 July in Niamey, the capital of Niger.
Read more...
---
Genetec to integrate CylancePROTECT
September 2019, Genetec , Editor's Choice, CCTV, Surveillance & Remote Monitoring, News
Genetec has announced it is partnering with Cylance, a business unit of Blackberry, to bring AI-based antivirus protection to its appliance customers.
Read more...
---
Dashcams useful for more than social media
September 2019, Graphic Image Technologies , CCTV, Surveillance & Remote Monitoring, Transport (Industry)
Logistics companies need to make sure that they have a complete solution that allows real-time driver monitoring and event notifications as they happen.
Read more...
---
Best in class at sea and ashore
September 2019, Axis Communications SA , Transport (Industry), CCTV, Surveillance & Remote Monitoring
Thermal network cameras support the guard tour function that can be used for continuous monitoring of a particular area according to the pre-set guard tour.
Read more...
---
Improving operational efficiency through surveillance
September 2019 , CCTV, Surveillance & Remote Monitoring, Products
Today?s surveillance systems are no longer just about monitoring, but more so the intelligence that sits on the camera and what businesses can do with that information proactively.
Read more...
---
New thermal/visual drone
September 2019 , CCTV, Surveillance & Remote Monitoring, Products
New drone equips security professionals and first responders with a reliable everyday tool for dynamic operations in challenging environments.
Read more...
---
Securing ATMs 24/7
September 2019, Hikvision South Africa , CCTV, Surveillance & Remote Monitoring, Financial (Industry)
To be effective, most ATMs need to be in public areas and open all hours, and they hold cash, making them an attractive target.
Read more...
---