printer friendly version
Nationwide's improved security
Access & Identity Management Handbook 2007
Access Control & Identity Management
Motivation
Nationwide Airlines has experienced phenomenal growth since it was formed in 1991, but that has not diverted the company's focus on excellence, confirmed by winning the Diners Club 'Best Domestic Airline' award in 2005 and 2006. The same standards were naturally to be applied when Nationwide took the decision to move its head office to a new facility built to requirement in a more central location in Rivonia.
The development of the new head office prompted Nationwide to review security on several fronts. The solution had to reflect the modern, sleek and highly functional image of the company and its new building. But the main requirement was for complete protection and control of access to the call centre and booking facilities and systems, which were to be consolidated in the new building.
As Roger Whittle, managing director at Nationwide explains, "Today, high levels of security have become compulsory in every aspect and process of airline operations.
"Nationwide has committed to implementing a broad range of security measures throughout the business and ensuring our head office building, systems and personnel are adequately protected and controlled is obviously of paramount importance."
IDtek consulted with Nationwide management over a two-month period when construction was underway and then worked at the site of the new offices to ensure that the correct power and data cable provisions were made before commencing installation.
Rewards
While Nationwide's main requirement for the new system was uninterrupted operational security at the head office. Whittle adds, "Another important factor in deciding to implement IDtek's proposed solution was the potential future benefits of utilising state-driven initiatives in identity management.
"Nationwide is excited about the way in which biometric technology is being applied globally in air travel."
For example, a scan of a passenger's fingerprint at check-in can now link passengers to their bags. A second scan, carried out at the departure gate, ensures that the person who checked in the baggage is the same person who is boarding the aircraft. This process could also prevent the switching of boarding cards. Trip-related data is automatically erased when the customer completes the journey.
Another interesting example is the willingness of business travellers to exchange personal information for faster travel. Frequent flyers with British Airways from JFK to Heathrow can obtain a card that holds fingerprint images allowing them access to a special fast-track security lane.
"It is important for customers to understand that, in addition to security issues, biometric systems can assist with airlines' and airports' desire to smooth the passenger's experience," comments Whittle.
IDtek met regularly with Whittle to assess potential risks at the new premises. Thorrold comments: "Once the client was satisfied that Sagem fingerprint biometrics would serve the company's requirements, design elements such as precise positioning were finalised."
Implementation
Nationwide approached IDtek after the company's successful implementation of biometric identity control at OR Tambo International. Julian Thorrold, sales executive at IDtek comments, "We met with Nationwide management to introduce them to Sagem fingerprint biometrics and they liked what they saw."
"Nationwide was, in part, attracted to IDtek's proposed solution because it is clear that the South African Government believes that Sagem fingerprint biometrics offer the most effective solution to identity management," explains Thorrold.
Nationwide believes that the company will, in the future, be able to develop additional benefits from adopting the same Sagem technology, such as background checks on staff and on-site identity verification.
IDtek's proposed solution offered compelling benefits to Nationwide and the company mandated IDtek to implement the solution. A total of 150 users in the building gain access to a variety of restricted areas that are monitored by 10 Sagem MA100s and three Sagem OMA200s fingerprint biometric readers. These readers control all restricted doors. This system is backed-up by an intruder detection system from GE Security featuring integrated CCTV support.
Challenges
"One should include security requirements at the design stage of new buildings. When we got on site, certain slabs had been completed so some core drilling, to accommodate concealed cabling sleeves, was required for the protection of biometric and infra-red beam devices," comments Thorrold.
"IDtek's solution has been so successful that we have awarded IDtek the mandate to immediately begin a roll-out of the solution to our Lanseria operation so we can control and monitor these employees from head office," concludes Whittle.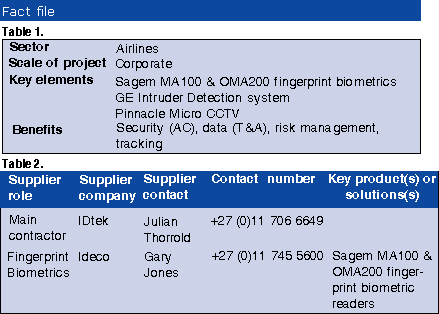 Credit(s)
Further reading:
Weatherproof Bluetooth padlock
Issue 4 2020, ASSA ABLOY South Africa , Access Control & Identity Management
The new ABLOY BEAT locking solution includes a novel digital key, a mobile app and an IP68-rated, weatherproof Bluetooth padlock.
Read more...
---
Touch-free face recognition terminals
Issue 4 2020, Hikvision South Africa , Access Control & Identity Management
Hikvision announces touch-free MinMoe face recognition terminals for easier access control and time and attendance.
Read more...
---
Contactless T&A
Issue 4 2020, LD Africa , Access Control & Identity Management
Matrix COSEC APTA is a mobile-based employee portal, allowing COSEC users to monitor and manage all their time and attendance, total working hours and leave options.
Read more...
---
New touchless upgrades
Issue 4 2020 , Access Control & Identity Management
Invixium upgrades touchless biometrics technology and introduces fever detection enhancement kit.
Read more...
---
Expanded entrance control
Issue 4 2020, Gunnebo Africa , Access Control & Identity Management
Gunnebo entrance control solutions are now available with body temperature control and building capacity management functionality.
Read more...
---
Entrance control from Axis
Issue 4 2020, Axis Communications SA , Access Control & Identity Management
Access control solutions from Axis offer flexibility, agility and open platforms that are fit for both today's needs and tomorrow's.
Read more...
---
Paxton releases latest door entry monitor
Issue 4 2020, Paxton Access , Access Control & Identity Management
Paxton has added to its video entry product line by launching its next generation standard monitor – the Entry Standard monitor.
Read more...
---
Safety in work and education
Issue 4 2020, ASSA ABLOY South Africa , Access Control & Identity Management
Mobile access technology provides innovative ways of keeping safe in work and educational environments.
Read more...
---
SALTO KS integrates with FICHAJ.ES T&A software
Issue 4 2020, Salto Systems Africa , Access Control & Identity Management
The technology partnership allows SALTO KS users to add attendance features to its cloud-based wireless smart access control solution.
Read more...
---
32-inch touchscreen for facial recognition
Issue 4 2020, ZKTeco , Access Control & Identity Management
FaceKiosk-V43 is ZKTeco's multipurpose facial recognition smart device running on Android with a 32-inch touch screen to provide a friendly and interactive user experience.
Read more...
---