printer friendly version
Serene security
Access & Identity Management Handbook 2007
Access Control & Identity Management
Motivation
Southdowns Residential Estate, set within 50 ha of farmland in the tranquil Irene district near Pretoria, has the vision of being the premier residential estate in Gauteng offering a unique lifestyle in an environmentally sustainable manner.
Within the boundaries, a complete lifestyle experience has evolved with the Southdowns Shopping Centre, the Irene Dairy Farm and Southdowns College (an independent, combined school with a focus on developing students' academic, physical, social and spiritual potential), many sporting and recreational facilities set amongst the oak trees and the meandering Hennops River.
Patty Ferreira of Southdowns Management Services says that Southdowns is like 'a piece of the past that has found its way to the future'.
"From the outset the intention was to centralise all security and surveillance and to treat the entire Southdowns area as one secure precinct. A security services company was chosen with an outstanding background to ensure that homeowners at Southdowns use all of the facilities provided without any second thought about safety."
Security teams patrol the estate round the clock. The farm has controlled access with an electrified perimeter fence. Digital motion detection cameras are to be used. Wireless cameras will be deployed where required.
'Greenfield' residential developments always face a challenge in the timing of the initial building contracts. While the estate has perimeter protection, the access of contractors has to be managed responsibly.
Rewards
Southdowns' requirements were clear: control access to the estate and to perform on-the-spot verification of contractors. Later all residents are also to be included as part of the same access control solution.
At any one time Southdowns wanted to know which contractors are on site and where they are authorised to be working. The estates also wanted to have all the relevant information of each contractor so that in the event of a breach of security, it can accurately determine whether a contractor was on site at the time of an alleged offence.
Implementation
The developers got an independent electronics consultant to assess the security technology requirements and to filter the various potential system integrators.
The electronics consultant designed the solution over a period of six months. Julian Thorrold, managing director of IDtek, adds, "Southdowns required a specialist in fingerprint biometrics and IP-based CCTV. IDtek's track record of excellence with implementing these products secured the contract." Together with the consulting engineer, IDtek assisted in the determining the equipment to be used in the solution.
Meetings followed where the equipment specifications as well as the implementation were agreed and formalised. IDtek entered into a JBCC Minor Works Agreement - Third Edition contract with the client. In terms of this agreement the preparation, execution and completion of the project is prescribed, as are the terms and procedures for payment.
Two Sagem Enrolment Stations were installed to capture all relevant personal details, a face shot and fingerprint templates from both hands of every contractor. At the same time, stand number data was also collected so that, at any given time, a contractor can be verified for authorised access to the specific site. Two Sagem OMA 300 fingerprint readers ware also installed to perform the access control verification when contractors presented themselves at Southdowns' gatehouses.
Challenges
Thorrold comments, "Access to the estate is controlled through two gatehouses over a kilometre apart. Until such time as a fibre-optic network has been installed, the solution is required to operate over a wireless bridge so that templates and access privileges could be distributed from one centralised enrolment station to both gatehouses."
Initial enrolment procedures began on the Sagem Enrolment Stations before the Sagem biometric fingerprint readers were on site. This allowed management prepare users and to populate the database so that the system could swing into operation the day the readers were installed. A wireless Ethernet LAN was established between the two gatehouses.
Review
The implementation process ran smoothly as a result of good forward planning.
However, Thorrold advises others considering a similar solution to: "Avoid cheaper biometric technology at all costs - it simply will not perform in an environment where people work with their hands and where a significant number of users are proposed.
"Because Southdowns' initial goals were clearly identified by a suitably-qualified consulting engineer prior to awarding any contracts, there was very little change from the specified plan."
Further development may take place to add time recording features for contractors so that it will be possible to accurately establish time on site for work efficiency or payment hours. "This additional functionality would be possible at nominal cost because the backbone of the system is already in place," explains Thorrold.
Ferreira concludes, "IDtek was a pleasure to work with. The residents - and the contractors - are experiencing the benefits and the security levels offered by this comprehensive access control solution."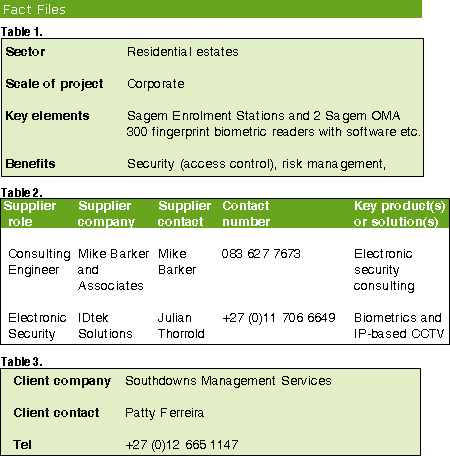 Further reading:
Paxton10 for smart buildings
Issue 5 2020, Paxton Access , Access Control & Identity Management
Paxton10, offering access control and video management on one simple platform, is available in the South African market.
Read more...
---
Suprema enhances cybersecurity
Issue 5 2020, Suprema , Access Control & Identity Management
Suprema BioStar 2 is a web-based, open and integrated security platform that provides comprehensive functionality for access control and time and attendance.
Read more...
---
A wizz at visitor management
Issue 5 2020 , Access Control & Identity Management
WizzPass is a locally developed software platform for managing visitors to businesses, buildings or business parks.
Read more...
---
Contactless at the game
Issue 5 2020, IDEMIA , Access Control & Identity Management
IDEMIA partners with JAC to successfully test frictionless biometric access technology at Level5 Stadium in Japan.
Read more...
---
Focus on touchless biometrics
Residential Estate Security Handbook 2020, Hikvision South Africa, Saflec, IDEMIA , Suprema, Technews Publishing , Access Control & Identity Management
The coronavirus has made touchless biometrics an important consideration for access control installations in estates and for industries globally.
Read more...
---
Providing peace of mind
Residential Estate Security Handbook 2020, ZKTeco , Access Control & Identity Management
Touchless technology embedded with face and palm recognition sensors provide 100% touchless user authentication for a variety of applications.
Read more...
---
Frictionless access with a wave from IDEMIA
Residential Estate Security Handbook 2020, IDEMIA , Access Control & Identity Management
Platinum Sponsor IDEMIA displayed its frictionless biometric reader, the MorphoWave Compact, at the Residential Estate Security Conference.
Read more...
---
Cost effective without compromising security
Residential Estate Security Handbook 2020, Bidvest Protea Coin , Access Control & Identity Management
Bidvest Protea Coin offers a range of services, all integrated to offer a future-proof and cost-effective security solution for estates.
Read more...
---
Broad range of estate solutions
Residential Estate Security Handbook 2020, Hikvision South Africa , Access Control & Identity Management
Hikvision offers residential estates a range of systems and solutions that deliver security, from the gate to the individual's own home.
Read more...
---
Excellerate looks beyond traditional guarding
Residential Estate Security Handbook 2020, Excellerate Services , Access Control & Identity Management
Excellerate Services has a suite of best-of-breed technologies that have been integrated into a sophisticated SLA, incident and people management system.
Read more...
---