printer friendly version
Keeping it confidential
Access & Identity Management Handbook 2007
Access Control & Identity Management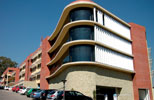 Motivation
Sizwe Ntsaluba Chartered Accountants (Siswe), founded in 1985 primarily as a business consultancy, has developed over the years into a well-established South African firm of accountants, auditors and business advisors.
The growth driving the company's development eventually created a situation where larger facilities were required to accommodate the company's employees.
Rieckus Huysamen at Siswe comments, "Over the years the consultancy has attracted a number of blue chip clients whose affairs needed to be treated confidentially. When we were considering our options for larger premises, we felt that the benefits of developing new premises to our own specification outweighed the simpler solution of just moving into a larger space."
Reward
After due consideration, Siswe took a strategic decision to develop its own office park. This solution would not only meet the expanded accommodation requirements but also create a revenue stream from tenants, which the company could choose with a view to adding value and services to Siswe's existing operations.
"When we decided to develop the office park, we took the opportunity to specify high levels of security with a particular focus on access control," Rieckus comments.
The site for the Siswe Ntsaluba Office Park was chosen in Woodmead, adjacent to the N1 Rivonia off-ramp. The R80m development was designed by architects Boogertman Urban Edge and built by Group 5. The office park consists of two buildings: a 4000 m² facility occupied by Siswe and a 4500 m² office space let to tenants. Both buildings have basement parking areas.
The risk management specifications for the Siswe's new premises included catering for over 350 professionals and ensuring that only authorised personnel gain entry.
Implementation
Mfundo Jako from PD Naidoo awarded the mandate for the security implementation to IDtek after quotes were carefully studied and because IDtek had proven its abilities on many previous installations. Julian Thorrold, electronic risk management specialist at IDtek, adds: "We have worked for many years with large professional service consultancies and have built up good relations because of our excellent track record for delivering on time and within budget.
"IDtek met with Siswe's IT personnel a number of times to understand the human movement considerations and to identify sensitive areas.
"IDtek is finding that clients are much more informed about the options now available in security solutions. They are beginning to specifically request the additional security offered by Sagem's fingerprint biometrics and are even insisting on integration with other risk management technologies such as Internet Protocol-based CCTV and intruder detection," says Thorrold.
The solution chosen by Siswe consists of 13 Sagem fingerprint biometric readers, seven of which are located outdoors, combined with analogue video surveillance of the entire facility.
Challenges
IDtek even went to the length of pre-loading the database to allow for smooth tenant occupation. "IDtek is committed to superior customer service. We therefore prefer to do the initial task of enrolling tenants before the system goes 'live' to ensure that there are no delays or confusion on the actual day," adds Thorrold.
Review
"Provided you have adequate communications, new building solutions are often much easier to implement than working with existing buildings. Thorough groundwork is the key to smooth and easy implementation. Because we consulted both with the main contractor, Group 5, and with Siswe's IT personnel, the implementation was a success from the first day the tenant took occupation. The more you know before you begin, the less likely you are to experience surprises at a later date," Thorrold explains.
Rieckus concludes: "Siswe required a superior level of access control for the entire office park and that is what IDtek has delivered. We find the system easy to operate and have full confidence that we are in control of who goes where in our office park.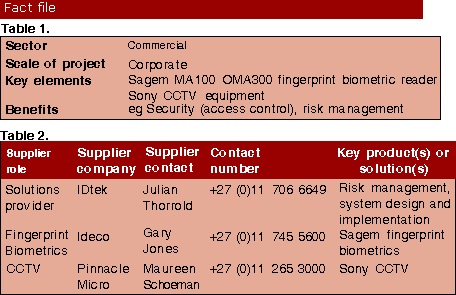 Credit(s)
Further reading:
Paxton10 for smart buildings
Issue 5 2020, Paxton Access , Access Control & Identity Management
Paxton10, offering access control and video management on one simple platform, is available in the South African market.
Read more...
---
Suprema enhances cybersecurity
Issue 5 2020, Suprema , Access Control & Identity Management
Suprema BioStar 2 is a web-based, open and integrated security platform that provides comprehensive functionality for access control and time and attendance.
Read more...
---
A wizz at visitor management
Issue 5 2020 , Access Control & Identity Management
WizzPass is a locally developed software platform for managing visitors to businesses, buildings or business parks.
Read more...
---
Contactless at the game
Issue 5 2020, IDEMIA , Access Control & Identity Management
IDEMIA partners with JAC to successfully test frictionless biometric access technology at Level5 Stadium in Japan.
Read more...
---
Focus on touchless biometrics
Residential Estate Security Handbook 2020, Hikvision South Africa, Saflec, IDEMIA , Suprema, Technews Publishing , Access Control & Identity Management
The coronavirus has made touchless biometrics an important consideration for access control installations in estates and for industries globally.
Read more...
---
Providing peace of mind
Residential Estate Security Handbook 2020, ZKTeco , Access Control & Identity Management
Touchless technology embedded with face and palm recognition sensors provide 100% touchless user authentication for a variety of applications.
Read more...
---
Frictionless access with a wave from IDEMIA
Residential Estate Security Handbook 2020, IDEMIA , Access Control & Identity Management
Platinum Sponsor IDEMIA displayed its frictionless biometric reader, the MorphoWave Compact, at the Residential Estate Security Conference.
Read more...
---
Cost effective without compromising security
Residential Estate Security Handbook 2020, Bidvest Protea Coin , Access Control & Identity Management
Bidvest Protea Coin offers a range of services, all integrated to offer a future-proof and cost-effective security solution for estates.
Read more...
---
Broad range of estate solutions
Residential Estate Security Handbook 2020, Hikvision South Africa , Access Control & Identity Management
Hikvision offers residential estates a range of systems and solutions that deliver security, from the gate to the individual's own home.
Read more...
---
Excellerate looks beyond traditional guarding
Residential Estate Security Handbook 2020, Excellerate Services , Access Control & Identity Management
Excellerate Services has a suite of best-of-breed technologies that have been integrated into a sophisticated SLA, incident and people management system.
Read more...
---