printer friendly version
Safe as houses
Access & Identity Management Handbook 2005
Access Control & Identity Management

Project scope
Over 16 000 persons enrolled (staff, residents, contractors, scholars, gym members).
Five entrances secured (including on-site gym and school).
12 full height turnstiles.
18 vehicle booms.
More than 50 Sagem MorphoAccess terminals outdoor and indoor models. IP65 waterproof readers used at the main entrances.
Five Softcon Sagem Enrolment and Management systems. Softcon Access control and CCTV monitoring and management system.
Fully automated on-the-fly biometric enrolment of visitors.
All biometric transactions are 1:many identification (fingerprint only), and matching speeds average less than two seconds per person.

The history
A new concept in secure living is being developed at Midstream Estates in Centurion, Gauteng, the first of what ABSA chairperson Dr Danie Cronje calls 'security cities'. The concept is expected to explode in South Africa in coming years as a result of increasing security consciousness throughout the country.
Midstream Estates, which is being developed on 250 hectares of 1200 hectares set aside for this purpose, will be sub-divided into 1500 stands.
In order to achieve the very high level of security required in this project, it was found necessary to implement cutting-edge technology to control access to the property, as well as to a gym and school located on the property.
The first system installed was based on a biometric system that could not operate effectively in an identification or fingerprint only mode. Users were required to enter a PIN number before placing their finger. This created unnecessary delays and bottlenecks at the entrance, as many users kept on forgetting their PIN numbers, or took a long time to enter them.
A comparison test was run for one month where a Sagem biometric system was installed at an entrance opposite the existing biometric system. The two systems were run in parallel in order to determine which was the more powerful solution.
After one month Sagem was selected as the winner in the test and was selected as the standard throughout the site.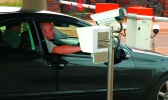 The solution
The Sagem biometric system at Midstream is thought to be the largest residential biometric system in operation in South Africa, utilising 50 ruggedised Sagem MorphoAccess (OMA 300) readers and 12 Sagem MorphoAccess (MA 300) readers. All readers have the capacity to store 96 000 fingerprints, thus easily catering for all persons on the estate.
All residents, staff and contractors are registered once only at the main guardhouse. All demographic data, including stand number and photographs, are captured.
Visitors are registered automatically in the visitors' lane, from the convenience of their vehicles. In a process that takes no more than five seconds, a visitor's fingerprint is captured into the system and the boom is opened. After the visitor has gone through the boom, his or her fingerprint is immediately removed from the in-bound reader and written to the outbound reader. On exiting, the visitor places his/her finger on the scanner, is identified in approximately one second, and the boom opens.
Images of all persons and vehicles entering the site are recorded on a state-of-the-art digital video recording (DVR) system.
The local school and gym have also been secured using Sagem biometric technology. Among the unique features deployed is the automatic deletion of gym members' access rights when their contracts expire.
The goal
In a development of this size and standing, it is essential to implement technology that enables fast and accurate identification-based access control. It was also considered important to avoid the high costs and administration that would have been incurred in managing a card-based system for approximately 10 000 users.
The benefits
Efficient access control, the elimination of cards and associated administration costs, on-the-fly visitor enrolment and processing, increased safety and security on site and the ability to better manage large numbers of contractors on the site.
"Try to visit existing sites in order to see the biometric equipment in a live environment. This gives a real indication of how the system performs. Run a test or pilot before selecting a solution," is the advice from Midstream.
Fact file
System integrator: Infinite Access, Thomas Tocknell, 012 653 8333, Thomas@infinteaccess.co.za
Sagem products distributed by Ideco Group, Gary Jones, 011 840 7800, info@ideco.co.za
Midstream Estates, Jan Van Loggerenberg, 012 661 0915.
Further reading:
Enhanced biometric technology for mines
September 2019, ZKTeco , Mining (Industry), Access Control & Identity Management
Biometric identification and authentication are currently used at various mines in South Africa and in the SADC region.
Read more...
---
Improving access in mines
October 2019, Astra Fasteners , Mining (Industry), Access Control & Identity Management, Products
The VP1 controller provides full access control and remote monitoring of intelligent locks without having to wire into a network or install, manage and maintain software.
Read more...
---
Invixium and Pyro-Tech partner in South Africa
October 2019 , News, Access Control & Identity Management
Invixium, a manufacturer of IP-based biometric solutions and Pyro-Tech Security Suppliers have announced a new distribution partnership.
Read more...
---
Suprema receives FBI PIV/FAP30 certification
October 2019, Suprema , News, Access Control & Identity Management
Suprema has announced that the company's BioMini Slim 3 has received FBI PIV (Personal Identity Verification) and Mobile ID FAP30 certification.
Read more...
---
Frictionless access with a wave
October 2019, IDEMIA , Access Control & Identity Management, Residential Estate (Industry)
IDEMIA was the Platinum Sponsor for the Residential Estate Security Conference 2019 and set up its MorphoWave Compact frictionless fingerprint biometric scanner at the entrance to the conference.
Read more...
---
Streamlined access and reporting
October 2019, Comb Communications , Access Control & Identity Management, Residential Estate (Industry)
The main focus of the Comb stand was its practical demonstration of the MK II Lite intercom system with third-party integrated products.
Read more...
---
Customised and integrated solutions
October 2019, Suprema , Access Control & Identity Management, Residential Estate (Industry)
iVisit offers both high-end and low-end residential complexes a cost-effective visitor management solution that is fully integrated into Suprema's offerings.
Read more...
---
Access solutions for every estate
October 2019, Impro Technologies , Access Control & Identity Management, Residential Estate (Industry)
Impro's flagship Access Portal solution comprises one of the most user-friendly software solutions on the market.
Read more...
---
SALTO achieves Environmental Product Declaration (EPD)
October 2019, Salto Systems Africa , News, Access Control & Identity Management
SALTO Systems has announced that it has received the first Environmental Product Declaration (EPD) for XS4 smart locking solutions, including the XS4 Original model for the European and Scandinavian standard ...
Read more...
---
Managing staff effectively
September 2019, dormakaba South Africa, iPulse Systems , Integrated Solutions, Access Control & Identity Management
Workforce management solutions allow organisations to track the relationship between productivity and the cost of employment, incorporating issues such as health and safety, T&A, rostering and more.
Read more...
---