printer friendly version
Cell C's comprehensive integrated approach
Access & Identity Management Handbook 2004
Integrated Solutions

The history
Cell C is SA's third cellular network provider. After being awarded the third licence by ICASA in February 2001, when it employed only about 30 people, and launched in November 2001. In September 2004 the employee strength stood at 2500 and will grow to 5000 when it completes its rollout by 2008.
Until August 2001 the company was based in temporary offices while sourcing and construction of major office parks was carried out. At this time there were no specifications in place to ensure standardisation and commonality of access control, CCTV, fire or HVAC systems for physical security nationwide and no definitive policies or procedures in place to manage them.
Andrew Melville was recruited as head of Corporate Security on 20 August 2001 and immediately started to research the local electronic access and security systems available. "I worked closely with Kifah Laham, the head of Cell C Infrastructure Planning and had my recommendations endorsed for standardised equipment after an exhausting period of research and comparison," says Melville.
Cell C security doctrine is based on the premise that electronic security systems must be complemented by a sufficiently robust number of on-site, armed, security officers. To this end all Cell C premises are extremely well secured and all offices have the following major components in place to manage risk:
Access control: All buildings are zoned and staff allocated to zones. Staff and visitors alike are not free to wander around any area at any time.
CCTV at all entrances and exits to ensure primary capture. Secondary capture in open-plan office spaces. Specific capture at high value locations such as computer rooms.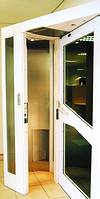 Fire detection is provided by fully addressable ZP3 fire detection panels and various smoke heat or particle detectors on three levels, above suspended ceilings, in office spaces and below suspended floors are installed.
Inert halon gas flooding systems are used in all high value switches and document stores, again all components Ziton.
Perimeter security is provided by flood and glare lighting where local regulations permit, as well as CCTV and electric fencing.

Guard forces are armed and also supported by armed response. Cell C security doctrine dictates that armed guarding will not be carried out by one single service provider. To this end, eight guarding companies are used nationwide.
Was anything forecast to happen that needed to be prepared for, ie, was the change proposed, imposed or strategically planned?
All security infrastructure, policy and procedures have been strategically planned and have gone through a full business process and control procedure of approval and acceptance. The Cell C Corporate Security Manual is available to all employees via the company intranet and also C mail, the internal electronic magazine.
The solution
The access control system is based on Keymaster Pro Version 3.5 and it is truly integrated nationwide. All Cell C sites have a local onsite server at each office park, but the management is done from a central SQL server based at Esher Place. These remote servers are linked via WAN and synchronisation is done at night. There is a fulltime access control clerk who is responsible for keeping the databases updated and an access control database supervisor who coordinates all of the requests for protocol changes nationwide.
Support for the software is under a service level agreement from Grintek, the suppliers of the software. Cell C hardware is based on the following:
Sentinel proximity card readers.
Door controllers and system controllers.
Various locks are used but standardised for various applications. These are:
Inter office doors, strike locks.
Fire doors clawlocks and electromagentic locks.
VIP offices shear locks.
At the four small regional offices, all the security infrastructures are fully integrated through the Honeywell CCTV DVR unit which has the capacity to integrate many functions. The following systems have been integrated and alarm faults are generated to key staff and the company's national armed response provider.
CCTV.
Burglar alarming.
Fire.
Access.
In addition, our regional offices are remotely CCTV patrolled at night via WAN from the main Cell C Security Operations Room at Esher Place.
The goal
Cell C Corporate Security Department is currently the driver in a major project to provide time and attendance reports to individual departments nationwide by utilising the transactions recorded via the access system, these stand currently at 36 000 per day on average.
The chosen solution must also be integrated into Oracle HR and Oracle Finance. This project is currently at the Business Requirement Stage and is due to be signed off for implementation in September or October 2004. A trial site is already identified as our national call centre in Midrand.
The benefits
The exact figure is highly confidential but Cell C loss to asset ratio of fixed and movable assets is less than 5% of insured value for year 2003. The last year for which full figures are available from our risk manager.
Melville is expecting similar figures for 2004 to be similar. He subscribes these losses, which are the true reflection of the success of Cell C investment in modern integrated security systems, as the yardstick of the company's risk management policies and strategy.
Obstacles en route to a final solution
There has been some staff resistance to the introduction of transaction control technology access doors. This was caused by staff piggybacking previous to the doors being fitted and to overcome this resistance required a change of corporate culture.
There was also concern that overweight or disabled staff would not be able to use the doors and also the doors would hamper the movement of large or bulky items. These concerns were soothed as staff became more familiar with the doors and they saw they could be manually overridden by the security officers to allow for this type of passage.
Tenders, specs and implementation
Cell C security doctrine was to source and have accepted standardised security infrastructure from major suppliers, and then to fulfil the requirements of the Cell C tendering process which takes full account of all equity requirements allowing suitably experienced and qualified installers to go ahead and tender.
This approach has allowed maximium participation from local as well as national installers and has greatly assisted companies that have formed and registered from the previously disadvantaged sectors of the community to tender.
Project managers were appointed to oversee the installation process. There were distinct phases to each project roll out. These were:
Initial design by head of corporate security of access and CCTV systems.
Initial design of fire and HVAC by suitably qualified consultants.
Detailed specifications by suitably qualified consultants.
Tendering process handled by the project management company and Cell C Procurements & Contracts.
Installation by the tender winner.
Snagging.
Acceptance.

Fact file
Key service providers, products and solutions.
CCTV and HVAC: Ultrak Honeywell, Mike Emery, 011 574 2500.
Fire detection systems: Ziton, 021 462 4020.
Access control: Grintek, Piet Pistorius, 012 421 6200.
Access doors to high value areas: Transaction Control Technology, Malcolm Thomas, 011 888 1210.
Cell C, Andrew Melville, 011 324 4425, amelville@cellc.net
Credit(s)
Further reading:
Building a nervous system for smart cities
Issue 1 2020, Pinnacle Instruments SA , Integrated Solutions
Build a central nervous system for smart cities, by employing real-time situation reporting and analysis that unites the powers of cloud computing, AI, IoT and big data.
Read more...
---
The secret to 5G security? Turn the network into a sensor
Issue 1 2020 , Integrated Solutions
We are about to make the leap from being a civilisation that uses networks to one that runs on them in a fundamental and inextricable way.
Read more...
---
The move to services and RMR
Issue 1 2020, Merchant West, G4S South Africa, Technews Publishing , Integrated Solutions
Project work used to be the staple diet for system integrators, but that was before the services model changed the way businesses buy and use their security systems.
Read more...
---
Global security industry adopts servistisation models
Issue 1 2020 , Integrated Solutions
New as-a-service business models are gaining traction because they reduce capital expenditure and cost of ownership, finds Frost & Sullivan.
Read more...
---
Looking ahead with mobile access technologies
Access & Identity Management Handbook 2020, Technews Publishing, HID Global, dormakaba South Africa, Salto Systems Africa, Suprema, Gallagher , Access Control & Identity Management, Integrated Solutions
Given the broad use of smartphones around the world and the numerous technologies packed into these devices, it was only a matter of time before the access control industry developed technology that would ...
Read more...
---
Scalable access solution
Access & Identity Management Handbook 2020 , Access Control & Identity Management, Integrated Solutions
Bosch Building Technologies makes access management simple, scalable and always available with Access Management System 2.0.
Read more...
---
Securing perimeters of secure locations
November 2019, Axis Communications SA, Modular Communications, Hikvision South Africa, Nemtek Electric Fencing Products, Technews Publishing, Stafix , Government and Parastatal (Industry), Perimeter Security, Alarms & Intruder Detection, Integrated Solutions
Hi-Tech Security Solutions asked a number of companies offering perimeter security solutions for their insights into protecting the boundaries of national key points.
Read more...
---
The safe city and its need for interoperability
November 2019 , Integrated Solutions, CCTV, Surveillance & Remote Monitoring
Interoperability continues to present one of the greatest challenges, particularly with video management systems, video recording devices and cameras.
Read more...
---
Analytics-driven solutions for smart infrastructure
November 2019, Bosch Building Technologies , Integrated Solutions
Video analytics technology can bring intelligence to infrastructure by delivering solutions for traffic flow, improved safety, smart parking, and data collection.
Read more...
---
A platform approach to innovation and value
CCTV Handbook 2019, Technews Publishing , Editor's Choice, CCTV, Surveillance & Remote Monitoring, Integrated Solutions, IT infrastructure
Moving to the platform model of doing business holds tremendous advantages for end users and smaller developers, but also for the whole technology supply chain.
Read more...
---