printer friendly version
Fully integrated resource management
Access & Identity Management Handbook 2004
Asset Management, EAS, RFID

SACO Systems, part of the listed REUNERT Group, is a major player in the local electronics and electrical engineering field. Established in 1975 to address the issues of finding a solution to access control and time and attendance problems in South Africa's mining industry. SACO Systems has been, in what it terms, 'the resource management market' for more than 28 years.
According to SACO Systems managing director, Bill Reeler, "Many companies are scared to customise their systems to meet customer's individual needs because this makes them difficult to maintain. However, SACO Systems' approach has always been to upgrade, modify and change the system to suit the customer's specific needs.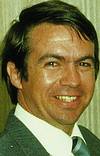 Bill Reeler, managing director, SACO Systems
The secret has been to do this in a controlled fashion, so that we are able to maintain the systems in the field and keep track of what is happening," he says.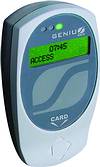 The SACO Genius Reader used in access control and T&A applications
Flexible, tailor-made solutions
SACO supplies modular, flexible, parameter driven integrated resource management systems. Reeler explains that South African companies have unique requirements from the way in which they manage time worked, to public holidays, and even to the way in which they set up work shifts, which differs from anywhere else in the world. This makes it extremely difficult for these companies to buy an off-the-shelf resource management system.
However, because SACO uses a parameter driven system, the company is able to provide its customers with flexible, tailor-made solutions. If changes to the standard system are required, parameters are simply added and the system is customised to the customer's needs.
Says Reeler, "Although SACO has provided resource management solutions to companies in industries as diverse as mining and automobiles, beverages and the service industry, for the past 25 years, its roots are in the mining industry.
"Historically, on the mines, time worked had frequently been a bone of contention in the industry. Management and workers needed a system that would enable both parties to agree on what had actually happened in terms of hours worked. In the absence of such a system, workers often felt that they were being underpaid, while management on the other hand, felt workers were taking chances and exaggerating their time worked," Reeler notes.
As a result, SACO's time and attendance record keeping system operates hand in glove with access control. "Without it, you would always have to rely on someone's word," says Reeler.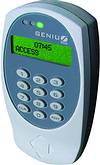 The SACO Genius Reader with integrated keypad
Authentication and traceability
According to Reeler, although traceability might sound trivial, auditability in an access control and time and attendance management system is crucial: in an organisation with some 6000 employees, overtime can have serious budgetary implications. It is extremely important for management to be able to establish at all times whether or not overtime has been authorised and, if so, by whom.
Reeler states that it is possible to modify data on any system. "What is more important," he says, "is the ability to establish whether or not the person who modified the data had the necessary authority to do so."
Enterprise scalability
In keeping with SACO's approach to engineering flexible, tailor-made solutions, the latest release of the SACO System is called the 'Enterprise Edition' which it maintains is the most comprehensive access control and time and attendance system available today. Using contactless smartcards (RFID read/write tags) it offers 100% read integrity and is a fully integrated resource management system.
Says Des Oliver, sales and marketing director at SACO Systems, "The Enterprise Edition is totally modular and this allows the system to be configured to meet future needs. The modules offered include SACO-Access (access control), SACO-Time (time and attendance), SACO-Track (a high technology tracking system) and SACO-Monitor, the latter allowing integration with other security and alarm systems including CCTV surveillance."
The Enterprise Edition is based on open database architecture (ODBC) running on Windows and can be seamlessly linked into payroll and other management databases. The following are some of the fundamentals of the system:
* The database - The database is a set of tables that can be created on Microsoft SQL Server or Oracle, on Microsoft Windows NT Server or UNIX platform. All data, irrespective of its source, is stored in these tables. Once SACO Enterprise is set up, the full power of the open database architecture together with the flexibility of the SACO Enterprise is available to the user.
* The main module - The main module is the application that inserts, updates, deletes and queries all data in the database with the exception of the configuration of the various clocking and alarm devices. Access to the data and the ability to change the data is controlled at two levels:
- The first level is the Database Engine, where the system administrator enables access and modification rights on SQL or Oracle.
- Once this has been done, access and update rights can be further controlled via the User Function feature in the main module.
* Access control - SACO Enterprise provides a comprehensive set of parameters to control the movement of employees, contractors, visitors and vehicles. These parameters are entirely optional and if all restrictions are switched off the only validation when clocking is on the status of the badge. An important factor is that there are five levels where movement restrictions can be applied. These levels are:
- Globally in the System Options screen.
- When defining reader groups where global restrictions can be overridden.
- The department level.
- The employee level.
- The time zones level.
The access control module also offers anti-passback, visitor hosting and optional add-on features like video imaging for custom made ID badges, cafeteria management, a point of sale system and fuel management.
* Time and attendance - SACO Enterprise offers a complete and comprehensive parameter driven time and attendance management system. It provides a powerful set of rules and calculations for the customer to calculate the split of hours and allowances for the payment of employees and/or contractors, and automatically links time worked to the payroll.
The system offers the customer a choice between fixed shift cycles or the use of shift sensing, where the system will select a shift from a set of shifts in the shift cycle. A post-dated transaction function is provided to enable scheduling of future transactions, ie, leave, department changes, shift changes, discharges, etc. The Enterprise system provides realtime, accurate information and on-screen authorisation of exception clearances and reporting, thus enhancing a paperless environment.
* Reports - The open database architecture provides seamless data exchange and allows customisation of reports. However, the Enterprise Edition also offers a set of existing reports including employee reports, security reports, contractor reports, vehicle reports and visitor reports. An automatic audit report provides a full log report of errors on the system.
Turnkey solutions
SACO Systems with its unique blend of South African engineering innovation in hardware, including biometric verification and software intends to remain at the forefront of resource management systems in which virtually the complete solution has been designed and developed locally. The company will also continue with its successful formula of offering its customers a true turnkey solution, something that has seen it win a number of large contracts both nationally and internationally.
For more information contact Des Oliver, SACO Systems, 011 652 5528, doliver@saco.co.za, www.saco.co.za
Further reading:
Reducing identity fraud with a selfie
Access & Identity Management Handbook 2020, Technews Publishing , Asset Management, EAS, RFID
Authenticating your identity remotely via an app has become a reality with a new solution from South African company iiDENTIFii.
Read more...
---
Security enhancements at Sharm El-Sheikh
November 2019 , Asset Management, EAS, RFID
ADANI Systems supplied the X-ray screening equipment, including combined high-energy and low-energy systems, for Sharm El-Sheikh.
Read more...
---
Learn from their mistakes
October 2019 , Logistics (Industry), Asset Management, EAS, RFID
One of the cardinal rules of business is to learn from the mistakes you make during your journey, but sometimes another company's error can be just as instructive.
Read more...
---
SAP and Uber Freight join forces
September 2019 , Transport (Industry), Asset Management, EAS, RFID
SAP and Uber Freight announced a partnership to modernise the freight industry through intelligent process automation and better access to a network of connected and reliable drivers.
Read more...
---
Securing people, vehicles and cargo
September 2019 , Transport (Industry), Asset Management, EAS, RFID
The transport industry is under siege, not only with fuel price and legislation increases, but also with widespread unrest, looting and violence against drivers.
Read more...
---
Clear visibility into supply chain complexity
September 2019 , Transport (Industry), Asset Management, EAS, RFID
The Internet of Things is refining the capabilities of the supply chain to reduce theft, increase visibility and transform legacy complexity.
Read more...
---
Autonomous attendance
September 2019 , Products, Asset Management, EAS, RFID
The SACO RF attendance solution was developed with the focus on driving down costs without compromising functionality and ease of use.
Read more...
---
TAPA EMEA appoints Thorsten Neumann as president and CEO
July 2019, TAPA (Transported Asset Protection Association) , News, Asset Management, EAS, RFID
The Transported Asset Protection Association (TAPA) has appointed Thorsten Neumann as its first full-time president & CEO.
Read more...
---
Active cargo tracking units growth
June 2019 , Asset Management, EAS, RFID, Logistics (Industry)
The number of active tracking devices deployed for cargo loading units including trailers, intermodal containers, rail freight wagons, air cargo containers, cargo boxes and pallets reached 6.1 million world-wide in 2018.
Read more...
---
Local manufacturing from Hissco International
May 2019, Hissco , Editor's Choice, Asset Management, EAS, RFID, News
Hissco International recently announced it has set up a local manufacturing partnership that will supply X-ray equipment to partners around the world.
Read more...
---