printer friendly version
Bits 'n Bytes
Access & Identity Management Handbook 2004
News
Welcome to this, the first Access Control Handbook.
An idea brought to us at Hi-Tech Security Solutions by industry specialists in access control, this Handbook is designed not so much to highlight access control products specifically, but to educate end-users and security professionals about the principles which underpin successful security solutions. We sincerely hope that you find it of value.
As you might appreciate, it is never easy to get end-users to discuss their security systems and solutions, but I have always maintained that one can do so without compromising security, simply by highlighting the principles of success. What to do, what not to do. And why? In this Handbook we have attempted to do just that, with a focus on case studies and best practices, trends and white papers. A special word of thanks to the contributors to this Access Control Handbook. Without their help we would never have got out of the starting blocks. You know who you are. Thank you.
Access out of control?
Do South African business and security professionals need education in access control? We all do. Whilst the principles of success might not change, the technology and integration trends are ensuring we are all in need of continued learning. A case in point, is that as I write this, there is a Saturday newspaper headline trumpeting the breach of security at Johannesburg International Airport by its reporters in the aftermath of a recently botched heist at the airport.
The journalist 'tested' access control measures at Johannesburg International Airport, and according to police, the journalist, in gaining access to certain restricted areas, committed a criminal offence.
Superintendent Eugene Opperman is quoted as saying that, "The Johannesburg International Airport ... is governed by the National Key Points Act. Members of the public, including journalists, who wilfully and illegally access certain areas without clear authority commit a criminal offence. If found guilty, such a person could be sentenced to a heavy fine or even imprisonment."
Surely the question should rather be 'how on earth did this journalist gain illegal access to a National Key Point'!
After all, that is what access control is all about. Restricting unauthorised people from entering areas out of their jurisdiction. It seems to me that the authorities should rather be taking a much closer look at the security technology, processes and people staffing security at these National Key Points, than threatening the layman with arrest. Any high-risk environment (such as an airport) should constantly evaluate itself for security breaches. These regular checks, much like a quality management system, will allow professionals to actively see how easily their systems can be breached, and where. One has to question whether such audits are taking place as regularly and systematically as they should be.
Have we covered it all?
Have we covered everything we would like to in this Access Control Handbook. No, not at all. We have barely scraped the surface. But there are gems of value in the case studies, opinion pieces, and white papers we have published, and I would encourage you to look beyond the pages of this Handbook. Securitysa.com will archive Standards, Legal Guides, Case Studies and White Papers related to the Access Control Handbook, which will bring you the depth that this 80-page publication cannot.
And if you feel we have missed something, or even missed it all, let me know. We will take your kudos and brickbats to heart.
Sincerely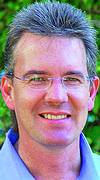 Darren Smith
Further reading:
Securex postponed to June 2021
Issue 3 2020 , News
Following COVID-19 developments, Specialised Exhibitions is postponing the Securex, A-OSH and FM expos to June 1 -3, 2021.
Read more...
---
XtraVision under new management and set for new horizons
Issue 4 2020, XtraVision, Technews Publishing , News
XtraVision, a distributor of electronic security and fire solutions in Africa and South America, has changed hands with founder Anthony Rosenbaum stepping down.
Read more...
---
Mustek expands product portfolio with Molex
Issue 4 2020, Mustek Security Technologies , News
Mustek has announced the expansion of its existing product portfolio with the introduction of the Molex structured cabling brand.
Read more...
---
Fraud detection via voice
Issue 4 2020 , News
SAFPS to collaborate with OneVault to improve fraud detection in call centres without frustrating customers.
Read more...
---
Lianne Mc Hendry joins Bosch
Issue 4 2020, Bosch Building Technologies , News
Bosch Security and Safety Systems appoints new business development manager responsible for the Eastern Cape, Western Cape and KwaZulu-Natal.
Read more...
---
In memoriam: Vivienne Caroline Dorrington
Issue 4 2020, Technews Publishing , Editor's Choice, News
19 June 1958 – 21 April 2020
Read more...
---
From the Editor: The lockdown issue
Issue 3 2020, Technews Publishing , News
Welcome to the first (and hopefully, only) issue of Hi-Tech Security Solutions that was put together in lockdown.
Read more...
---
Events
Issue 3 2020, Technews Publishing , News
Hi-Tech Security Solutions has endeavoured to confirm the dates of the events below, however, due to the COVID-19 crisis, please check the event websites to confirm the events are still taking place and/or ...
Read more...
---
Jack Edery takes on BDM role for Pima Electronic Systems
Issue 3 2020, ADI Global Distribution , News
Pima Electronic Systems, manufacturer of the well-known PIMA range of alarms and associated products, has appointed Jack Edery as country business development manager.
Read more...
---
New BDM SA Inland for SALTO Systems
Issue 3 2020, Salto Systems Africa , News
SALTO South Africa has appointed Lumard Groenewald to head up the business development function of all the inland territories in South Africa.
Read more...
---