printer friendly version
Saving lives with CCTV
CCTV Handbook 2005
CCTV, Surveillance & Remote Monitoring

Specialists in security systems were the major contributors to the instalment of observations cameras on the Van Staden's River bridge near Port Elizabeth which has claimed many despondent victims.
The six closed-circuit cameras were put into operation in June this year and so far five lives have been saved.
This is the first time that cameras have been installed for this purpose on any bridge in South Africa and probably also a first for the rest of the world. Even the Golden Gate Bridge, San Fransisco, which is infamous for many suicides, is without a similar system.
The idea to equip the Van Staden's bridge with a high-tech security system originated with journalist Franz Kemp, following the tragic death two years ago of his daughter, 35-year-old Inge Kemp who became the 55th person to jump to her death. Since then five more people have made the fatal plunge.
He was shattered when his daughter died so unnecessarily and prematurely - but instead of losing himself in grief he decided to do something constructive.
A week after Inge's death on 18 May 2003 he was talking to the officer investigating her death at nearby Thornhill Police Station.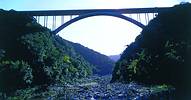 "My daughter has not died in vain," he told Detective Inspector Francois Nell. "We have got to do something to stop these suicides."
Wire fences on the sides of the bridge, razor wire, railings and nets had been discussed over the years but all had been rejected as too costly.
Franz suggested closed-circuit cameras and went out to find sponsors for what would not be a cheap solution. It took two years and plenty of hard work and determination to get through the red tape associated with power supply, poles and piping, regulations and engineers' plans.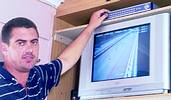 The project, which has cost more than R1 million, is now up and running as Franz's tribute to the daughter who always put others first; a way of making precious memories of her live on.
"Even if we managed to save only one life it would help to ease the heartache and pain," he says.
The cameras were donated by Johan and Wanda Venter of National Observation Equipment (member of the Intisec Corpration) in Bloemfontein with branches countrywide. They were the first to be approached by Kemp and they came on board without hesitation.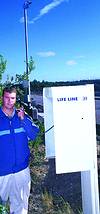 "This is all about saving lives and is a service to the police and local community of Thornhill who have suffered emotionally for many years as a result of the suicides at the bridge," says Venter.
He and his wife donated six high-resolution CCTV cameras with Sony CCD, branded Intisec. The control equipment consists of an embedded digital video recorder with a capability to facilitate 16 cameras, with a 54 cm monitor.
Another key role player is Mike Jefferies of Fibre Management Systems in Johannesburg. He donated a single-mode fibre-optic transmission system imported from the UK. This is the first unit of this type to be installed in South Africa.
Other major contributors to the project were Santam which offered insurance for the cameras and security system, Telkom which provided the optic fibre link and the Nelson Mandela Metropole, which supplies the flow of electricity.
Until recently the police station's only contact with the bridge was via two emergency Lifeline phones that triggered an alarm when someone picked up the handset.
There have been many hoax calls that have wasted police officers' time; and before the metallic phones were painted white, baboons would often lift the handsets to look at their reflections in the shiny surface.
Another irritation for police were tourists picking up the phones because they thought they were there for anyone wanting statistical or historical information on the bridge. Then there were people just trying to be funny.
"Every time someone picked up one of those phones it was like an air-raid siren going off in our ears," says Mornay Bradley who has been counselling on the bridge for the past 13 years. "It is nerve-wracking; you never know what you will find."
He once arrived at the bridge to find a man sitting in his car with a gun on his lap. There was nothing to prevent him shooting the policeman and himself.
Bradley is modest about his gift for talking people off the bridge, which has become something of a calling. He has persuaded about 1000 people that no problem is too big to deal with and thereby probably saved their lives. He managed to persuade them life is worthwhile because of the children, brothers, parents and friends who loved and needed them.
"It upset me terribly," says Bradley, whose devotion to his duties has often stretched an eight-hour shift to 18 hours. He always prays before going to the bridge - and while he is talking to a would-be jumper - because he cannot do it alone.
The longest talk he has ever had with a potential suicide was about nine hours - but it was worth it, he says.
"We need all our energy for talks like this and the cameras now help us to avoid wasting time with hoaxes and keep our fingers on the pulse."
Pedestrians are not allowed on the bridge because it is a national highway so the cameras make it easy for police to spot tourists wandering onto the bridge because they just cannot resist the view.
Fact file
Johan Venter, National Observation Equipment, 051 448 7777.
Mike Jefferies, Fibre Management Systems, 011 679 1594.
Further reading:
Reinventing network camera security
Issue 1 2020, Axis Communications SA , CCTV, Surveillance & Remote Monitoring
Now in its seventh generation and celebrating its 20th anniversary, the Axis ARTPEC chip was launched in 1999 designed to optimise network video.
Read more...
---
Cloud-based fleet and driver management
Issue 1 2020, Graphic Image Technologies , CCTV, Surveillance & Remote Monitoring
Graphic Image Technologies (GIT) has announced the availability of a cloud-based dashcam designed to improve on-the-road behaviour and assist in improving fleet management.
Read more...
---
Cathexis specialises in integration
Issue 1 2020, Cathexis Technologies , CCTV, Surveillance & Remote Monitoring
The integration of multiple systems is intrinsic and essential to the goal of creating an effective and efficient operational environment.
Read more...
---
Do wireless networks meet modern surveillance demands?
Issue 1 2020, Duxbury Networking, RADWIN , CCTV, Surveillance & Remote Monitoring
It is predicted that video will account for 15,1 zettabytes (1 zettabyte = 1 trillion gigabytes) of data annually, which is more than any other IoT application.
Read more...
---
Traffic doesn't have to be this way
Issue 1 2020, Dahua Technology South Africa, Axis Communications SA , CCTV, Surveillance & Remote Monitoring
More effective traffic management is something that would save us all a lot of frustration and wasted time, and it's one of the areas where AI and big data can have a significant impact.
Read more...
---
Dahua launches Hunter Series
Issue 1 2020, Dahua Technology South Africa , CCTV, Surveillance & Remote Monitoring
Dahua launches a new dual-PTZ camera that enables flexible and multi-scene panoramic monitoring.
Read more...
---
8 MP fisheye camera
Issue 1 2020, Dallmeier Electronic Southern Africa , CCTV, Surveillance & Remote Monitoring
Dallmeier's new 8 MP fisheye camera combines AI-supported object classification and H.265 in a compact design.
Read more...
---
Using ANPR to enhance security
Issue 1 2020, Duxbury Networking , CCTV, Surveillance & Remote Monitoring
Deep learning and AI-based algorithms enable ANPR cameras and their associated software to detect and recognise number plates with an extremely high level of accuracy.
Read more...
---
AI supercharges surveillance
Issue 1 2020 , CCTV, Surveillance & Remote Monitoring
The ability to analyse live video through AI techniques means that untapped footage from existing, passive cameras can be used to identify patterns, trends and anomalies.
Read more...
---
IDIS launches new cameras with on-board analytics
Issue 1 2020 , CCTV, Surveillance & Remote Monitoring
IDIS has launched a lineup of Edge VA bullet and dome cameras, featuring on-board analytics that will transform the efficiency of security operations.
Read more...
---