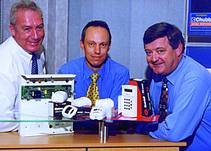 Chubb alarm panels and PIR detectors - geared for South African conditions
June 2000, Perimeter Security, Alarms & Intruder Detection
ADT Fire and Security, working with Lancashire Constabulary has selected Dedicated Micro's Digital Sprite Lite together with RAID storage for a pilot exercise in popular nightclub, Tokyo Jo's in Preston, UK.
ADT worked closely with the police to select and install the system, ensuring its compliance with the Public Entertainment Licence. Due to the popularity of the nightclub and the need for extra vigilance, Tokyo Jo's was selected by the owners, Luminar, to pilot the new system.
Using a combination of 16-camera and 9-camera Digital Sprite Lites with RAID, the new system covers all the nightclub's different levels, providing 24-hour digital recording. RAID enables the club to access 31 successive days of evidential recording, as required by law.
Up to 41 cameras are used in Tokyo Jo's with onsite monitoring by permanent security staff. Dedicated Micros and ADT supplied operator training on completion of the installation.
Phil Woods, general manager, Tokyo Jo's said: "We have been impressed by the installation and training provided by Dedicated Micros and ADT. The product meets our security needs and has proved easy to install and operate."
VisionLine, 011 538 7000
RGB Technologies, 011 760 6437