printer friendly version
Xtralis launches Industrial VESDA VLI
June 2012
Fire & Safety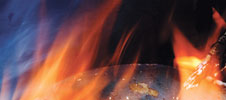 Drawing on more than 25 years of experience and over 1660 projects with ASD in industrial applications, Xtralis has launched Industrial VESDA VLI, a solution for fire protection of harsh environments in one box. VLI is specifically designed for harsh environments without any need for application engineering. This is an out-of-the-box solution enabling four-times longer lifecycle and lowering maintenance requirements by up to 60%.
Most recently, Industrial VESDA VLI was one of the products specifically evaluated by Frost & Sullivan research, awarding Xtralis its 2011 North American New Product Innovation Award in the Fire and Life Safety market. Frost & Sullivan presents its awards to companies demonstrating best practices in a variety of regional and global markets. The criteria for the award included leading technology, value-added features and benefits and increased customer ROI.
For 25 years, VESDA has been a solution of choice for harsh environments based on its core features – absolute detection thresholds, clean-air barriers for optics protection, and advanced air filtration – critical factors to effective detection in industrial applications. Other ASD devices that lack these essential features are more prone to contamination and a reduction in useful service life. Furthermore, the use in these products of adaptive smoke detection algorithms that compensate for contamination induced detector drift or existing environmental smoke can delay, or in extreme cases miss detection of slow growth fires, the very fires that very early warning detection is deployed to detect.
Additionally, Industrial VESDA VLI boasts a ruggedised enclosure, rated IP54, providing protection against dust and water spray. Enhanced aspiration enables longer pipe lengths of up to 360 m – important for many industrial applications with extended ceiling heights and area coverage. VLI also incorporates exclusively designed and patented an industry-first, patented, fail-safe, intelligent filtration technology designed to reduce contamination in the sampled air, improving detector longevity and reducing service and maintenance by up to 40% to 60% depending on the environment. The detection chamber background is monitored by another patented Xtralis innovation, in-service background confirmation using a novel user-initiated Clean Air Zero system. A modular design means the intelligent filter, aspirator, secondary filter and detection chamber are all field-replaceable significantly reducing service downtime and associated costs.
Mike Rowland, acting venue manager for the Australian Equine and Livestock Events Centre (AELEC) says, "We were impressed by the Industrial VESDA VLI detection effectiveness. The VLI system has now been installed and operational since mid March 2011 and is meeting our regulatory requirements whilst providing effective detection despite the challenging conditions of our venue, including high levels of dust from active events and varying airflows.
"The purpose-built VLI sets a new benchmark for fire detection in industrial applications", explains Dr. Peter Meikle, Xtralis vice president for fire products and strategy. "As the pioneers of ASD technology, we've combined our technological expertise and 25 plus years of industrial field experience to add a new detector to our VESDA line that will provide very early warning smoke detection for the most challenging environments, at the same time simplifying the deployment of the technology".
Industrial VESDA VLI's capabilities have been proven in the following applications: coalmine, sugar mill, paper manufacturing facility and an equestrian centre.
For more information contact Xtralis, +27 (0)82 446 7602, Lsher@xtralis.com, www.xtralis.com
Further reading:
Managing the fire risk of transformer explosions
Issue 2 2020 , Fire & Safety
While a simple solution is to install adequate fire detection and suppression systems, this is hampered by the lack of necessary funding.
Read more...
---
Fire safety critical in healthcare
Issue 2 2020, Spero Sensors & Instruments, Technews Publishing , Fire & Safety
Healthcare organisations have a lot on their collective plates and it can be easy to overlook security issues in favour of more pressing demands.
Read more...
---
Fire alarms at sea
Issue 2 2020, Technoswitch , Fire & Safety
Technoswitch now offers marine approved conventional control panels from Haes, aimed at fire safety for all small to medium seafaring vessels.
Read more...
---
Kitchen fire suppression systems
Issue 2 2020, Technoswitch , Fire & Safety
Technoswitch has announced the addition of new 16 litre and 25 litre systems to its range of automatic kitchen fire detection and suppression systems.
Read more...
---
Fire detection for battery charging rooms
Issue 2 2020, FDIA (Fire Detection Installers Association) , Fire & Safety
Battery charging rooms pose fire explosion risks due to the presence of hydrogen gas produced when lead-acid batteries are being charged.
Read more...
---
Technology can help people in high-risk evacuations
Issue 2 2020 , Fire & Safety
Commercial buildings must not only be prepared for the possibility of a fire because they face newer threats - including terrorism, civil unrest and extreme weather.
Read more...
---
Fire Beam Xtra covers up to 160 metres
October 2019, Technoswitch , Products, Fire & Safety
The Fire Beam overcomes traditional beam detection challenges where building movement and accessibility made beam detection unreliable and laborious to commission and maintain.
Read more...
---
Emergency voice communication system
October 2019, Technoswitch , Products, Fire & Safety
The Technoswitch Emergency Voice Communication Systems concept offers fire telephone and disabled refuge systems, as well as integrating emergency assist alarm systems in a single solution.
Read more...
---
Fast detection of smoke and flames
October 2019, Bosch Building Technologies , Editor's Choice, CCTV, Surveillance & Remote Monitoring, Fire & Safety
Video-based fire detection AVIOTEC from Bosch has been optimised for tunnels to provide early and reliable detection of smoke and flames in these dark environments.
Read more...
---
Choosing the right fire detection system
August 2019, FDIA (Fire Detection Installers Association) , Fire & Safety
Charles Thiong'o from the FDIA highlights important factors to consider when choosing a fire detection system.
Read more...
---