printer friendly version
Antartic cameras
May 2012
CCTV, Surveillance & Remote Monitoring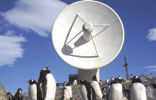 Penguins on ice perform at research station.
Winter temperatures of down to -65°C, raging storms with wind speeds of more than 250 km/h and millions of penguins – this is Antarctica. This is where O'Higgins, the German Antarctic Receiving Station, is located. It was founded in 1991 by the German Aerospace Centre and the German Federal Agency for Cartography and Geodesy to collect data from geographical satellites and stars.
No scientist can be forced to permanently work under these conditions. However, since the clouds and the weather conditions as well as the telescope's position need to be monitored permanently, the researchers rely on video technology for digital image recording. But where to find a video camera that operates reliably under such conditions? Mobotix cameras monitor the radio telescope to make sure that it continues to function properly – and these cameras are now in their tenth year.
It all started with the M1 model, and now four M12 cameras and one M10 camera are in use. No problems have been recorded so far – even under the world's most extreme weather conditions. The advantage of the Mobotix solution: The cameras work without heating or ventilation and consume only three to four watts of electricity. The decentralised processing and storage also reduce the required bandwidth to a minimum and significantly cut system costs.
An icy image
For the German Antarctic Receiving Station, it is extremely important to ensure that the radio telescope is working properly. The station is regularly equipped with the newest camera models. This way, the cameras can continue to work perfectly in spite of the extreme weather conditions. "Since the Mobotix camera has been installed, we have permanent first class eye contact with the radio telescope and, thus, can monitor its position continuously," reports Reiner Wojdziak.
In mid-summer, the inland temperatures at the South Pole reach about -25°C and in winter, the temperature is around -65°C. The lowest temperature ever recorded in Antarctica was -89.2°C, as measured at the Wostok Station. The Antarctic coast is slightly warmer: -20°C to -30°C in winter and up to 0°C in summer. These extreme temperatures, combined with the icy wind, present enormous challenges for people and technology.
The radio telescope is not the only thing the camera monitors. Penguins regularly come waddling in front of the antenna as well. They are welcome guests for the scientists and even have their own Internet fan community (see: http://www.martingrund.de/pinguine/index.htm and http://ivs.bkg.bund.de/vlbi/ohiggins/).
For more information contact IAC, +27 (0)12 657 3600, , www.iaconline.co.za
Credit(s)
Further reading:
Drones and cybersecurity?
October 2019 , CCTV, Surveillance & Remote Monitoring
Hacker drones can eavesdrop electronically on conversations, can perform network attacks, or can create fake wireless access points.
Read more...
---
Body-worn cameras transforming security
October 2019 , CCTV, Surveillance & Remote Monitoring, Security Services & Risk Management
Police Service Northern Ireland now has over 7 000 officers using 2 500 cameras covering approximately 173 000 incidents each year.
Read more...
---
Camera Selection Guide 2019
CCTV Handbook 2019 , CCTV, Surveillance & Remote Monitoring
The Camera Selection Guide 2019 includes a range of IP, analogue, thermal and speciality cameras aimed at a broad range of surveillance functions.
Read more...
---
Intelligent analytics and the brains to match
September 2019, Bosch Building Technologies , CCTV, Surveillance & Remote Monitoring, Integrated Solutions
What if the brains behind our security cameras could be trained to improve their cognitive ability to pay attention, learn, and problem-solve according to specific rules and situations?
Read more...
---
AI-powered autonomous Drone-in-a-Box
September 2019 , CCTV, Surveillance & Remote Monitoring, Integrated Solutions
Organisations in the mining, energy and industrial, oil and gas, ports and terminals sectors can optimise security and business operations, whilst reducing risks and operational costs
Read more...
---
Cybersecurity for video surveillance systems
September 2019, Mobotix , Cyber Security, CCTV, Surveillance & Remote Monitoring
Video surveillance systems are increasingly accessible over any IP network, which has led to the rise of potential cyberattack.
Read more...
---
What are the cybersecurity issues in video surveillance?
November 2019, Axis Communications SA , Editor's Choice, CCTV, Surveillance & Remote Monitoring, Cyber Security
he importance of the data captured by surveillance cameras – and what can be done with it – has led to a new breed of cybercriminals, looking for insights to steal and sell.
Read more...
---
The safe city and its need for interoperability
November 2019 , Integrated Solutions, CCTV, Surveillance & Remote Monitoring
Interoperability continues to present one of the greatest challenges, particularly with video management systems, video recording devices and cameras.
Read more...
---
A platform approach to safer and smarter cities
November 2019, Milestone Systems , CCTV, Surveillance & Remote Monitoring
Selecting the right platform to manage the vast data collected from smart and safe cities is critical to the ultimate success of the project.
Read more...
---
Creating safe cities with smart technology
November 2019, Secutel Technologies , CCTV, Surveillance & Remote Monitoring
In a digital age, where resilience and responsiveness are paramount to fighting crime and creating a safer world, CCTV systems are becoming part of every city's infrastructure.
Read more...
---