printer friendly version
Power is security
2 February 2012 Integrated Solutions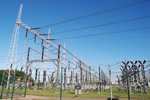 The uninterruptible power supply (UPS), is self explanatory and simple, yet complex and involved. We are often asked what the purpose of a UPS is and why one should pay more for a UPS than an inverter, which can do a similar job.
How does a UPS work?
Your UPS connects to your equipment such as computers, servers, laptops, etc, then regulates the incoming power to keep it as close as possible to 230 V, or with 3-phase power, 400 V.
With the current power grid being old, overloaded and in most cases unmaintained, most electricity users today experience various power conditions such as low/high voltages, spikes, surges, dips and brownouts. The main purpose of an UPS is to protect your equipment against these voltage conditions.
Irregular voltage conditions strain your electronic components and cause them to fail prematurely. Devices such as computers and DVRs (digital video recorders) may experience complete loss of data or corrupted data. UPSs are perfect for these devices as it allows you 10 or more minutes to shut down your device after a power failure. Should you not be in front of the device at the time of the power failure, the software will shut the system down for you. Surge protection on UPSs is standard, so you can rest assured that the incoming surges will be nipped by the internal MOV (metal oxide varistor).
Definitions
Voltage
Low voltage is considered to be a continuously low input voltage for extended periods of time. They are normally caused when substations are overloaded; this overload can cause a drop in the incoming voltage and this in turn can cause equipment to switch off at irregular times. High input voltages are caused if your input voltage is above the nominal input voltage and can be caused by the same conditions.
Surge
Surges are sudden short increases in voltage. Surges are normally caused by the switching off of heavy duty equipment.
Dips
Dips are the opposite of surges. A dip normally occurs when heavy duty equipment is switched on.
Blackouts/brownouts
These occur where there is a total loss of power. Durations of your typical power failures are 2–4 hours, however it is becoming more regular that power outages exceed 4 hours.
Battery backup
This depends on the particular UPS. A standard UPS will supply you 10 to 30 minutes. Some clients feel a need for longer backup times such as 1 to 12 hours.
UPS or inverter?
Both units have battery backup time where the units can run for extended periods without power. What are the main differences?
A UPS protects against surges, dips, spikes, low/high voltages and brownouts (commonly known as power failures). The typical UPS has 0 second switch-over time, where the entry-level units have 4 to 6-millisecond switch-over time.
Inverters protect against brownouts. In some cases, there may be surge protection. Switch-over time is anything from 8 to 10-milliseconds. The switch-over time is sometimes too long for electronic devices and may cause them to restart.
Credit(s)
Further reading:
Critical control management
Issue 5 2020 , Integrated Solutions
The critical control management process is an excellent practical approach to ensure effective controls over potentially catastrophic events.
Read more...
---
Adjusting to a new reality
Issue 5 2020, Technews Publishing , Integrated Solutions
COVID-19 to accelerate adoption of technology-enabled smart city resilience approaches: robotics, digital twins, and autonomous freight.
Read more...
---
Remote oversight imperative for smart buildings
Issue 5 2020 , Integrated Solutions
Duran Viera, CEO of Amecor, says one of South Africa's biggest drivers for smart building development is security.
Read more...
---
Shaping today's smart cities
Issue 5 2020, ZKTeco , Integrated Solutions
As our physical and digital worlds become intertwined, the absorption of new technologies in smart cities is inevitable.
Read more...
---
The evolution of security in residential estates
Residential Estate Security Handbook 2020 , Editor's Choice, Integrated Solutions, Security Services & Risk Management
Two large estates discuss their security processes and the ever-expanding scope of responsibilities they need to fulfil.
Read more...
---
Home-grown, cloud-based safety and security solutions
Residential Estate Security Handbook 2020 , IT infrastructure, Integrated Solutions
BeSecure has taken security and communications technologies and turned them into what is best described as care and safety solutions for the estate community in South Africa.
Read more...
---
Integrated security management system
Residential Estate Security Handbook 2020, Protoclea Advanced Image Engineering , Products, CCTV, Surveillance & Remote Monitoring, Integrated Solutions
Phorcas is a security information system developed by Protoclea designed to integrate multiple sub-systems into a powerful crime fighting solution.
Read more...
---
Your partner in contemporary business continuity
Issue 3 2020 , Integrated Solutions
Horizon Risk Management aims to provide optimum contemporary, but affordable, business continuity techniques for business in South Africa and abroad through stable, durable and incorruptible practices.
Read more...
---
Financing for the systems integrator
Issue 3 2020, Elvey Security Technologies , Integrated Solutions
Financing your security project through your technology distributor can benefit both the systems integrator and the end user.
Read more...
---
Safe and efficient buildings
Issue 3 2020, Hikvision South Africa , Integrated Solutions
With united systems, a building security solution then can work as a whole to create a safe and efficient environment.
Read more...
---