printer friendly version
Cable quality versus image quality
May 2011
IT infrastructure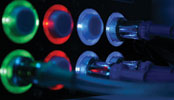 Graham is the project manager for a CCTV systems integration company in Johannesburg. While trying to commission a CCTV system Graham just could not get the cameras into focus. The cameras were all focused on a test monitor at the camera and they all appeared to be in-focus, yet at the recorder the cameras were all out-of-focus. The more puzzling question Graham had was, why were the pan-tilt-zoom (PTZ) cameras out of focus? The PTZ cameras all had auto-focus lenses and no matter what the PTZ cameras were looking at they looked out of focus.
Graham was at his wits' end. He had replaced the PTZ cameras, then he replaced the digital video recorder (DVR) along with the monitor and still the camera images were out of focus.
Graham then decided to bench test the equipment. He removed the PTZ cameras, a few static cameras, the DVR and the monitor and plugged the systems together at his office on short fly-leads. Surprise, surprise, all the components worked and Graham had an operational system. The cameras, the DVR and the monitor were not at fault.
After much testing and investigating we found that Graham had two challenges with this installation:
1. Graham had used poor quality video baluns.
2. Graham had installed poor quality cable.
The solution to the above challenges was resolved by doing the following:
1. The video baluns were replaced with BFR Digital's Video CAT products and the video image improved but was still out-of-focus.
2. It was only after the installation was re-cabled that the problem was successfully resolved.
What Graham learnt from this experience can be summed up in one sentence. Even if you use high quality equipment such as BFR Digital's Video CAT with a leading brand camera and DVR, connecting these components with a poor quality cable will always result in a poor quality video image.
Do IP CCTV systems fail to deliver when poor quality CAT5 or CAT6 is used?
Absolutely! The digital high-speed data stream will experience signal attenuation and crosstalk just like an analogue video signal did on poor quality cable. This always results in reduced data throughput on that particular cable.
Remember, using good quality components installed correctly will produce superb video images every time.
For more information contact BFR Digital, +27 (0)11 786 5575, dionp@bfrdigital.co.za, www.bfrdigital.co.za
Credit(s)
Further reading:
AI and self-healing
Issue 7 2020 , IT infrastructure
Storage infrastructure that has in-built capacity as well as the ability to self-heal and self-tune is critical.
Read more...
---
Understanding the need to secure your SD-WAN platform
Issue 7 2020 , IT infrastructure
SD-WAN functions need to be virtualised to keep up with evolving security threats and to control the cost of updating and upgrading security elements.
Read more...
---
Software-defined everything
Issue 7 2020 , IT infrastructure
BCX prepares businesses for the future with the launch of its Multi Domain Software Defined Network, applying intent-based networking throughout the enterprise.
Read more...
---
Beating the recessionary blues
Issue 6 2020 , IT infrastructure
Most companies are looking to eke out savings by sweating technology assets a bit longer and by trimming operating costs.
Read more...
---
Designing a modern security network
Issue 6 2020, Regal Distributors SA , IT infrastructure
Traditionally security networks have served us well, but with the rapid advancements in technology it may be time to review the requirements for your security network.
Read more...
---
Home-grown, cloud-based safety and security solutions
Residential Estate Security Handbook 2020 , IT infrastructure, Integrated Solutions
BeSecure has taken security and communications technologies and turned them into what is best described as care and safety solutions for the estate community in South Africa.
Read more...
---
Bringing the wonders of fibre to your estate
Residential Estate Security Handbook 2020, Vox Telecom , IT infrastructure
The Hi-Tech Security Solutions' Residential Security Conference in Durban was a magnificent event where Vox showcased its visitor management solution.
Read more...
---
Protecting your electrical equipment
Residential Estate Security Handbook 2020, BFR Digital, PSS Distributors , IT infrastructure
Load shedding is a constant danger as the surges that occur when the lights come on cause damage to electronic equipment, including security equipment, unless it is protected.
Read more...
---
Hunting for backdoors in counterfeit Cisco devices
Issue 5 2020 , IT infrastructure
F-Secure's investigation highlights challenges facing organisations that discover counterfeit devices in their IT infrastructure.
Read more...
---
5G brings immediate opportunities for SA
Issue 6 2020 , IT infrastructure
The recent launch of 5G technology in South Africa presents several highly attractive opportunities for consumers, carriers and industry at large.
Read more...
---