printer friendly version
The gap between the analogue and IP
August 2010
CCTV, Surveillance & Remote Monitoring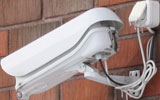 IP is the answer, but not a silver bullet.
Everyone seems to be celebrating IP CCTV and touting it to be the next best thing next to sliced bread in the security industry. Why not, it truly is – it has too many cost and performance advantages not to be so. While every manufacturer is racing against time to come out with their version of the pure IP range of IP cameras, Megapixel, etc, we are being blinkered to look at the end rather than the means to the end. It is without any doubt that all of us believe that a few years down the line, there will be no coax, there will be no ugly matrix, there will be no DVR, there will be no banks of monitors and it will be purely IP with IP Virtual Matrix, large plasmas/LCDs, NVRs (network video recorders), remote management, etc.
But, the reality is, that users have invested in DVRs (digital video recorders), in video switchers, in expensive control rooms. These investments cannot be thrown out of the door, just because there is a new piece of technology for the future. Most manufacturers today say you can salvage most of your current investment by putting an encoder behind every analogue camera. However, you will need to bin your DVRs as you will need to record on their NVRs.
CBC believes that more needs to be done in the IP sphere where even the DVR investment can be protected. This article specifically focuses on how CBC's Video Management Suite (VSoIP) helps you maximise your return on investment by salvaging most of your previous spend in legacy equipment and gear you for the future complete IP infrastructure.
Advanced analogue system management
If you buy a DVR today, you get a management application to go with it. If you wanted to expand your analogue system and you bought another DVR from another manufacturer in phase 2, you get another management application. The difficulty is now you have two management suites which do not work with each other. One of the key drivers behind the philosophy of VSoIP was to provide the user with a management system which would encompass all the DVRs on site using IP. This system then gives the benefit of using a single management system and also multiple points of review and log in. All this in a simple drag drop and click philosophy.
Alarm management
VSoIP also provides an interface to manage all alarms and outputs on the DVR using a complex yet simple to use binary approach. This then enables the user to have complex alarm actions involving devices connected to multiple DVRs across multiple local or remote sites. Alarm actions can be activating PTZ actions, bringing up certain cameras, activating analytics, turning lights on, turning audio on – the options are limitless.
Maps
Cameras on each DVR can be logically placed on floor plans or maps of sites. Incidents/alarms occurring in the field of view of these cameras are highlighted on the maps for easier review and post processing. Maps can be layered or hierarchical where a top level map has various sub-level maps. Management of a large number of cameras is made easy by having a map approach.
More bang for the buck
Using VSoIP higher performance can be drawn out of an analogue system where more than 30 days of storage is required. Additional data from these cameras can be sent to an NVR ie, a server in the same network. It can also be used for business continuity where the customer may choose to have a back up of data on all their DVRs. It can also convert a single point failure system into a completely distributed architecture based on IP.
Security audits
One of the areas that conventional DVR applications stopped were audit trails. VSoIP lets you generate comprehensive audit reports even for analogue systems. The security manager would have more control, visibility and can command accountability from staff.
Visualisation
VSoIP provides a sophisticated user interface which can provide live views, playbacks, administration, maps. The benefit is these features can be applied to DVRs from multiple makes. Video can be viewed on large TFT/plasma screens using our VSoIP video wall software. Smart sequences, salvos and guard tours can be programmed and assigned to users.
In addition to what you can achieve with DVRs, VSoIP can also work with new pure IP products like IP cameras, encoders, NVRs, IP video walls, decoders, etc. Top this up with analytics, which can be applied to IP video streams or streams from DVRs, you have a product in the market which maximises return on investment from legacy equipment and new age infrastructure.
VSoIP is focused on the means to the end and the end itself, where the end is pure IP and the means to the end is to gradually build up towards IP where all the new extensions are pure IP cameras while you continue to utilise old infrastructure like DVRs. Once the digital age truly dawns, you have a system which is ready to take on it.
For more information contact Datanet Infrastructure Group, 0861 DATANET, info@datanet.co.za, www.datanet.co.za
Further reading:
Efficient storage for security
Issue 7 2020, Dell EMC , CCTV, Surveillance & Remote Monitoring
There is a dramatic increase in the amount of storage and computing power required to support today's safety and security systems.
Read more...
---
Safe restaurant reopening technology
Issue 7 2020, Dahua Technology South Africa , CCTV, Surveillance & Remote Monitoring
Denmark's Arkaden Food Hall makes use of Dahua People Counting and Flow Control solution for safe reopening.
Read more...
---
Forbatt SA invests in South Africa's security industry
Issue 7 2020, Forbatt SA , CCTV, Surveillance & Remote Monitoring
Forbatt SA is set to offer an improved service to the industry by making sure it has the products and solutions the industry needs, as well as a new showroom.
Read more...
---
Analytics with your existing cameras
Issue 7 2020, Secutel Technologies , CCTV, Surveillance & Remote Monitoring
With SecuVue from Secutel Technologies, it is possible for any business to monitor their offices, warehouses or stores remotely, from any part of the world.
Read more...
---
Consolidating control rooms and service delivery within a COVID-19 environment
Issue 6 2020, Leaderware , CCTV, Surveillance & Remote Monitoring
It is essential to have informed, coordinated and professional responses within control rooms at this time of increasing turmoil.
Read more...
---
Technology driving the healthcare industry
Issue 6 2020, Duxbury Networking , CCTV, Surveillance & Remote Monitoring
Seeing cameras as sensors opens up new possibilities, and each one of them responds to typical demands inside a hospital, clinic or nursing home.
Read more...
---
Turn cameras into traffic sensors
Issue 6 2020, Duxbury Networking , CCTV, Surveillance & Remote Monitoring
Safer communities and cities are achieved through a mixture of technology and human resources, working together in a holistic manner.
Read more...
---
Mobotix thermal technology increases security
Issue 6 2020, Duxbury Networking , CCTV, Surveillance & Remote Monitoring
Installations, machinery, equipment and material available on company premises require effective and cost-efficient protection. In addition, operational safety, optimisation of workflows and protection ...
Read more...
---
Getting a visual on Covid-19 screening
Issue 6 2020, Graphic Image Technologies , CCTV, Surveillance & Remote Monitoring
Should organisations be investing in thermal camera technology to simply contain and limit the spread of the virus?
Read more...
---
Flexible temperature screening options for challenging times
Issue 6 2020, Hikvision South Africa , CCTV, Surveillance & Remote Monitoring
A thermal imaging camera is an effective screening device for detecting individuals with elevated skin temperature. This type of monitoring can provide a rapid screening approach in high-traffic areas.
Read more...
---