printer friendly version
BFR Digital: wired for security
July 2010
CCTV, Surveillance & Remote Monitoring
BFR Digital was founded in 2001 as a creative outlet for its three founding engineers. Its first product was the GUI-MUX which was a graphical user interface that operated a video multiplexer and a VCR off a Windows 98 platform. The company soon found a niche business opportunity to develop and manufacture robust CCTV infrastructure equipment.
We understand that users just want equipment that works and that gimmicks lose their appeal within the first few weeks of operation. It is for this reason that innovation is key to our business, and our products constantly evolve. Our inbuilt reliability ensures our products require little to no maintenance, and are easy to use. All this to better suit clients' unique business needs.
BFR Digital products and services
BFR Digital specialises in the design, development and manufacture of a full range of fibre-optic transmission, twisted pair video transmission (UTP), data transmission, video amplifiers, surge protection and power supply products. We know that our customers have unique business needs and that not all project requirements fit into a neat box. We offer a full range of engineering solutions to our customers from OEM products to project specific engineering solutions.
Recent projects
Through our distribution partner Norbain SA we have engineered solutions for the following recent projects:
Gautrain
The Gautrain team required an enclosure to fit the cameras to their cable management system. The enclosure not only had to fit in with the aesthetics of the stations, but also had to manage the data, UTP video and feature a power supply for the camera. BFR Digital engineered an enclosure with a single PC board that managed all these facilities for the camera. The enclosure also features video loss and power indicators. 360 of these unique enclosures were supplied for the first phase of the Gautrain project.
Royal Bafokeng 2010 Stadium
The Royal Bafokeng 2010 Stadium uses a BFR Digital fibre-optic backbone for the CCTV and access control system. The BFR Digital fibre-optic backbone was put together using the DTX-100-SSM which is a single mode, single fibre (WDM), media converter. This design reduced the fibre count by half thus saving the stadium a great deal of money.
We also put together pre-built field enclosures that featured the splice cassette, DTX-100 and specially designed power supply with a 12 Vdc, a 24 Vac and a dedicated output for the DTX-100 unit.
Standard Bank
All new Standard Bank branches or branches being revamped are cabled for BFR Digital's Power CAT products. The VC-016PR is a 16 channel UTP video receiver and power transmitter. The VC-01PM is a single channel UTP video transmitter and DC to DC converter. The Power CAT manages the video and provides 12 Vdc power to the camera at a cable distance of 300 m per channel. This means centralised video and power management for the CCTV system which plays a significant role in reducing cabling costs and installation time.
Warranty policy
Our products are made for harsh African conditions and built for industrial environments. We are so confident in our products that we offer a 5-year warranty on all our fibre-optic transmission equipment and a 1-year warranty on all our copper-based products.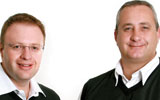 Bruno Jones, MD BFR Digital, Dion Pretorius, relationship manager, BFR Digital
Further reading:
Retail solutions beyond security
Issue 8 2020, Axis Communications SA, Technews Publishing, Hikvision South Africa , Editor's Choice, CCTV, Surveillance & Remote Monitoring
The need for security technology to deliver more than videos of people falling or stealing from retail stores is greater than ever.
Read more...
---
A 'step-change' in tracking and monitoring
Issue 8 2020, Dahua Technology South Africa , CCTV, Surveillance & Remote Monitoring, Products
View an overall scene while monitoring a specific person or vehicle, or obtain a panoramic view while being able to zoom in and track particular targets.
Read more...
---
AI-powered hardhat detection
Issue 8 2020, Hikvision South Africa , Industrial (Industry), CCTV, Surveillance & Remote Monitoring
Hardhats save lives, but only if people wear them. Intelligent, AI-powered hardhat cameras are helping to ensure workers in dangerous locations stay safe at all times.
Read more...
---
LPR is an integrated solution
CCTV Handbook 2021, DeepAlert, XtraVision, Technews Publishing , CCTV, Surveillance & Remote Monitoring
The power of LPR is only experienced when it is integrated with other technologies, from video analytics and AI, through to connecting to external databases.
Read more...
---
Video storage focused on Milestone
CCTV Handbook 2021 , CCTV, Surveillance & Remote Monitoring
Video Storage Solutions (VSS) was formed with the single objective of providing system integrators who are part of the Milestone Community with verified video recording and storage appliances through authorised distributors.
Read more...
---
Thermal perimeter and fire protection
CCTV Handbook 2021, Hikvision South Africa , CCTV, Surveillance & Remote Monitoring
Hikvision has launched HeatPro, a new thermal series of cameras designed to provide affordable all-weather deterrent and alerts, specifically aimed at perimeter protection and fire prevention applications.
Read more...
---
360° thermal detection
CCTV Handbook 2021, XtraVision , CCTV, Surveillance & Remote Monitoring
Thermal Radar is a network-based thermal surveillance and detection solution providing constant 360° situational awareness.
Read more...
---
Cloud surveillance options from AWS
CCTV Handbook 2021, Technews Publishing , CCTV, Surveillance & Remote Monitoring
The idea of doing away with the task of managing your own IT infrastructure and simply using a reliable and scalable infrastructure, provided by and managed by someone else, seems like a good idea.
Read more...
---
Video security primer released
CCTV Handbook 2021, Eagle Eye Networks , CCTV, Surveillance & Remote Monitoring
The right video management system can make an organisation smarter and more efficient, as well as more secure according to Eagle Eye Networks' new guide in evaluating cloud video surveillance systems.
Read more...
---
Flexibility for parking management
CCTV Handbook 2021 , CCTV, Surveillance & Remote Monitoring
With intelligent video analytics smart security cameras can provide parking operators with increased flexibility using an open IoT platform that allows security cameras to run LPR applications as well as vehicle counting, fire/smoke and hazard detection and integrations with payment solutions.
Read more...
---