printer friendly version
Accessing La Trobe
June 2010 Access Control & Identity Management, Education (Industry)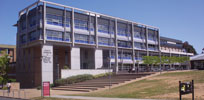 Cardax access control keeps university secure.
The main campus of La Trobe University in Melbourne (Bundoora) is situated in spacious parkland and includes a wildlife reserve. This metropolitan campus also houses the main research and teaching facilities of the university, including the Research and Development Park, a library, multimedia facilities and a hospital including student medical services.
The university covers a vast 330 hectares and incorporates 60 buildings across several campuses in regional Victoria – in Bendigo, Albury-Wodonga, Shepparton, Mildura and Beechworth.
La Trobe University has a particularly strong commitment to international students and collaboration with other education institutions. It leads the International Network of Universities which is a consortium of universities specifically designed to promote student mobility. Currently the university has links with some 250 institutions in more than 40 countries.
This university prides itself on forward thinking to accommodate the needs of staff and students now and in the future – security considerations are no exception. Security on site is comprised of guards, an extensive CCTV camera system and a Cardax access control with integrated intruder alarms system upon which they rely heavily. The Cardax system was installed in 1998 and originally controlled six doors in the Eastern lecture theatre. Since then Cardax has been installed throughout many of the University's buildings and campuses and a steady technology migration to the latest Cardax FT platform has taken place.
Wayne Aldous, security manager, Building and Grounds Division, Security and Traffic Unit, has weighed up the leading access control systems on the market and is confident in their choice. "With ongoing software releases and system enhancements the Cardax system is getting better all the time," he states.
The Cardax system now protects a wide range of facilities including the Physical and Health Sciences precincts, Law and Management buildings, Administration, Computer Science labs, and Student Accommodation. Cardax FT provides a full audit trail of events for reference in the event of criminal activity and Occupational Health and Safety (OH&S) matters.
Flexible control
Currently the University has 20 operators with workstation licences – these operators manage day-to-day cardholder access requirements in their respected departments. The Computer Sciences and Library for instance, manage access control of their own areas independently.
The introduction of Version 5 of Cardax FT has provided La Trobe University staff with significant flexibility and independence in terms of cardholder management and access control. Different areas of the university, for example student accommodation, can independently manage access outside their relevant divisions based on the cardholder's needs.
"One of the most beneficial features regarding Cardax FT is the access group time and date expiry. It means that access can be granted and denied to specific areas in advance of when it is required. We can check whether the access status of students to different areas is enabled, pending, or expired. The ability to provide temporary access means staff do not have to manage access requirements in real-time. It is proving very useful," Aldous comments.
La Trobe University is considering installing Cardax FT UltraSec to protect and monitor areas where high consequence substances are stored. Cardax FT UltraSec is a high security variant of Cardax FT. It achieves superior security through very high levels of system data encryption and monitored communications, using encryption key lengths of 128 bits and 168 bits. Cardax FT UltraSec meets high security requirements determined by the Australian Radiation Protection and Nuclear Safety Agency (a Federal Government agency charged with responsibility for protecting the health and safety of people, and the environment, from the harmful effects of ionising and non-ionising radiation).
Interfaces between a range of third party systems and Cardax FT have been established including to their digital video recording system and to the university's energy management system. La Trobe University has its own power generation capacity and it on-sells the excess energy it generates to the grid. The University is looking to upgrade its CCTV camera system to one which incorporates artificial intelligence in drawing attention to suspicious activity. They plan to implement the product this year as a standalone system and if it is rolled out further, it will also be interfaced to Cardax FT.
There is opportunity to integrate the University's Syllabus Plus resource scheduling system to Cardax FT via the Cardax FT Syllabus Plus Interface. This will facilitate cost savings and improve efficiencies in resource management. Aldous comments, "The segregation of fundamental components of security is no longer viable. Today, security systems are integrated. You have intrusion detection, door latch monitoring, key position monitoring, the list goes on. Cardax is proving an ideal integration platform."
La Trobe University uses Mifare smartcards providing the ability to implement cashless car parking, and student photocopier and print services in the future.
For more information contact Gallagher Security Management Systems, +27 (0)11 974 4740, LynDP@gallaghersms.com
Further reading:
Biometrics: the game changer in access control
November 2019, IDEMIA , Access Control & Identity Management
For security managers, the question is no longer, should I use biometrics, but rather, which biometrics should I use.
Read more...
---
ViRDI UBio Tab 5
November 2019 , Access Control & Identity Management
ViRDI Distribution SA (ViRDI Africa) has announced the release of its long-awaited UBio Tablet to the South African market.
Read more...
---
Cloud-based access control
November 2019, Elvey Security Technologies , Access Control & Identity Management
Hattrix is a flexible and scalable security platform that marks a shift toward outsourcing security, similar to other services such as IT, HR, and legal services.
Read more...
---
Transforming secure access for SMEs
November 2019, dormakaba South Africa , Access Control & Identity Management
The dormakaba Matrix One access solution is an off-the-shelf access offering that is easy to use, completely secure and browser-based, making it accessible from anywhere in the world.
Read more...
---
Manage remote transmitters via GSM
November 2019, ET Nice , Access Control & Identity Management
ET Nice has released a new solution to set up and manage remote transmitters online and monitor access equipment via GSM.
Read more...
---
Secure hands-free access
November 2019, Suprema , Access Control & Identity Management
Suprema's facial biometric terminals bring no-touch access into secure residential estates, high-rise apartments and luxury homes providing fast, easy and intuitive user authentication with the added benefit of hygiene.
Read more...
---
There's an app for gate configuration
November 2019, CAME BPT South Africa , Access Control & Identity Management
CAME KEY is a new generation of working tool for gate automation, allowing setup and configuration from a mobile app.
Read more...
---
Enhanced biometric technology for mines
September 2019, ZKTeco , Mining (Industry), Access Control & Identity Management
Biometric identification and authentication are currently used at various mines in South Africa and in the SADC region.
Read more...
---
Improving access in mines
October 2019, Astra Fasteners , Mining (Industry), Access Control & Identity Management, Products
The VP1 controller provides full access control and remote monitoring of intelligent locks without having to wire into a network or install, manage and maintain software.
Read more...
---
Invixium and Pyro-Tech partner in South Africa
October 2019 , News, Access Control & Identity Management
Invixium, a manufacturer of IP-based biometric solutions and Pyro-Tech Security Suppliers have announced a new distribution partnership.
Read more...
---